Improve Speed and Accuracy with ACE Entry Summary Software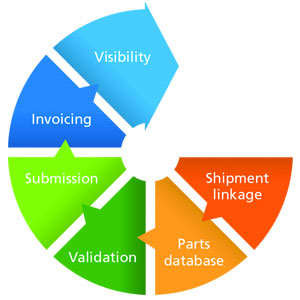 Go beyond U.S. Customs entry filing with the Descartes OneView™ Customs House Broker (Descartes OneView™ CHB) solution. This enterprise-level application improves the speed and accuracy of submitting entry and Partner Government Agency (PGA) data to the Customs and Border Protection (CBP) Automated Commercial Environment (ACE) system-of-record.
Engineered with advanced Message Queue (MQ) capabilities and a direct link to CBP, Descartes OneView Customs House Broker users can receive and react to responses and customs status messages by exception. A proactive alert functionality notifies users of actionable items including rejections, intensive exams, requests for electronic invoices, Temporary Importation Bonds (TIBs) expiration notices and more.
Descartes OneView Customs House Broker solution can help you manage and keep track of periodic daily and monthly statements. Users will also smoothly rollover into ACE functionality in parallel to CBP advancements. This template-driven solution allows users to quickly file standard entries, Remote Location Filing (RLF), empty vessels/containers, out-port and Foreign Trade Zone (FTZ) entries. Descartes OneView Customs House Broker solution supports both entry-by-entry and aggregate reconciliation entry methods.
The Descartes OneView CHB solution also includes an optional document management functionality that allows users to seamlessly transmit Document Imaging System (DIS) files to CBP and enabled PGAs.
With the ability to populate Bills of Lading (BOLs), create delivery orders and generate invoices, the Descartes OneView Customs House Broker solution helps to jumpstart data entry and seamlessly bill for services rendered. Built-in reports provide details on cargo released, forecasted duty payments, liquidation, error statistics, shipments on-hold and clearance timeframes. Descartes OneView Customs House Broker solution also includes full-support of charge-tables for additional invoices, invoice line-items and Harmonized System (HS) classifications as well as standard charges for single-transaction bonds.