Pool Distribution is the distribution of products, orders or shipments to numerous destination points within a particular geographic region. Characteristics include a high frequency of regular shipments in LTL quantities. Pool distribution represents a cost-effective way to ship as compared to the high cost of shipping primarily LTL. 
Pool distribution orders are shipped to regional terminals in truckload quantities. There the pool is off loaded, segregated and sorted by consignee, then reloaded onto local delivery trucks for delivery to various pool destinations. Benefits Include: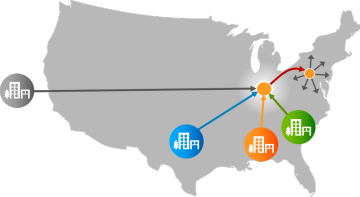 Lowering your overall transportation cost
Reducing your inventory cost
Improving time in transit
Reducing the number of potential claims through reduced handling of freight
Increasing customer satisfaction
Maintaining temperature integrity
---
A carton-level freight tracking system used by 3rd party specialty retail pool distributors for receiving, sorting, scanning, and delivering retail freight to a shipper's stores.
A web-based visibility tool that enables a retailer to see their entire outbound distribution supply chain and reverse logistics operations.
A freight payment system for shippers to pay line haul and pool distribution transportation providers.
A claims management system integrated with the Descartes Retail Distribution System™, the visibility tools in the Descartes WebTMS™ and the freight payment solution – Descartes Retail Payment System™.
A cloud-based store ordering and inventory management system designed to provide retailers with the ability to leverage their distribution provider networks for remote warehousing and rapid store and order fulfillment.
Retail Freight Tracking
Value of the Network Effect

Retail Distribution Success