Canadian ACI and eManifest Filing Requirements
What is eManifest?
The program calls for requires the electronic transmission of advance information from highway and rail carriers, and will require secondary data from freight forwarders. This phase will also call for the electronic filing of advance importer data from importer self-filers or their brokers.
What is the ACI program?
The ACI program introduces more effective risk management processes and tools to identify threats to health, safety and security prior to the arrival of cargo and conveyances in Canada. 
Canada Border Services Agency (CBSA) Updates
Update - The CBSA has announced an implementation timeline regarding eManifest requirements for freight forwarders. Updates include:
From November 7, 2016, to January 10, 2017, the CBSA will provide freight forwarders with a period of transition during which penalties for non-compliance will not be issued, and the CBSA will work closely with freight forwarders on corrective measures.
From January 11, 2017, to July 11, 2017, freight forwarders deemed to be non-compliant with eManifest requirements may be issued zero-rated penalties (non-monetary) under the CBSA's Administrative Monetary Penalty System (AMPS).
Beginning July 12, 2017, freight forwarders deemed to be non-compliant with eManifest requirements may be issued monetary AMPS penalties.
On November 7, 2016, electronic house bills will become mandatory. In the interim, clients choosing to transmit house bills for in transits and imports on a voluntary basis will not be required to submit supplementary reports for shipments with a house bill on file.
What are the mode-specific deadlines for carriers to filing advance information to CBSA? 
The initiative includes the following mode-specific filing timeframes:
Marine

Air

Rail

Highway

24-hours prior to
loading or arrival depending on type and origin of goods

4-hours prior
to arrival or
at the time of departure

2-hours
prior to arrival

1-hour
prior to arrival
Why and when might penalties be issued to carriers?
Large fines can occur for truckers not in compliance.  The initiative has in force since July 2015 when 'non-monetary' or zero-rated fines were assessed. With the introduction of monetary fines, compliance is more important than ever. CBSA may issue penalties for submissions that are not complete, are inaccurate or are intentionally false. In addition, not filing the required information within the specified time requirements may result in fines. Failing to inform CBSA when changes have been made could also result in the carrier incurring a penalty.
Multiple infractions could produce fines that range in the thousands of dollars. Further, multiple (penalties) may be issued should several parties be involved in a shipment. Shipments may also be physically turned around at the border, which could have a cascading effect throughout the entire supply chain, and ultimately, on customer service.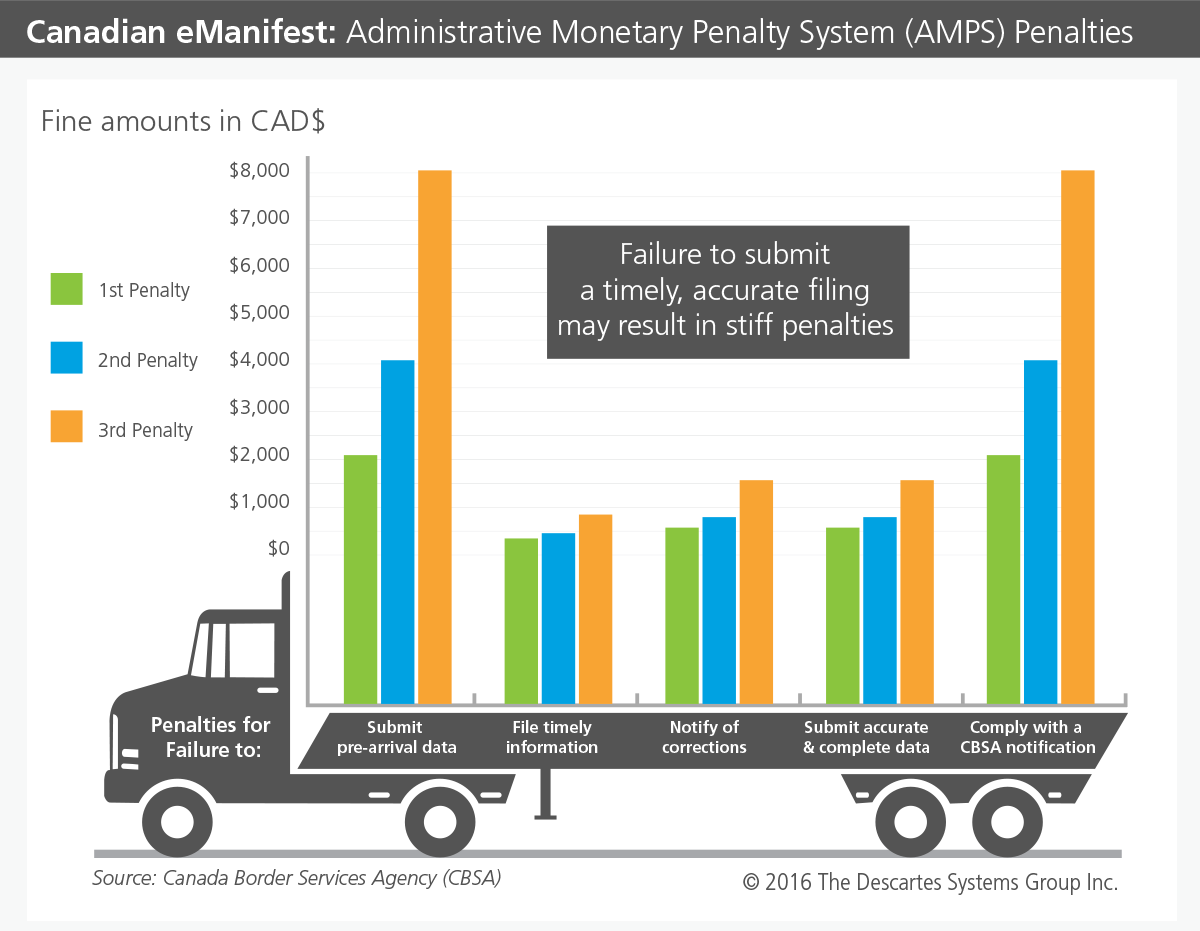 Is the penalty framework for carriers flexible?
The penalty framework is not absolute. Carriers and self-filing importers can correct infractions, also known as "contraventions". However, corrections are only available for lower-level infractions. In general, carriers and self-filing importers have a one-month window before a penalty is assessed. In addition, penalties are assessed on a low, medium or high scale or levels 1-3 respectively. 
Also, as part of the penalty structure, the frequency of the infraction comes into play, known as the "retention" period. This timeframe can range from one to three years, depending on the infraction. Most contraventions have a one-year retention period). After the holding time is over, calculations of penalties will begin at the first or lowest level.  Carriers or self-filing importers are provided with a risk level based on (1) the number of infractions, and (2) frequency of corrections or attempted amendments made.
As expected, companies with a lower risk assessment level may undergo a lower degree of shipment scrutiny.  With the right technology in place, filers are better able to reduce the likelihood of AMPS penalties. Technology can help carriers, forwarders, importers and others aggregate, display, share and move information with supply chain partners and with government agencies. Solutions are also able to help filers validate information and submit data within critical time windows.
The program has been underway for a number of years and long-anticipated deadlines for carriers have been reached. Leading forwarders and importers are keeping a close watch as the regulation is further refined and are taking active steps to move toward compliance.
Overview for Freight Forwarders
The below information has been collected to help ensure that freight forwarders have the most recent information on the ACI iniative available in one resource.
What is the implementation timeline for Freight Forwarders?
The CBSA will be implementing requirements for forwarders in a phased approach.  Implementation includes an initial rollout and refinement period, a zero-rated penalty period as well as full AMPS fines.
What options does Descartes offer Freight Forwarders to ensure compliance?
Descartes can enable manual entry of cargo information via the web through to tightly-integrated connectivity via Electronic Data Interchange (EDI). Descartes offers freight forwarders a choice of flexible access and connectivity options to facilitate compliance including:
Option 1 – A system-to-system connection
Option 2 – For customers who cannot create an electronic, structured message or who prefer manual data entry, Descartes also offers web-based options that allow users to key-in information
Overview for Highway Carriers
The below information has been collected to ensure that highway carriers have the most recent information available in one resource.
What is the Implementation Timeline for Highway Carriers?
Nov 1, 2011 to May 2013 - An implementation timeline for highway carriers to transmit cargo and conveyance data began. The CBSA completed the deployment of electronic systems that enables highway carriers to transmit advance cargo and conveyance data.
May 1, 2013 to Fall 2013 –A period of informed compliance began.  
July 10, 2015 - Requirements for highway carriers went into effect.
January 11, 2016 - Carriers who do not comply with may be issued monetary AMPS fines.
How will the CBSA assess risk?
The CBSA uses technology to review the data received. A shipment may be chosen for further inspection if it includes: 
A dangerous goods code

Missing information

Freight details that are not fully descriptive

A Harmonized System (HS) code(s) for regulated products

Multiple cargo or conveyance changes

An unusually high or low weight for the cargo listed
Since much of the above data is provided prior to border arrival, the government can better prepare for potential risks.
For what scenarios will penalties be assessed?
Non-compliant carriers may be issued fines if
The data provided is incomplete, inaccurate or fabricated
A filing was not provided within the required timeframes
CBSA was not notified that the data has changed
What options does Descartes offer Highway Carriers to ensure compliance?
Descartes offers highway carriers a choice of flexible access and connectivity options to facilitate compliance including:
Option 1: Carrier back-end integration
Option 2: Carrier web portal access and to create, submit, track and manage submissions
Option 3: Carrier faxes shipment documents to Descartes. Descartes completes and submits a filing on the carrier's behalf.
Option 4: Premier capabilities to manage imaged shipment documents with workflow to track document delivery status and customs broker acceptance/rejections, combined with the functionality to create, print and fax bar-coded driver documentation for customs clearance.