USMCA FAQs
USMCA - Impact on the Chemical Industry
---
Changes to the Chemical Industry
Changes affecting the chemical industry come in the form of updated rules of origin requirements. These requirements have been made clearer and more transparent. Many chemical manufacturers are no longer required to determine regional value content and provide the appropriate documentation.
These new rules also allow additional qualification options to increase the amount of originating products.
Additionally, the USMCA updates rules regarding digital trade and allows data from the chemical industry to cross borders freely while implementing increased intellectual property protections.
Impact on the United States (second half of 2020):
Overall, according to Descartes import/export data and trade research, U.S. imports of Section VI commodities (chemicals) declined in value by 3.1 percent compared to the same period in 2019. This is largely expected, as the changes to the chemical industry introduced in the USMCA likely would not directly impact U.S. imports, as the United States acquires the majority of its chemicals from outside the North America trade bloc.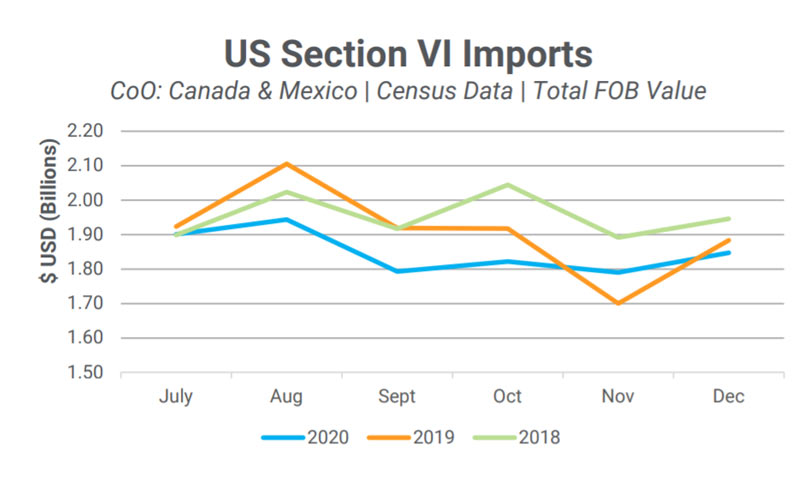 Impact on Mexico (second half of 2020):
The total FOB value for chemical imports into Mexico from the United States and Canada for the second half of 2020 fell by 10.2 percent compared to the same period in 2019.

This drop in value is more indicative of overall market health, as the United States is a major chemicals producer that Mexico relies upon for its goods.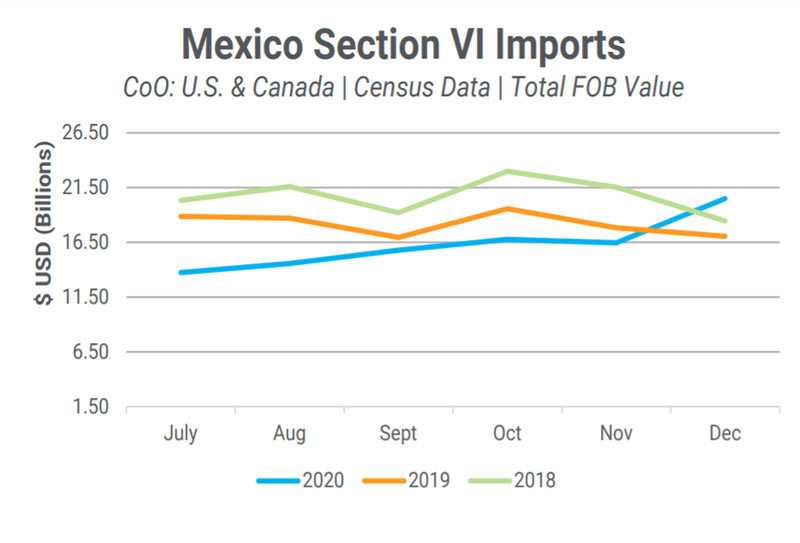 Impact on Canada (second half of 2020):
Like Mexico, Canada is also heavily reliant upon the United States for its chemical imports. Also, like Mexico, the total FOB value of Canada's imports declined in the second half of 2020 compared to 2019. The total loss in year-over-year value was just under $9 billion USD or 6.5 percent.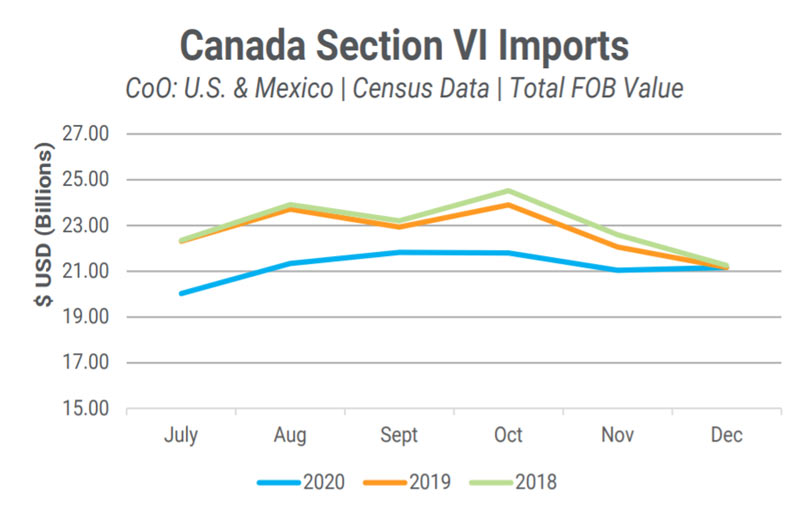 ---
To be able to proactively adapt to changes resulting from trade policy shifts, businesses turn to up-to-date global trade data to analyze import/export flows and trade trends, as well as global trade and supply chain intelligence to formulate strategy to effectively respond to those changes to help keep their supply chains resilient to disruptions.
Recommended For You
---
Unlock the value of trade data with business intelligence
Descartes Datamyne is powered by the world's biggest searchable trade database. Learn more about how it can help your organization
Driving Containerized Cargo Growth with Global Trade Intelligence from Descartes Datamyne
Learn how Port of Halifax used Descartes Datamyne's Global Trade Intelligence to drive up sales and increase revenue.
Talk to an Expert?
---