USMCA FAQs
USMCA - Impact on the Automotive Industry
---
Changes to the Automotive Industry
While the overall greatest number of changes in the USMCA largely update digital trade, labor, the environment, transparency, financial services, and currency policy, the most notable changes apply to the automotive industry. These updates include increased raw material and new labor standard requirements.
To qualify for tariff-free entry, automakers must use an increased minimum of North America-made parts, from 62.5 percent from NAFTA to 75 percent.
Additionally, increased worker compensation is now required. Specifically impacting manufacturers in Mexico, which under NAFTA saw wages accounting for one-eighth of costs, companies are now required to produce 40-45 percent of their parts from factories paying an average wage of $16 USD per hour.
Impact on the United States (second half of 2020):
During the peak of the pandemic, according to Descartes import/export data and trade research, U.S. automotive imports were among the most dramatically impacted, falling more than 10 percent short of previous years in total FOB value. As U.S. imports recovered, automobile imports from Mexico followed the trend and also began to climb in value. October of 2020 saw an 11.8 percent increase in total FOB value over 2019.

However, this increase comes from a similar number of shipment records for both years, indicating that the number of automobiles imported from Mexico has remained on par with previous years while the FOB of those shipments has increased. This is an indication of increased costs brought about, in part, from the changes in the USMCA.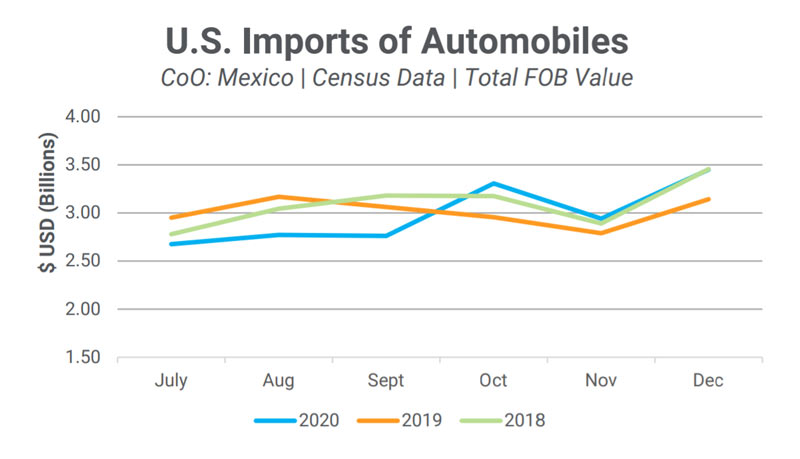 U.S. imports of automotive parts from Mexico increased in year-over-year value during the second half of 2020. In October and December specifically, the comparative FOB value rose 11.6 and 10.8 percent respectively. This is counter to the stated goal of the USMCA to increase domestic production. Whether this trend of increasing imports will continue in years to come is still in the air.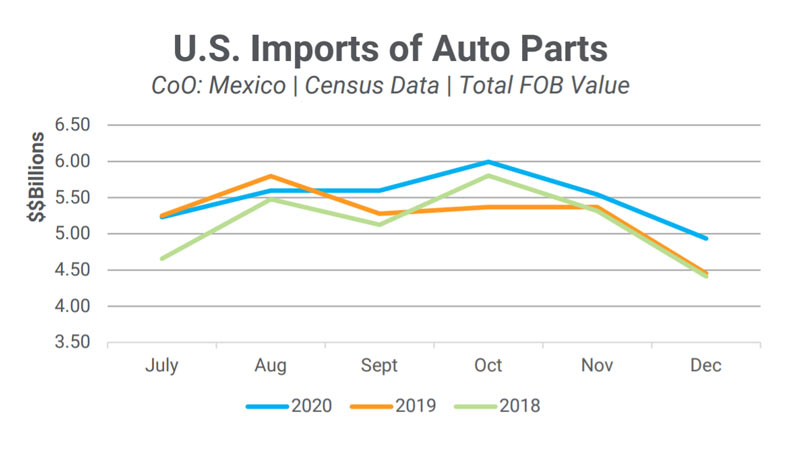 Impact on Mexico (second half of 2020):
Despite the USMCA requirements for increased automotive parts from North American countries, there is no relative increase in the amount of imports into Mexico from the U.S. and Canada.

This lack of increased imports indicates that, even with the increased requirements for North American auto parts, domestic manufacturing is still keeping up with demand.

December was the outlier to this observation. In that month, the total FOB value for auto parts imported into Mexico from the U.S. and Canada increased 18.4 percent compared to the same period in 2019.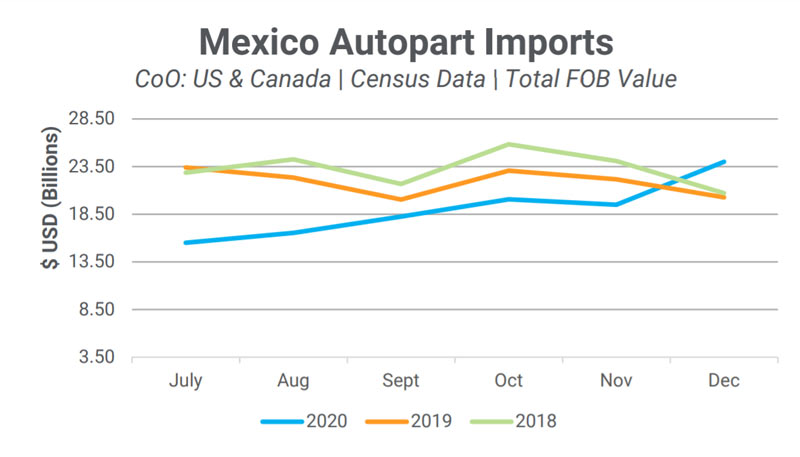 To be able to proactively adapt to changes resulting from trade policy shifts, businesses turn to up-to-date global trade data to analyze import/export flows and trade trends, as well as global trade and supply chain intelligence to formulate strategy to effectively respond to those changes to help keep their supply chains resilient to disruptions.
---
Recommended For You
---
Unlock the value of trade data with business intelligence
Descartes Datamyne is powered by the world's biggest searchable trade database. Learn more about how it can help your organization
Driving Containerized Cargo Growth with Global Trade Intelligence from Descartes Datamyne
Learn how Port of Halifax used Descartes Datamyne's Global Trade Intelligence to drive up sales and increase revenue.
Talk to an Expert?
---