USMCA FAQs
USMCA - Impact on the Agricultural Industry
---
Changes to the Agricultural Industry
The agricultural industry received several substantial changes with the updated USMCA. The most notable is a strong benefit to U.S. dairy farmers who will gain increased access to sell their products in Canada. Historically, Canada has been extremely protective of dairy products, and strongly regulated the imports of any dairy items.
The three countries also agreed to suspend the competitive grading of wheat, with Canada specifically agreeing to rate U.S. wheat equally to its own. A similar agreement was made between the U.S. and Mexico.
Finally, the USMCA updated measures addressing scientific advancement in the agricultural industry, adding stipulations around sanitary and phytosanitary processes as well as agreeing to share information for biotechnology and agricultural gene editing.
Impact on the United States (second half of 2020):
Overall, according to Descartes import/export data and trade research, U.S. agricultural imports from Mexico and Canada lagged behind 2018 and 2019. This drop-off was temporarily halted in October and December, which had a 3.5 and 1.5 percent increase in year-over-year value respectively. The second half of 2020 had a decline in year-over-year FOB value of 4 percent for a total value of just under $378 billion USD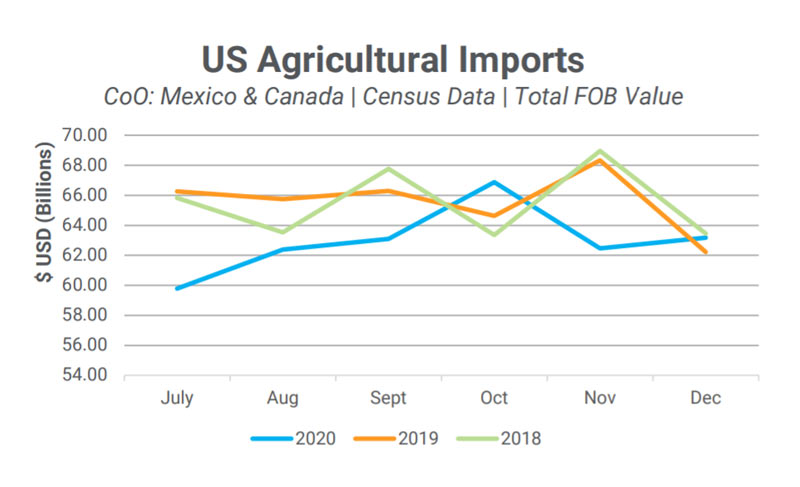 The majority of changes in the USMCA impacted U.S. agricultural exports, specifically U.S. dairy and poultry exports. Overall, however, there has been little indication of a positive impact on the value of overall exports to Canada and Mexico. The only month with a year-over increase in value is December, which saw 9.3 percent growth compared to the same period in 2019.

This lack of increase in export value for dairy does not seem to be a result of the coronavirus pandemic, as production has actually increased slightly during the year according to the National Agricultural Statistics Service (NASS).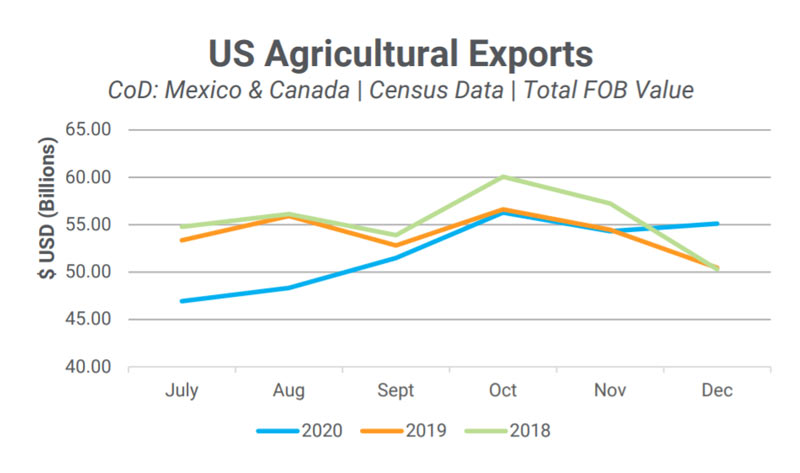 Impact on Canada (second half of 2020):
Despite fears from Canadian dairy farmers, U.S. exporters only increased exports marginally and the U.S.'s total market share only slightly increased.

U.S. poultry and dairy exports to Canada, thought to have the largest impact in export values by many, have only seen a mild increase compared to 2018 and 2019. In the second half of 2020, U.S. dairy farmers made up 3.6 percent of Canada's total dairy market, up from ~1 percent under NAFTA.
To be able to proactively adapt to changes resulting from trade policy shifts, businesses turn to up-to-date global trade data to analyze import/export flows and trade trends, as well as global trade and supply chain intelligence to formulate strategy to effectively respond to those changes to help keep their supply chains resilient to disruptions.
---
Recommended For You
---
Unlock the value of trade data with business intelligence
Descartes Datamyne is powered by the world's biggest searchable trade database. Learn more about how it can help your organization
Driving Containerized Cargo Growth with Global Trade Intelligence from Descartes Datamyne
Learn how Port of Halifax used Descartes Datamyne's Global Trade Intelligence to drive up sales and increase revenue.
Talk to an Expert?
---