Route Optimization Software That Easily Integrates and Expands With Existing Systems
Descartes route optimization software helps improve operational efficiency through better route scheduling. As each new order is received, the vehicle route planning schedule is generated in real time to reallocate mobile fleet resources to optimize operating efficiencies, deliver priority service to the most profitable accounts and routes, and maintain overall customer service objectives. It helps companies reduce operating costs, which can minimize total route distances and average miles between stops.
Descartes route planning software is part of the Descartes Routing, Mobile & Telematics suite.
Reduce Cost and Enhance Customer Service
Descartes Route Planner™ is geared towards organizations that are looking for a routing solution that is tightly integrated into enterprise processes and that have customers and orders that change right up to and beyond the time of dispatch.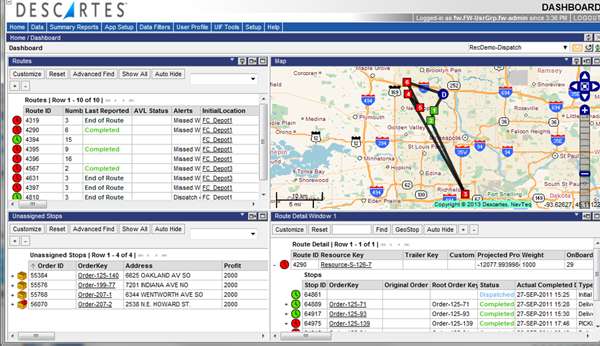 Coordinating users in a centrally maintained server
Decreasing expediting costs and overtime charges
Enhancing fleet capacity utilization
Minimizing distance traveled, stop duration, and fuel usage

Facilitating the ability to meet contractual performance goals

Improving on-time performance rates

Offering more accurate arrival and departure times
Success with Descartes Route Optimization Software
"Deliver what I ordered when I want it delivered at a time convenient to my busy schedule, requiring minimal waiting on my part, as quickly as possible. Make sure that you reliably deliver what I ordered when you promised, and, if circumstances prevent you from delivering on time - notify me as early as possible."
Route Optimization Software Extensibility and Expandability
Optimization Logical Constraints
Reservations capacity visibility
AWS support for Descartes Altamap™
Sales and territory planning
Exchange and t

ransfer

orders
Optimization Cloud Computing
Support for Descartes Optimization Engines in the Cloud

Background Optimizer Elastic Computer
Flexible Mobile Solutions
Driver activity tracking
Industry specific: Food Transportation, Field Service, etc.
Tracking Visibility
Driver scoring

History

Exception dashboards
Customer

visibility

portals
Software Extensions
Support for iOS and Google Play

Multiple browsers support: IE, Firefox, Chrome and Safari