Our Route Optimization Innovation Delivers Unmatched Results
A longstanding innovator in route planning software - our technology uses advanced algorithms and AI to deliver transformative improvements in both strategic and real-time dynamic daily planning.
---
Develop and optimize sales/distribution territories, replenishment strategies, and master routes that maximize customer service and profit.
Create same, next, or multi-day static or dynamic routes for enhanced customer service and lower operational costs.
Combine top customers on fixed delivery patterns with dynamic deliveries to other customers to reduce costs and improve customer service.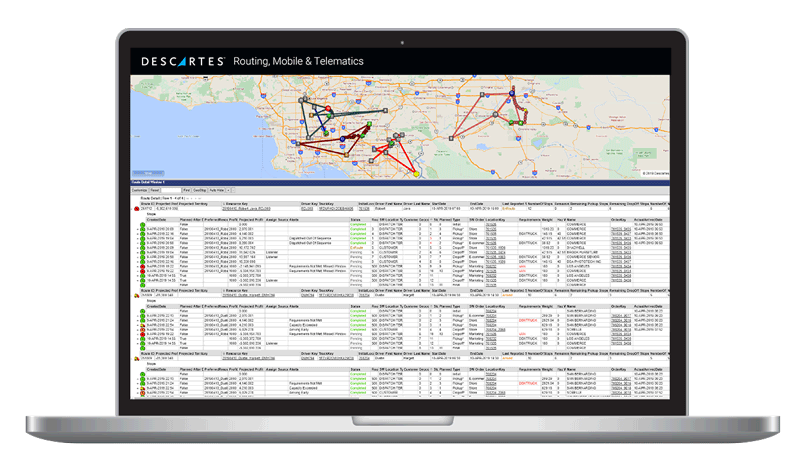 Achieve 5-25% Average Cost Reduction Over Legacy Routing Systems and Manual Processes
With rising customer service demands, labor and fleet costs, congestion, regulation, competitive pressure and more, creating optimal route plans and service schedules is more complex than ever. Descartes can help. We empower your planners, drivers, dispatchers, and operational management with the industry's most advanced tools that are powerful yet simple to use.
With proven success planning millions of routes per year, our customers benefit from:
Increased route density and asset utilization
Responsive and reliable performance that creates service differentiation 
Reduced planning time and resources
Addressing the widest spectrum of planning environments
Adapting and scaling with highly configurable technology
Continuously improving operations with fully integrated dispatch, mobile, and telematics capabilities
Accelerating efficiency with AI-driven automation

— Mark Parsons, Managing Director at BC Sands
---
"The Descartes solution is a unique and comprehensive platform. We could not find another last mile delivery solution that provides scheduling, delivery route planning and execution, proof-of-delivery, automated pre- and post-delivery notification services, and imaging functionality. It has fundamentally transformed our delivery operations."
Fleet Resource Center
Expand Your Routing, Mobile & Telematics Knowledge
Additional Resources
---
Route Planning & Optimization
Create and execute plans that increase efficiency and streamline operations
Wimsatt Building Materials
Wimsatt boosts delivery efficiency by 20% and improves fleet utilization with Descartes' route planning solution
FAQ: What is Route Planning?
Route planning is critical to improving financial performance and the customer experience.
Brenham Wholesale Grocery
Wholesale grocery distributor optimized routing and scheduling to increase truck utilization while reducing fuel costs
Looking to meet with a solution expert?