What is Artificial Intelligence? 
Artificial intelligence (AI) refers to the simulation of human intelligence in machines that are programmed to think like humans and mimic their actions. The term may also be applied to any machine that exhibits traits associated with a human mind such as learning and problem-solving.
The ideal characteristic of artificial intelligence is its ability to rationalize and take actions that have the best chance of achieving a specific goal. There are specific classes of artificial intelligence such as rules-based expert systems and machine learning that are used to solve logistics and supply chain problems.
Source: Investopedia and Descartes
What is AI-Based Optimization Configuration? 
Powerful route planning algorithms can produce dramatic improvements in route productivity and customer service. However, because these algorithms are highly flexible, they can be complex, require a deep understanding of how they work and the parameters that are used.
In addition, data, and business goals, and constraints also impact the configuration. Descartes Route Planner AI Advisor uses machine learning to leverage the power of Descartes' sophisticated optimization algorithm to, simplify the configuration process and get the desired results.
Descartes Route Planner AI Advisor provides configuration guidance based on a series of business questions that can be easily answered by the user in the context of the data that needs to be optimized. The solution then analyzes the problem set based on those answers and the data provided.
After the automated analysis is concluded, Descartes Route Planner AI Advisor returns a proposed configuration that best achieves the business goals specified by the user. Multiple business scenarios can be executed and the proposed configuration with the best performance can be easily applied to production environment.
The benefits of AI-based configuration are:
Configuration unique to the customer
Streamlines configuration process
Eliminates guesswork from the configuration process
Domain expertise is "built-in"
Evaluate the impact of multiple business scenarios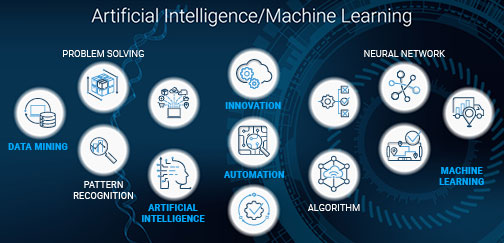 What is Machine Learning? 
Machine Learning (ML) is the study of computer algorithms that improve automatically through experience.[1][2] It is seen as a subset of artificial intelligence. Machine learning algorithms build a mathematical model based on sample data, known as "training data", in order to make predictions or decisions without being explicitly programmed to do so.
Machine learning algorithms are used in a wide variety of applications, such as email filtering and computer vision, where it is difficult or infeasible to develop conventional algorithms to perform the needed tasks.
Source: Wikipedia
What is Machine Learning for ETA Calculation? 
Estimated-time-of-arrival (ETA) calculations are critical to help companies manage the execution of routes and keep customers informed of status of their deliveries. A lot of information goes into the ETA calculation – road network, planned and actual delivery times, traffic patterns, etc.
However, other factors such as driver capability, asset type, geography, customer location and weather can also significantly impact ETA calculations. Descartes Route Planner uses machine learning to take these factors into account in real-time to create the best ETA predictions for the remaining stops and continues to update the ETA based upon changing conditions.
More accurate ETAs allows customers to better plan for the delivery making adjustments to resources, inventory and unloading and loading times.
The benefits of ML-aided ETA calculation are:
More accurate arrival predictions
Improved customer experience
Automated calibration
What is Machine Language-Based Performance Tuning?
Good route planners keep their system performing at its best by regularly adjusting the parameters to reflect real-world conditions. Using machine learning, Descartes Route Planner can help tune operational parameters because it uses historic planned and executed route data to suggest modifications to the data to make planning results more realistic.
Other factors such as locations, service durations, transit times and time windows can be modified to further improve route fidelity and create more efficient routes. For example, Descartes Route Planner has the ability of identify geocoding corrections based on actual GPS latitude and longitude data received by drivers executing a planned stop.
The corrected location allows for more accurate route planning which can result in a reduction of miles, time and failed delivers as a result of bad geocodes.
ML-based performance tuning can be highly granular because route performance can vary by a number of factors including truck type, driver, territory and time of the day. Descartes Route Planner uses the same ML techniques to improve route planning performance in the following areas:
Service Duration and Transit Times (planned and ETA) by

Driver – some drivers are more effective than others and new drivers are on a learning curve…
Truck Type – truck size and configuration impact driving speeds and loading and unloading times…
Territory – geography impacts driving speeds and the time to unload and load vehicles…

 
Time Windows by

Location or customer type – location can impact how long it takes to load and unload vehicles and customers can be more or less efficient during the loading and unloading process…
Territory – time window size can vary depending upon the geography as certain territories are faster to access than others
The benefits of ML-based performance tuning
Help ensure the most accurate route plans
Help maximize route plan results
Address uniqueness of drivers, vehicles, territories, etc.
Reduce planning system configuration maintenance
Fleet Resource Center
Expand Your Routing, Mobile & Telematics Knowledge
Recommended For You
---
Fleet Innovation Resource Center
Innovation has been central to the evolution of Descartes' routing, mobile and telematics solutions. Never before has there been a convergence of so many technological advancements available to accelerate their transformation.
Fleet Innovation: What is Digital Twin Technology?
A digital twin is a simulation of a real-world physical process that is either intended or really taking place. Find out how it can improve your fleet.
Descartes Unveils Artificial Intelligence and Machine Learning Enhancements to Routing, Mobile & Telematics Suite
Descartes unveiled artificial intelligence (AI)- and machine learning (ML)-based enhancements to its Routing Mobile & Telematics suite. The enhancements help customers achieve outstanding optimization results and learn from real-world outcomes to maximize fleet performance.