Definition of Same-Day Optimization
Same-day optimization is the dynamic delivery appointment booking and execution of intra-day ad-hoc orders through intelligent automated selection of the most cost-effective resource while using time-definite delivery windows.

Source: Descartes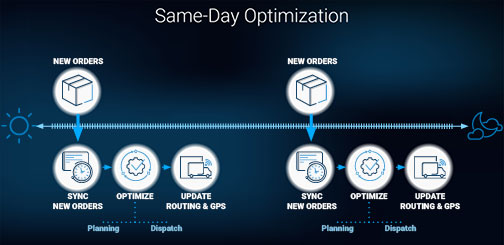 Same-Day Optimization for Fleets
Same-day optimization combines dynamic delivery appointment scheduling with the real-time GPS-based status of vehicles in the field. It allows customers to take in new orders during the day, and automatically dispatch them for delivery or service that same day.
Same-Day Optimization dynamically schedules appointments on the plan or live dispatch schedule, using GPS-based location and other real-time information to optimize the fleet utilization in conjunction with the customer delivery window requirements.
Real time data that is included in the optimization include:
Fleet capacity, order picking time, planned routes, product attributes, equipment type, driver
Actual vehicle location
Actual route status – which routes are running on time, which are behind, product availability on truck
Multiple order pick-up options
Traffic history
Service times at planned stops
Delivery windows
Overtime and surge resource options
Same-Day Optimization intelligently manages changes to routes so that new orders don't cause disruptive changes such as redirecting the driver to a new stop when they are about to deliver to an already planned delivery. Same-Day Optimization provides options to control how many stops ahead are shared with the driver and how many stops ahead are locked to minimize driver disruptions.
All the updates and changes to the route, stops, and service activities are available real time to the drivers on their handheld device.
The benefits of same-day optimization:
Offer time-definite same-day delivery
Improve same-day delivery productivity
Reduce delivery costs
Take orders with later cut-off times
Provide more dynamic or premium delivery service options
Make delivery a competitive weapon
Fleet Resource Center
Expand Your Routing, Mobile & Telematics Knowledge
Recommended For You
---
BC Sands Case Study
BC Sands uses same-day optimization to automate delivery appointment scheduling, route planning, and proof of delivery to heighten the delivery experience, improve operational efficiency, and reduce costs.
Descartes' Routing Solutions
Our technology uses advanced algorithms and AI to deliver transformative improvements in both strategic and real-time dynamic daily planning.
ACM Parts Case Study
With more intelligent route planning nationwide, ACM Parts has enhanced customer satisfaction by creating a more predictable and reliable delivery environment.
---
Looking to talk to an expert?