What is the definition of Robotic Process Automation (RPA)?
Robotic Process Automation (RPA) is an application of technology, governed by business logic and structured inputs, aimed at automating business processes. Using RPA tools, a company can configure software, or a "robot," to capture and interpret applications for processing a transaction, manipulating data, triggering responses and communicating with other digital systems.
RPA scenarios range from something as simple as generating an automatic response to an email to deploying thousands of bots, each programmed to automate jobs in an ERP system.
Source: CIO Magazine
Robotic Process Automation (RPA) – Based Planning
The route planning process is not as simple as "hitting the optimization button". Good planners apply a number of techniques besides optimization to arrive at the best results and it is critical to standardize the planning process across planners to ensure consistency.
As part of Descartes Route Planner, Descartes Background Optimizer (BGO) uses RPA to make every planner as good as the best planner. Its bot structure allows planners to configure complex planning and coordination tasks across multiple planning schedules.
For example, BGO can be configured to filter data, run specific optimization strategies (e.g. swapping and selective optimization) that are time sensitive and automatically move plans from planning to execution without any intervention. Multiple BGOs can be configured across large planning schedules to continually optimize and execute multi-phase plans.
There can be multiple types of BGOs configured to solve specific planning and execution tasks. These BGOs can be invoked in real-time depending upon the incoming data or other events.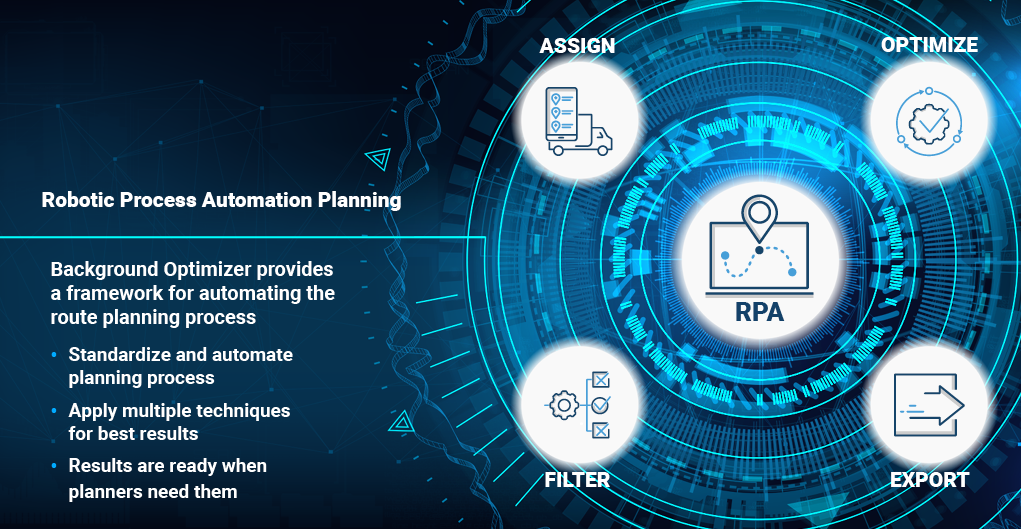 The Benefits of Robotic Process Automation
Build complex planning scenarios
Automate complex planning tasks

Ensure planning consistency
Deliver best results
Minimize planning resources
Reduce planning latency

24X7 availability
Streamline delivery planning and execution processes
Scale for large planning problems
Fleet Resource Center
Expand Your Routing, Mobile & Telematics Knowledge
Recommended For You
---
Fleet Innovation Resource Center
Innovation has been central to the evolution of Descartes' routing, mobile and telematics solutions. Never before has there been a convergence of so many technological advancements available to accelerate their transformation.
Fleet Innovation: What is Digital Twin Technology?
A digital twin is a simulation of a real-world physical process that is either intended or really taking place. Find out how it can improve your fleet.
Descartes Unveils Artificial Intelligence and Machine Learning Enhancements to Routing, Mobile & Telematics Suite
Descartes unveiled artificial intelligence (AI)- and machine learning (ML)-based enhancements to its Routing Mobile & Telematics suite. The enhancements help customers achieve outstanding optimization results and learn from real-world outcomes to maximize fleet performance.