Definition of Strategic Route Planning
Strategic route planning is a technology-enabled route planning process that determines the optimal combination and location of resources (e.g. distribution centers, fleet size and drivers) to meet customer service and financial targets while considering service policies and operational practices.
Source: Descartes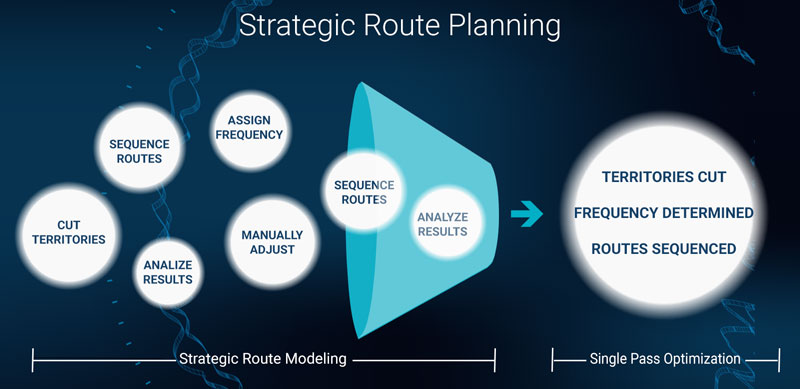 Strategic Route Planning for Fleets
Distribution networks are in constant change whether it is order volume and mix, customers, customer service policies, business strategies, etc. As a result, distribution networks can quickly get out of balance and do not run optimally or cost-effectively.
In addition, fleet operators need a way to model and evaluate the impact of potential changes to their distribution network before they are implemented.
Descartes strategic route planning was designed to optimize distribution networks. It is different than daily route planning and has the potential to deliver even greater productivity and service improvements because strategic route plans address more fundamental change.
In daily route planning, the strategies, policies and even the territories, frequencies and routes are already defined. The goal of daily route planning is to do the best with those restrictions already in place.
With strategic route planning customers, volumes, service policies, asset types and operational constraints can be treated as variables. Policies, practices, capacity etc. can be flexed to see what new or changed routing strategies and tactics will best address changes in demand or new business goals.
Strategic route planning applies to not only those fleets that run static or master routes, but also to dynamic routes because strategic route planning helps model the policies and practices that dictate the daily routing parameters. Strategic route planning is an important in understanding the best approaches to enter new markets or consolidate acquisitions.
Because, as demand changes and distribution organizations look at new markets, they will need to use the solution to help predict the costs and capacity required to move forward.
The benefits of strategic route planning:
Reduce fleet costs
Improve customer service
Balance work across resources
Determine best delivery frequency and day
Determine impact of new service policies
Evaluate new customers, markets and mergers
---
Fleet Resource Center
Expand Your Routing, Mobile & Telematics Knowledge
Recommended Reads
---
Strategic Route Planning: A Blueprint for Profitability
Learn the best practices of an ongoing strategic routing process to increase distribution efficiency. reduce costs, and maintain customer and driver satisfaction.
PlaceMakers Case Study
By optimizing same- and next-day route planning, Placemakers maximized fleet and mobile resource utilization and efficiency to enhance customer service and reduce operational costs
Lift Off Distribution Case Study
With automated route planning and execution, Lift Off Distribution achieved greater control and visibility for more efficient deliveries.