Route Execution
Vehicle Fleet Management Systems for Optimized Routing, Scheduling and Dispatching
Great route plans only go so far. Effective fleet operations require the flexibility to adjust and respond to the day-to-day realities once vehicles leave the depot and execute on the road.  Route performance vs. plan should be measured continuously to achieve maximum productivity, meet customer expectations, and support continuous improvement.  At-stop activities like proof of delivery (POD) also need to be effectively tracked and integrated in real-time to back-end systems. Descartes Route Execution solutions unite the planned with the on-road and the at-stop route and driver feedback and vehicle data to help keep plans on track. 
Descartes Route Execution solution benefit-driven capabilities include:
Automated Vehicle Location (AVL): Benefit from GPS-based fleet-wide visibility with real-time status updates. Dynamically linked map, schedule and asset views provide information on key indicators such as capacity usage, time to service each stop, customer time window violations, alternate available resources, route profitability, and more using GPS-based data.
Dispatch: Effectively coordinate drivers, dispatchers and call centers to streamline operations and enhance customer service. Facilitate assignment of new orders and manage exceptions with robust real-time planning tools that utilize the same robust route optimization engine that created the initial route plans.
Turn-by-Turn Navigation: Navigation systems offer multiple benefits to improve the efficiency of mobile workers:

Reducing miles driven and vehicle maintenance costs
Minimizing dependency on dispatch and scheduling              
Improving customer satisfaction with faster response
Drivers keeping eyes on the road for safer vehicle operation
Managing compliance - commercial vehicle restrictions routing

Interactive Voice Response (IVR) Support: – Take customer service to the next level by integrating route execution with customer call-outs for scheduling information, service exceptions, and post delivery/service satisfactions surveys. Workflows can be executed cost-effectively with integration of automated IVR solutions to improve and complete a holistic approach to the customer's pick-up and/or delivery experience.
Continuous Route Optimization vs. Batch Routing
Download the infographic to learn how Continuous Route Optimization enables companies to offer same-day, next-day, and dynamic delivery appointments to improve service, reduce costs, and increase profits. (85 KB, PDF)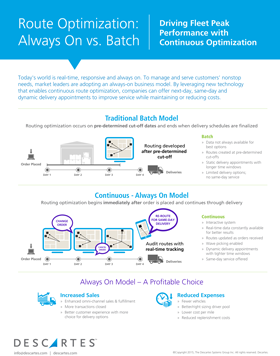 Real Customer Stories
U.S. distributor of food service equipment, Edward Don & Company, streamlines their delivery operations with Descartes' cloud-based route planning and execution solutions, enhancing customer service and realizing substantial bottom line benefits.
US LBM, one of the largest and fastest growing lumber and building materials distributors in the United States, uses Descartes' automated routing and scheduling technology to power their innovative mobile construction delivery solution.