Wholesale & Distribution
Industry Center
---
Descartes Lowers Delivery Costs and Transforms Distribution and Wholesale Operations into a Competitive Weapon
Operating a wholesale and distribution business has never been simple due to tight margins, demanding customers, and other challenges. Customer behavior used to be predictable, but the pandemic threw a curveball that placed greater demands to improve responsiveness and agility.
Delivery planning is more challenging thanks to the unpredictable nature of customer ordering habits. Service times are lengthening, which has a detrimental effect on both productivity and customer satisfaction. Additionally, customers are placing more same-day orders, which is testing the limits of conventional delivery strategies and can increase costs if poorly managed.
Descartes offers breakthrough solutions that enable wholesale and distribution businesses to overcome the wide range of challenges they face and offer customers differentiated services, enabling them to expand and increase margins.
Strategic route planning to identify the optimal service strategy
Hybrid operational planning that keeps costs down while achieving great customer service
Proactive route execution that lessens the effects of disruptions
Consistent customer engagement from the moment of purchase through post delivery
Improved driver management to increase productivity, safety, and retention
The modular design of Descartes' platform enables wholesale and distribution businesses to concentrate on resolving their most urgent problems. A contemporary, cloud-based architecture and use of artificial intelligence, machine learning, and sophisticated analytics serve as the foundation for all of these capabilities.
Model and optimize the distribution network for the best cost and customer service combination and determine optimal service day assignment and master routes.
Hybrid Operational Planning
Combine static and dynamic planning to better serve customers, seamlessly handle off-orders, and lower wholesale and distribution costs.
Smart customer self-service delivery appointment scheduling for same- and next-day deliveries that enhances the customer experience, increases revenue, lowers delivery costs, and is more environmentally friendly.
Intelligent performance dashboard enhanced with machine learning and real-time GPS improves delivery visibility, reliability, and efficiency.
Intuitive proof of delivery, manifests, and navigation improves driver productivity and reduces stress and captures critical stop-level information, manages returns, and creates clean customer invoices.
Engage customers from delivery appointment booking through real-time delivery tracking and status to allow customers to optimize delivery receipt.
Safety, Compliance & Telematics
Help ensure driver and vehicle performance, enforce safe operations, and meet regulatory drivers' hours or hours of service reporting requirements.
Power business intelligence combined with machine learning that provides deep insights into operational performance.
End-to-End Delivery Solution
A Single Platform for Wholesalers' and Distributors' Fleet and For-Hire Transportation Needs
Whether its parcel shipments for parts, using couriers for smaller packages, or common carriers for inbound or intracompany shipments, distributors have transportation management needs that go beyond the fleet.  
Descartes is uniquely positioned to help distributors execute their vision of an enterprise-wide transportation platform that gives them visibility and control of inbound shipments, intracompany shipments, couriers, and parcel shipments. We combine fleet and for-hire transportation to holistically manage all modes of transportation including fleet, truckload and LTL, parcel, courier, and gig economy.
Our solution brings the depth and breadth distributors need to get the most from their transportation operations.
Comprehensive Delivery Footprint
Unified face to customer
Manage mode-specific requirements
Flexible delivery strategies
High-tech to no-tech integration
Combine inbound and outbound operations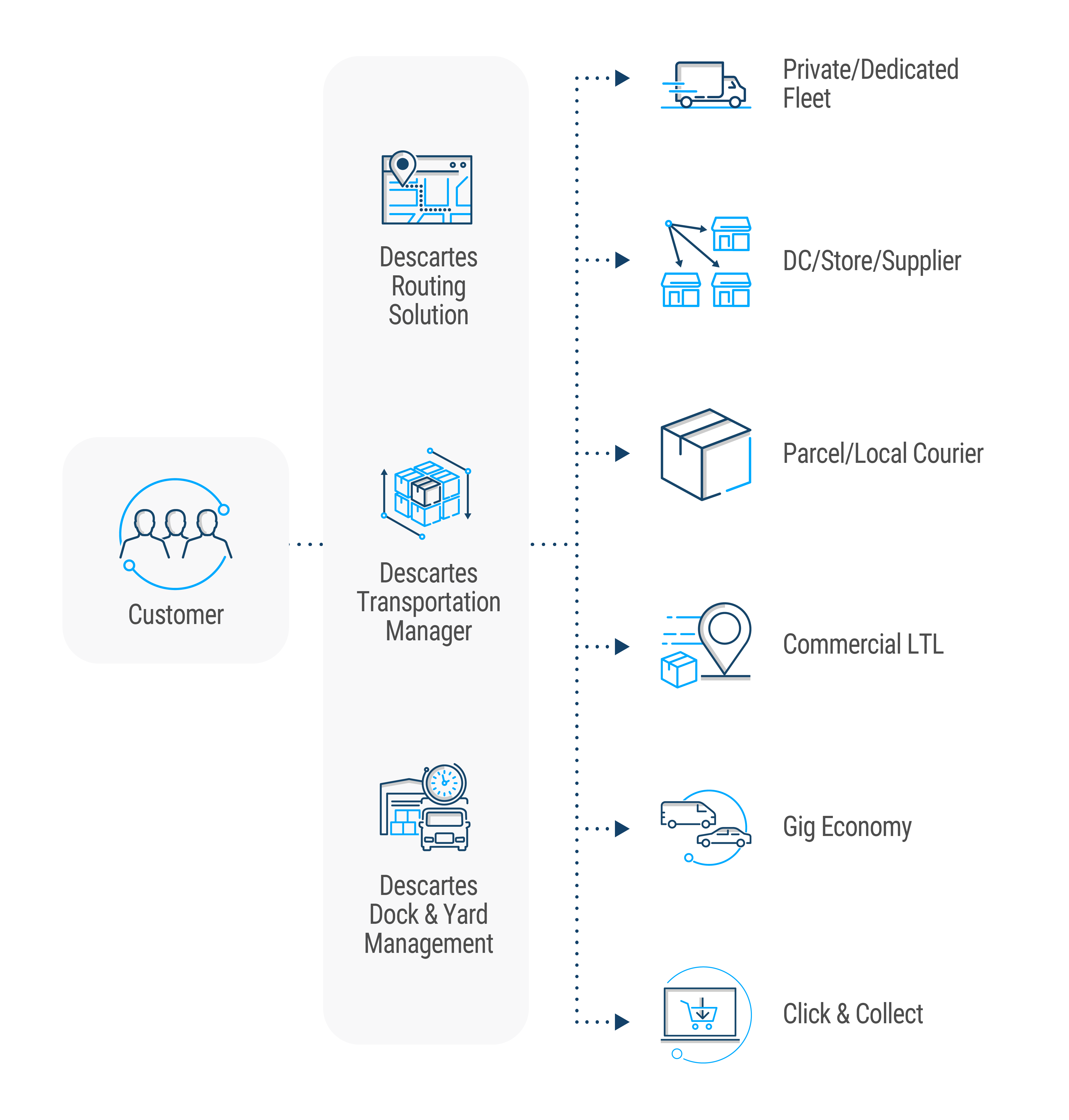 Let Descartes' Experts Help You Understand the Art of the Possible
From our work with leading distributors across the globe, Descartes has built the domain expertise and proven solutions to help wholesalers and distributors with the simplest to most sophisticated transportation requirements. Our experts are fully versed in the leading-edge strategies and tactics in areas such as last-mile delivery that are creating competitive differentiation and increasing profitability.  
Fleet Resource Center
Expand Your Routing, Mobile & Telematics Knowledge