Het meest uitgebreide transportmanagementsysteem in de industrie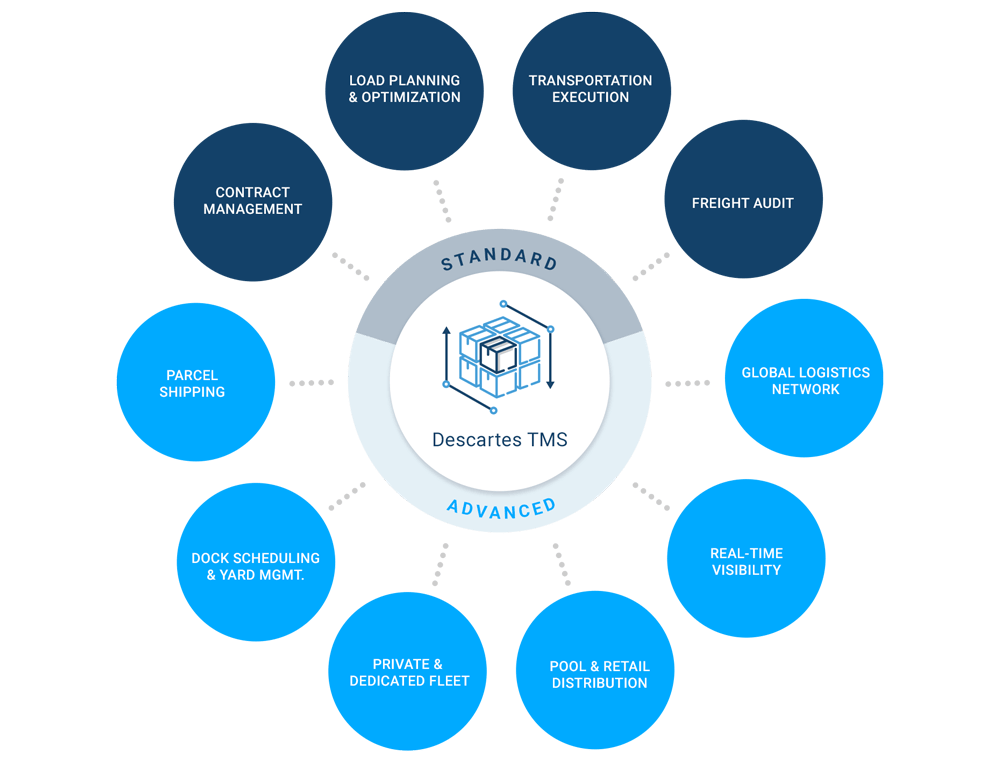 Standaard Capaciteiten
---
Onze kernoplossing stelt u in staat om kritische transportprocessen te synchroniseren om de controle, kosten en servicevereisten te verbeteren.
Maak, bewerk en beheer overeenkomsten voor elke vorm van transport. Verminderen van de administratieve overhead, verbeteren van de contractnaleving en verbeteren van de relaties met de vervoerder.
Laadplanning & Optimimalisatie
Combineer zendingen voor efficiëntie, creëer ladingen en wijs transporteurs toe met behulp van geavanceerde algoritmen die ondersteuning bieden voor het bundelen, multi-stop aggregatie en doorlopende verplaatsingen.
Supply Chain Visibility Software voor Order Management, Shipment Visibility, Performance & Inbound Supply Chain Management
Automatisch identificeren en corrigeren van vrachtfacturen en betalingsafwijkingen om de nauwkeurigheid van de afrekening verbeteren.
Geavanceerde capaciteiten
---
Descartes biedt geavanceerde en ongeëvenaarde mogelijkheden om meer waarde aan uw bedrijf te leveren.
Automatiseer en optimaliseer kleine pakketzendingen
Dockplanning & Yard Management
Automatiseer en verbeter de visibiliteit van de planning van uw laadperronnen en trailerbewegingen
Private / Dedicated Fleet
Haal voordeel uit het integreren en optimaliseren van de vloot en het transport over de hele linie
Pool / Retail Distributie
Profiteer van aanzienlijke kostenreductie en servicevoordelen met robuuste tools die zijn ontworpen voor de retailsector.
Verbeter de prestaties met live informatie over de status van de zending
Descartes Global Logistics Network™
Het grootste multimodale logistieke berichtennetwerk ter wereld versnelt de time-to-value van TMS door uw hele logistieke ecosysteem met elkaar te verbinden.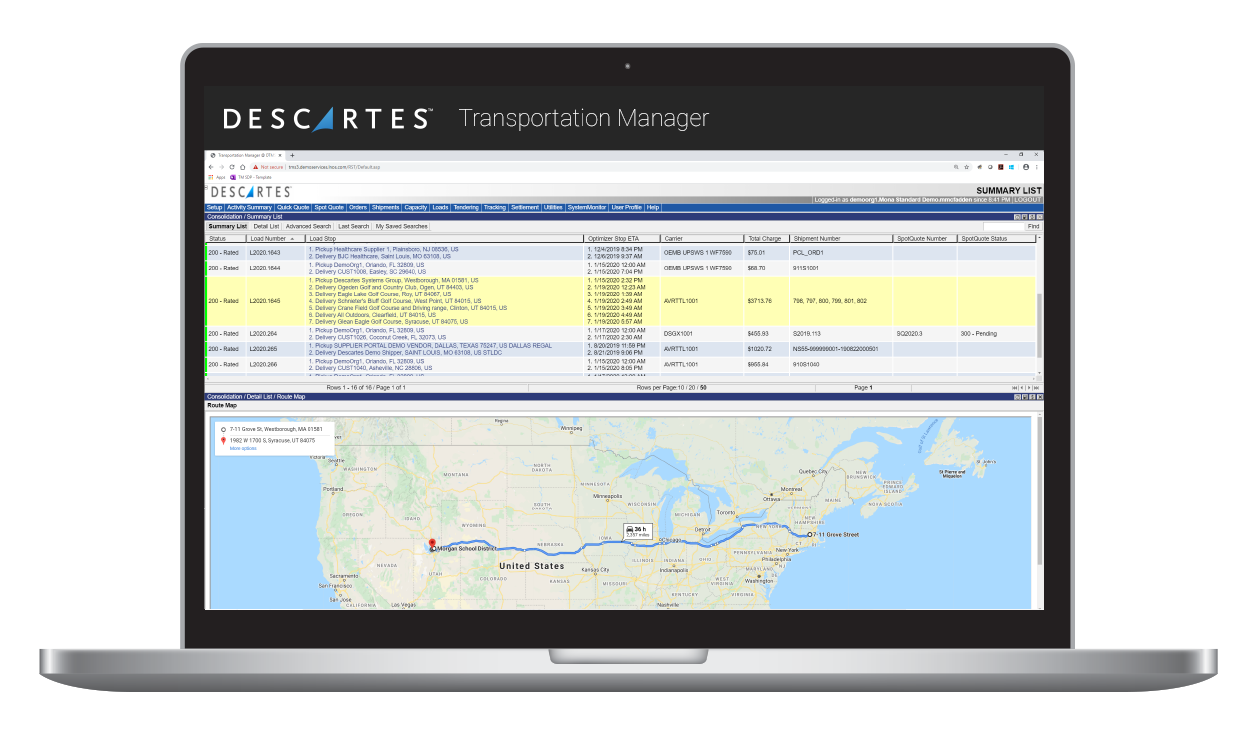 Snel terugverdienen
De transport management oplossingen van Descartes zijn modulair en kunnen in weken in plaats van maanden worden geïmplementeerd. Ze bieden de diepgang van de standaardmogelijkheden die u nodig hebt en een ongelooflijk breed scala aan geavanceerde mogelijkheden die helpen om de flexibiliteit van de supply chain en het concurrentievoordeel te vergroten.

–Jenifer Westergaard, Transportation Manager, The Vollrath Co.
---
"We werken met 8-10 contract LTL carriers en doen veel pooling of cross-docks. Met een geoptimaliseerde carrierselectie, consolidatie en een realtime overzicht van de tarieven kunnen we een betrouwbaardere service bieden en de kosten in de hand houden. Het is voor ons en voor onze bottom line een totaalpakket geweest."
Klaar om ons Transportation Management Systeem in actie te zien
---
Bijkomende bronnen
---
eBook
Bekijk, analyseer, voorspel en communiceer de status van de zendingen in real time.(Engelstalig ebook)
Brochure
Evalueer de geldbesparende opties en voer die zendingen uit met gecontracteerde vervoerders.
Klantencase
Sanimax: Beheer van orders door middel van consolidatie, financiële vereffening en audit