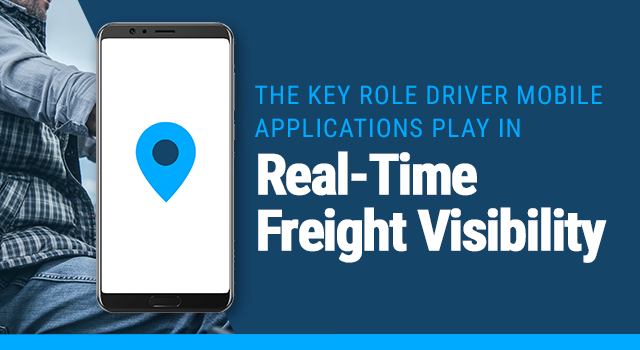 The ability to provide real-time freight visibility has grown significantly in the last few years, as have the customer demands and use cases that drive value. As shippers and 3PLs look to strengthen customer service, they are using visibility to build strong relationships with carriers and, in turn, using transportation to create competitive advantage and enhance the customer experience.
Connecting to carriers and building a broad carrier network takes significant investment and is required to develop a strong ecosystem that delivers high quality information and that maximizes carrier and driver adoption. Historically, real-time integration has been captured through multiple mechanisms including cell triangulation, mobile applications for drivers, or connecting to a carrier's electronic logging device (ELD) or dispatch / transportation management system (TMS). While integrating ELD and carrier dispatch systems can provide the most automated visibility, mobile applications still play a crucial role not only with small carriers, but also with large national carriers.
Addressing the Long Tail of Carriers
Of the hundreds of thousands of carriers in the truckload market, 90% operate fewer than 20 trucks and 97% are true small businesses with fewer than six trucks. This "long tail" of carriers provides critical capabilities for their customers. Typically, there is lower driver turnover, drivers are more experienced, and many have specialties and strengths whether it is equipment such as flatbed, cargo or commodity expertise, or strength in a specific lane. However, these carriers typically do not have IT capabilities, and may not have a software solution for dispatching. In these scenarios, leveraging a mobile application is the easiest, lowest effort and most cost-effective mechanism. It is easiest for drivers as a reduction in check calls increases their safety and efficiency.
Keeping Visibility During Peak
With peak season upon us, transportation teams are focused on ensuring they have the capacity to ensure products get to customers on time. Typically, when Descartes MacroPoint™ provides visibility for shippers, the vast majority leverage tried and true connections via an ELD or carrier dispatch system. There are typically 40-50 strategic carriers that are used year-round. As peak season drives up demand, the first place to secure extra capacity is with these contracted carriers; however, if volumes increase significantly, and 30-40% is not unreasonable, shippers often need to extend their reach and leverage new carriers. Given the tight time frames, ideally, any new carriers are already in the Descartes MacroPoint network and connected. If they are new carriers, however, it is often not feasible to integrate to their dispatch system for the brief period for which the carrier will be used. Obtaining visibility through a mobile application, by contrast, can be enabled virtually immediately.
When Your National Carrier Brokers Out the Load
National and large regional carriers are strategic partners for most of our shipper customers. They typically have strong financials, a broader set of assets, more varied services and deeper IT and back-office structures. These carriers often end up brokering out loads to smaller carriers for a variety of reasons and sometimes this is not clear to their shipper customers. In cases where loads are brokered out to small carriers, the carrier is not typically connected to the national carrier's ELD—and Descartes MacroPoint for Truckers app provides the solution to plug the gap.
Not All ELDs are Created Equal
Certainly, with the ELD mandate in 2017 and the upcoming replacement of AOBRD, ELD growth has been explosive in the last few years. ELDs are a fantastic source of GPS location data, which can be used with geo-fencing and artificial intelligence to provide visibility and more accurate ETAs. The ELD mandate, however, is focused on driver hours; there is no mandate that ELDs provide real-time GPS locations. Furthermore, some smaller carriers and drivers will not enable or subscribe to GPS capabilities due to additional costs and cellular fees. In such cases, a driver mobile application is the best option to provide vsiibility. Descartes MacroPoint™ for Truckers is a small, or "light weight" application that takes negligible bandwidth, which is why it has such a high adoption rate in the market.
Driver Application Reviews and Ratings Maximize Adoption and Compliance
Finally, to be successful with a mobile application, it must be from a provider that instills trust in carriers and drivers. A strong brand is critical for driver adoption. Descartes MacroPoint has been built over many years of providing visibility services, as well as developing the largest network of carriers. Over the last 18 months, Descartes has invested heavily in strengthening use and incentives for drivers, including more visibility to drivers, ease of use and even sweepstakes. This has resulted in a massive increase in adoption of Descartes MacroPoint™ for Truckers with almost 600,000 driver downloads. These investments have increased driver ratings on Google Play and the Apple App Store, which further increases driver confidence and ultimately increases compliance.
Ensure Your Visibility Provider's Mobile Application Adoption Complements its Carrier Network
As outlined, mobile applications are a critical element of a visibility initiative. When reviewing a provider, make sure you understand application adoption rates. Look online to check their ratings and see how many downloads the applications have. The number of reviews is also often reflective of the adoption. Finally, while they play a key role, mobile applications alone are not enough--ELD and integration to carrier dispatch systems are critical to ensuring visibility across your network.