Ocean Shipping Reform Act 2022 (OSRA22)
---
Updated Information on OSRA22 for Ocean Carriers
This resource center includes information regarding the Ocean Shipping Reform Act of 2022 (OSRA22). We encourage you to bookmark this page and to check back often as new rulemaking is released.
---
What Is the Ocean Shipping Reform Act of 2022?
---
OSRA22 is a new law created to "ensure an efficient, competitive, and economical transportation system in the ocean commerce of the United States."¹ The law is the most recent update of the U.S. Ocean Shipping Reform Act of 1998.²
What Are Some Key Provisions of the Act
With 26 provisions, the regulation is complex and additional rulemaking is still to follow. Some of highlights of the Ocean Shipping Reform Act of 2022 include:
---
---
Looking for All 26 Provisions of OSRA22?
Download Descartes' OSRA22 Quick Digest, an easy-to-read visual overview and guide that includes all 26 provisions of OSRA22 and how Descartes can help you comply.


Why Was the Ocean Shipping Reform Act of 2022 Created?
The act was signed into law to revise requirements governing ocean shipping and to:
---
---
---
How May Carriers Be Impacted by OSCA22?
Although some aspects of the regulation will require further clarification, it is anticipated that there may be an added scrutiny on carriers especially in regard to visibility into operational practices.
As a result, there is the potential that carriers may face government fines. In addition, due to the enhanced focus on both Vessel-Operating Common Carrier (VOCC) practices, carriers may require further IT or operational overhead to meet the new requirements and to minimize the risk of potential penalties.
---
How Descartes Can Help
Descartes is an industry leader in helping carriers comply with both new and existing regulations. Our deep understanding of the ocean cargo industry, coupled with how carrier and government systems work, sets us apart. Our solutions also enhance operational efficiency, automate processes, deliver rates to customers on-demand, and provide further insight into shipment and macro industry trends.

Our solutions can help carriers meet the requirements of the Ocean Shipping Reform Act of 2022 by:
---
Connect with Us
Descartes Can Help Ocean Carriers Meet OSRA22 Requirements
OSRA22 Quick Digest
In a hurry? Learn more about OSRA22 in an easy-to-read visual overview and guide. This quick digest delivers all you need to know about the regulation at-a-glance and covers how Descartes can help enable compliance.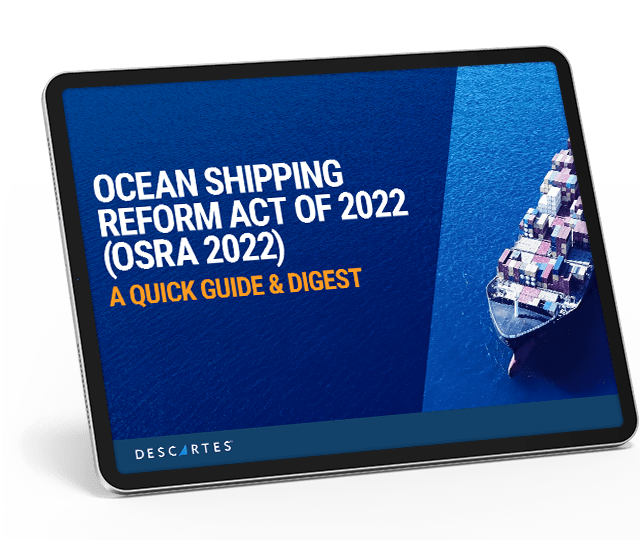 ---