Recognized for consistency and reliability in fully understanding and representing the business requirements of Descartes' customers
Each quarter, Descartes recognizes one employee from nominations by their peers, for Descartes' Excellence & Innovation Award. Employees are nominated, in part, for their contributions in helping make our customers and partners successful. Eligible Descartes employees must also have demonstrated 'Innovation' by sharing valuable ideas to develop new or better processes, tools, methods, systems, products or services in support of Descartes' mission; and 'Excellence' by performing their job with integrity and to the highest professional standards, exceeding expectations while achieving exceptional results for external and/or internal stakeholders.
We are pleased to announce our first quarter award winner for fiscal year 2014, Dima Shamroni, Senior Software Architect.
Through the course of a recent development project, Dima successfully demonstrated 'Excellence' and his commitment to the highest level of quality in the work he performed related to the tedious task of reviewing functional use cases and documenting development deliverables. The customer provided feedback complimenting Dima's consistency and reliability in his approach to fully understanding and representing their business requirements.
Dima leads by example, always with a positive attitude and a professional manner. He takes time to help and mentor less experienced colleagues and approaches new challenges with the goal of finding the best possible solution, recognizing errors as learning opportunities.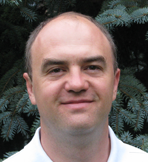 "Dima was instrumental in a number of key project releases and without his energy, roll-out successes at the desired magnitude would not be possible," said Serge Josipovic, Director, Software Development – R&D-Transportation. "The complexities of large systems when translating the information from 'customer requirements' to applications that actually work, yet are scalable, sustainable, and robust, are easily lost in the details and require many of the talents that come naturally to Dima for successful solutions design and systems architecture. Whether the project is a critical production issue, design of new features or re-engineering of an entire process, Dima can be relied on to maintain focus on comprehensive analysis and outcomes that not only meet but exceed expectations."
Continue reading to hear Dima describe his background and how it has contributed to his continued success at Descartes. Our congratulations and thanks to Dima Shamroni for being an integral member of Descartes' O.N.E. L.E.A.R.Ning T.E.A.M.
I fell in love with computers and software in my early childhood, as soon as I learned that they existed in the mid-80s when I was in the 7th grade. In Ukraine, we couldn't have a computer in our household back then, so the only way I could get some access is by sneaking in some at my father's workplace. My father was a Lead Engineer in the Computer Department of a big factory, and I would use his computer to enter a program that I wrote at home on paper to see the results. The passion was so strong that I abandoned the idea of becoming a doctor and ended up being a student of the Faculty of Cybernetics in Kiev State University, Ukraine. After graduation, I worked at a small start-up developing a network monitoring tool, and since this was installed on everyone's computer, part of our job there was to discuss the latest happenings in the company and everyone's interests, as the tool conveniently showed everyone's (including the owner's, and he knew that of course) e-mails and browsing history throughout the course of a day. Later the start-up was acquired by a security company, which was then acquired by a bigger security company, which was then acquired by Computer Associates (CA), and our tool ended up being a part of the versatile line of its network security products.
After moving to Canada I worked as a software architect at the company across the road from Descartes designing the payment processing software, and it's still fun to talk in the parking lot and visit with the colleagues I worked with for about 9 years.
When I joined Descartes in 2012, I immediately liked the opportunity of being involved in many different projects often crossing team (and sometimes continents) boundaries. I enjoy the responsibility of managing an entire product development lifecycle, starting with scoping requirements all the way up to handing a release to the customer.
My most enjoyable experience at Descartes so far was to get involved in the company's recent product development initiative with a large organization. As we were getting to know more about the needs of this customer, it became obvious that the end product was going to be a complicated solution involving complex flows and multiple integrations. The project required a formal approach to wording out the requirements and, to my excitement, a small document that was supposed to describe only our team's part of the integration quickly became a full specification for the entire offering discussed with and signed off by the customers prior to proceeding with development. While it wasn't much fun in the beginning learning about contradicting and sometimes confusing requirements from different members of their distributed team, in the end it was an energizing experience where collaborations pushed for changes to the logic for the next release before we even started working on the current version being discussed.