Recognized for implementation of Kanban methodology, increasing the effectiveness of his Professional Services teams
Descartes' Employee Excellence & Innovation Awards recognize one employee each quarter for his or her contributions in helping make our customers and partners successful through Innovation – championing of new and valuable ideas to develop new or better processes, tools, methods, systems, products or services in support of Descartes' mission; and Excellence – performing with pride to the highest professional standards while exceeding expectations and achieving exceptional result(s) for external and/or internal stakeholders.
I'm pleased to announce Jan Terje Nilsen, Manager, Professional Services Nordics from our Tønsberg, Vestfold office in Norway as Descartes' Excellence and Innovation award winner for our fourth quarter of fiscal year 2018.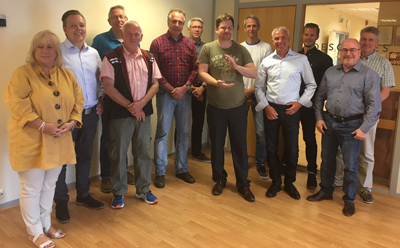 Jan Terje was nominated by Christian H. Rønneberg, Manager, Professional Services Norway, for his successful implementation of the Kanban methodology, improving the communication and collaboration of his team. "The Kanban methodology has greatly improved the efficiency and quality of Professional Services, with positive feedback from consultants regarding less stress and better overall contentment. Jan Terje has allowed each trainer / country to gain ownership of the Kanban process. At the same time, he has contributed and guided each team to optimize for their distinctiveness, with the overall goal that each country gains knowledge of the best solutions for each different team. Professional Services in Norway is now implementing 30-40% more with the same number of consultants, greatly increasing the effectiveness and quality of our customer interactions without compromising deadlines."
We asked Jan Terje how it felt to be nominated and selected by his peers for the Descartes Employee Excellence and Innovation Award and his thoughts on being a member of Descartes' O.N.E. L.E.A.R.Ning T.E.A.M.; here's his response:
This feels great! Our Kanban system has enabled better communication and visibility internally in our team. It has also become our cornerstone for driving continuous improvements in the team. It's fun to see how the team collaborates on solving issues or discusses process challenges. I see continuous improvement in how we operate daily. We also work with several great people in other departments / teams to enable better collaboration and communication between us, and better implementations and solutions for the customers. We have worked as a 'broader one-learning team' to achieve the results. I am looking forward to continuing this work to further improve as a team.
On behalf of the Descartes' O.N.E. L.E.A.R.Ning T.E.A.M, I extend our congratulations to Jan Terje Nilsen on his award win and thank him for his continued support of Descartes.