Recognized for entrepreneurial spirit and contributions to improving support for Descartes customers
Descartes' Employee Excellence and Innovation award is presented quarterly to a deserving Descartes employee based on peer nominations and recognizes Descartes employees for their contributions in helping to make Descartes' customers, partners, and fellow employees successful. Eligible Descartes employees must have demonstrated 'Innovation' by sharing valuable ideas to develop new or better processes, tools, methods, systems, products or services in support of Descartes' mission, and 'Excellence' by performing their job with integrity and to the highest professional standards, exceeding expectations while achieving exceptional results for external and/or internal stakeholders.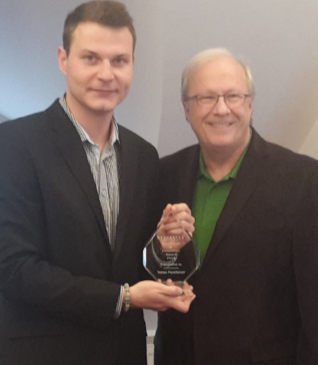 Tobias Packheiser, left, receives the Descartes Excellence and Innovation Award from Robert Beauchemin, EVP of Sales at Descartes.
I'm pleased to announce Tobias Packheiser as Descartes' Excellence and Innovation award winner for the first quarter of fiscal year 2018. Tobias is head of support and Expertise Centre Manager for our Descartes pixi* division based out of Leipzig, Germany. He was instrumental in helping us to set up and test a new customer support software platform, and to develop processes and workflows to improve customer support efforts globally.
Dirk Haschke, VP, Sales DACH & eCommerce Operations at Descartes, nominated Tobias for leading the Descartes team responsible for the implementation of a new customer support software platform. "Tobias' entrepreneurial spirit was evident in the way he continuously went the extra mile to guarantee success of the project. He wanted to improve the productivity of his department, but was equally focused on designing methods to improve the work of other departments and of the organization as a whole," Dirk Haschke said. Gregor Walter, VP, Product Management, also recognized Tobias' contributions, saying, "Tobias is an example on how to think outside the boundaries of his team, and he has made a substantial contribution to improving Descartes' global customer support efficiency by developing new and important processes that speed up response time while reducing effort."
We asked Tobias how it felt to be nominated and selected by his peers for the Descartes Employee Excellence and Innovation Award and his thoughts on being a member of Descartes' O.N.E. L.E.A.R.Ning T.E.A.M.; here's his response:
Today I am happy and thankful that everything was working so well and we have a lot of potential to go on improving our processes for a professional customer support system worldwide. I am thankful that I was given the chance to manage the project and I felt supported the entire time. Assistance with operational support issues from the Descartes pixi* team leads, as well the global support team, helped me to focus on the project and led to its success. Winning the award is great positive feedback for the work I did in the past year and I appreciate the recognition after being a member of the Descartes team for such a short time.
On behalf of the Descartes' O.N.E. L.E.A.R.Ning T.E.A.M, I extend our congratulations to Tobias Packheiser on his award win and thank him for his continued support of Descartes.