Descartes Extends Its Web-based Air Cargo Solution
When it comes to air freight, rates matter. With a high demand for just-in-time shipments from international destinations, booming ecommerce, and customer demand for globally sourced products, the race is on to lock-in accurate, up-to-date information.
Even with the fast pace of air cargo, some air freight processes are not as streamlined. For example, forwarders needed to visit multiple carrier websites, call the airlines, or manually review volumes of paper-based information to locate air freight rates. A solution was required to tap current rate information via a consolidated search and reference functionality.
How Descartes Can Help
Together with the International Air Transport Association (IATA), Descartes' web-based air document management and booking platform has been extended to include optional connectivity to The Air Cargo Tariff and Rules (TACT) system. Freight forwarders and Ground Handling Agents (GHA) already use Descartes to help improve air freight processes and ensure that freight messages are distributed directly to the carriers. With the enhanced TACT Web Services (TWS) solution, the heavy lifting is performed seamlessly and behind the scenes. Forwarders can add current rates rapidly from within an intuitive, web-based interface. Businesses using the platform can benefit from more accurate rate information during the data entry processes without changing context or focus.
We encourage you to contact Descartes for more information or to request a demo.
What is the IATA TWS?
Used by more than 70,000 air cargo professionals worldwide, TACT offers comprehensive global air cargo rates from one consolidated database. Descartes has tapped the power of this information to bring air forwarders the edge needed to succeed in today's competitive marketplace. The Descartes solution sends an automatic call to the TACT database, and pulls the information directly into a web-based solution. All of this is performed in the background, with validated data accessible with the click of a button.
The Impact for You
With demand outpacing air cargo capacity growth for 19 consecutive months, getting the lowest rates is critical. At a practical level, having the option to tap-in to a world-class system such as TACT during the creation of the air waybill is vital to help forwarders lower costs. Beyond this, Descartes' solution not only integrates TACT rates into the AWB, but can help forwarders:
Transition to digital processes such as the eAWB
Minimize process time when delivering goods at the airport
Transmit freight messages electronically to airlines
Reduce costs by eliminating additional charges for paper air waybills
Achieve web-based air document management
Transmit documents electronically
Easily print barcode-based labels
Descartes also helps ground handling agents ensure compliance with requirements from air carriers, and manage all documents through one system.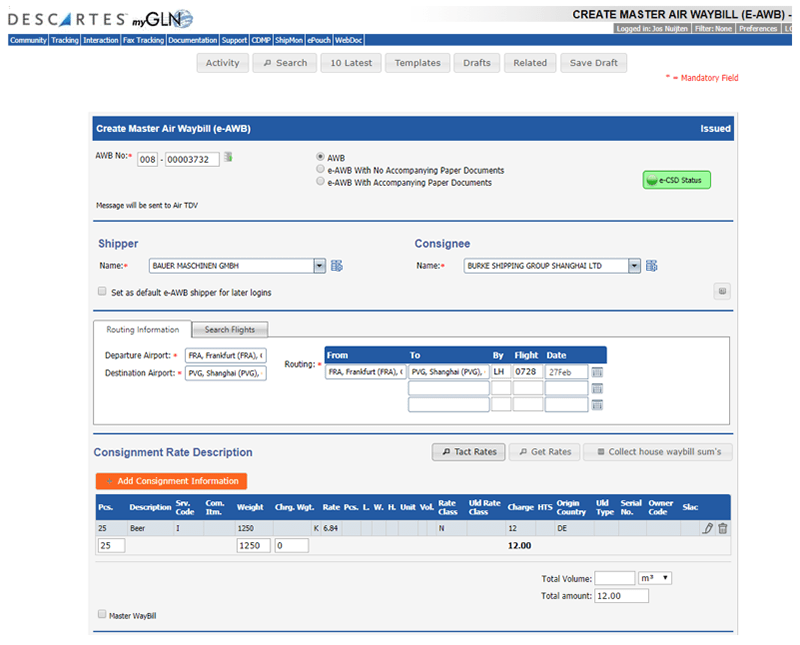 The solution can help to:
Prevent human error – Improve accuracy and consistency with automated rate extraction.
Speed shipment processing – Up-to-date and consolidated rate information allows businesses to minimize lengthy search processes.
Standardize information– Ensure that all members of the supply chain work from the same data source.
Next Steps
To learn more about Descartes extended functionality via IATA TACT and our suite of air messaging solutions, contact us for more information or request a demo.