Descartes recognizes one employee each quarter, from nominations by their peers, for their contributions in helping make our customers and partners successful. Employees eligible for Descartes' Excellence & Innovation Award must have demonstrated Innovation by championing new and valuable ideas to develop new or better processes, tools, methods, systems, products or services in support of Descartes' mission; and Excellence by performing their job with pride and to the highest professional standards, exceeding expectations while achieving exceptional results for external and/or internal stakeholders.
We are pleased to announce Fred van der Heide, VP of Product Strategy, Supplier Enablement Solutions, as the winner of the Excellence & Innovation Award for the fourth quarter of fiscal year 2013.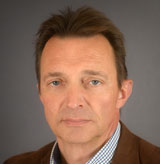 Fred was nominated in part for his focus and dedication to delivering excellent quality to Descartes customers. His colleagues describe this dedication as the driving force behind the development of initiatives to deploy new services to manage problems our customers were facing regarding EDI and customs messaging. Other colleagues describe Fred as extremely committed, knowledgeable, experienced, and friendly. One of the individuals who nominated Fred for the award describes him as having an "unbelievable [amount of] knowledge of the market and his customers, while also maintaining an awareness of the developments in every department in the company. This means that besides taking good care of our customers by helping them solve their problems with new products, he also takes good care of his fellow employees as well."
Fred has over 20 years of experience in the B2B messaging area, beginning in 1997 when he co-founded InterCommIT. He joined the Descartes team through the acquisition of InterCommIT in 2011. Currently working as VP Product Strategy and Business Leader for Descartes in the Netherlands, Fred focuses on Descartes' portfolio of supply chain solutions.
When asked how it feels to know that you are thought of so highly by your peers, Fred responded that "it's nice to experience that colleagues recognize your effort and, by nominating me, also endorse the core values of Descartes to operate as ONE Learning Team."
We would like to congratulate and thank Fred for being an ambassador of Descartes' philosophy of One Networked Enterprise, where employees work as a team, interconnected, interdependent and with a central mission to drive each other's success.