6 Tips to Help Optimize International Shipping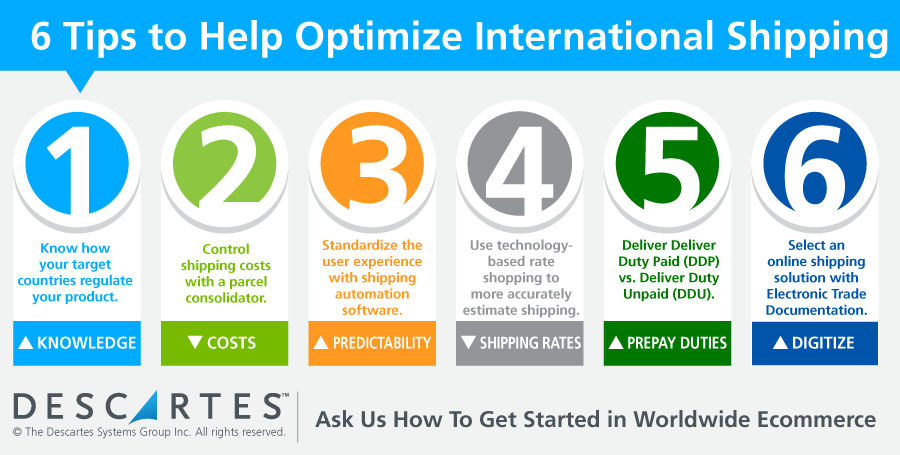 Global ecommerce sales reached $2.3 trillion in 2017, with e-retail revenues projected to grow to $4.88 trillion in 2021, according to Statista. The market is ripe with opportunity for small-to-medium sized ecommerce merchants to tap the potential worldwide ecommerce shipping. If you haven't started selling your products internationally, the time is now!
While this rapid international growth is exciting, balancing high customer expectations with profitability to create a predictable international shipping experience remains a challenge. Here are six strategies to help companies streamline ecommerce fulfillment, which is key to productivity gains and preserving margins.
6 Tips to Help Optimize International Shipping
1. Know how your target countries regulate your product.
Is your item taxable in a given country and at what value or quantity? What customs regulations impact your product? What is the country's de minimis level (the minimum threshold value for duties)?
With duties and tariffs changing at a rapid pace, getting the duties, taxes, and tariffs right are critical to streamlining the end customers' experience.
2. Control shipping costs with a parcel consolidator.
With more than two-thirds of consumer ecommerce cross-border packages sent via parcel post, handling international parcels individually—especially low-cost items—is simply not cost-effective.
Shipping consolidators group packages from multiple customers into one shipment. When packages arrive in the destination country, they pass through customs in bulk and are delivered by the local Post Office, lowering both your shipping and cross-border costs and increasing shipping speed.
3. Create a more predictable international buying and fulfillment experience using shipping automation software.
Shipping automation software eliminates input errors by allowing merchants to automatically import orders from marketplaces, such as eBay or Amazon. Sellers can also automatically print labels, purchase discounted postage, and easily track shipments from a centralized dashboard—which is invaluable for dealing with customs issues. Plus, customized shipping automation rules can help you further streamline your fulfillment operations.
4. Use technology-based rate shopping to more accurately estimate shipping and control total delivery costs.
Unpredictable shipping rates and surcharge variations can have a significant effect on the bottom line. Overcome these challenges with rate shopping capabilities that allow you to compare carrier rates and delivery options for transit time—side-by-side, in real-time and from a single dashboard vs. having to look at carrier accounts separately, which is time-consuming and error-prone.
5. Deliver packages Deliver Duty Paid (DDP) rather than Deliver Duty Unpaid (DDU) by accurately estimating the full cost of a shipment, including duties, taxes, and fees.
DDP decreases the chance that the package will be held up in customs while reducing unwelcome and potentially costly duty surprises for your customers. Advanced shipping automation solutions simplify the process by allowing sellers to search detailed customs content and see total landed cost estimates including duties.
6. Select an online shipping solution that offers Electronic Trade Documentation and paperless invoices.
Many countries require five printed copies of each invoice attached to the outside of the package. By submitting customs documentation electronically, multiple printed copies are not required, which improves accuracy and saves costs.
How Can Descartes Help?
Descartes ShipRush helps small-to-medium ecommerce businesses and omnichannel retailers manage parcel, freight and LTL shipping efficiently and cost-effectively:
Import orders from more than 70 carts, marketplaces and CRM/accounting systems
Instantly compare carrier rates and delivery dates from one central dashboard
Look up and track orders from any web browser
Get discount postage: up to 60% off base USPS rates, and FedEx savings up to 21%
Descartes OzLink integrates shipping with ERP and ecommerce systems and provides advanced automation tools to optimize shipping departments.