Export compliance and sanction screening have always been essential, but it's recently become significantly more complex. The Ukraine-Russia conflict catalyzed a significant wave of new sanctions against Russia, underlined by the point that there are currently 8,382 sanctions targeting Russian individuals, entities, companies, vessels, and aircraft, making it the most sanctioned country in the world.
This surge of sanctions has reinforced the need for sanction screening designed to help organizations reduce the risk of inadvertently transacting with sanctioned or denied parties. Enterprises with sprawling supply chains and a complex network of third and fourth-party partners must take additional precautions to identify any sanctioned entities.
Non-compliance is not an option because companies need to make sure they are not doing business with a denied party. With robust restricted party screening solutions starting at several thousand dollars a year for a basic setup, having a compliance system in place is a no-brainer, especially given that violations could result in fines that run into the many millions of dollars.
Strengthened export compliance and restricted party screening are now essential to protecting your business. So, for 2023, make protecting your organization a company-wide New Year's Resolution.
Keep reading to learn more about notable sanction violations, what we can learn from them, and how the cost of advanced tools far outweighs the cost of non-compliance.
Recent Export Compliance and Sanction Violations Enforcement 
The Office of Foreign Assets Control (OFAC) and The Bureau of Industry and Security (BIS) are two specialized U.S. agencies charged with identifying and penalizing those breaching sanction regulations. Reviewing cases from these agencies for 2022 can help us learn how to stay protected in 2023.
Office of Foreign Assets Control (OFAC)
One of the agency's essential roles is in identifying sanction violations and imposing fines against them. Over 2022, penalties imposed by OFAC totaled US$38,284,196, 83% more than for the year before Notable cases include:
A U.S. cryptocurrency exchange and wallet service was fined $24.2 million on October 11, 2022. The company received the largest fine of the year due to 116,421 sanction violations included in multiple sanction programs.
An Australian freight and logistics company was fined US$6.1 million on April 15, 2022, due to receiving payments through the U.S. financial system from sanctioned persons or jurisdictions. This penalty constitutes the second-largest OFAC fine of the year.
A U.S. rewards company agreed to pay a $116,048 fine on September 30, 2022, resulting from violating multiple sanction programs. Deficient geolocation tracking and blocking systems resulted in over 27,720 rewards distributed to individuals in sanctioned nations.
What can we learn from these export compliance cases? You'll notice they're each related to electronic transactions resulting from a lack of adequate screening procedures and systems.
Two of the companies allegedly failed to correctly identify individuals from sanctioned countries, while the third was said to have not screened its partners against relevant denied parties lists. Instituting the right tools and processes would've identified both issues and prevented these heavy fines.
Bureau of Industry (BIS)
BIS is an agency under the U.S. Department of Commerce focusing on commerce and trade related to national security. The BIS plays an active role in investigating and charging entities involved in export compliance violations.
2022 has seen BIS bring charges against several entities. The following are some of the more notable cases:
European Nationals Attempted Export: European nationals and related entities attempted to smuggle a dual-use high-precision jig grinder to Russia, which is export-controlled equipment. The indictment charges involved parties with conspiracy to violate international export laws, which carries a maximum imprisonment term of five years.
Oil Traders Charged with Sanctions Evasion and Money Laundering: Five Russian nationals and two oil traders were charged with oil smuggling and money laundering, violating export controls and sanctions. The indictment charges the participants with smuggling millions of barrels of oil and tens of millions of dollars on behalf of Russian oligarchs that also involved Venezuelan state-owned oil companies. Defendants face a maximum sentence of 30 years in prison.
PJSC Lukoil Aircraft Export: The Russian multinational oil and gas corporation exported a U.S.-manufactured aircraft from Dubai to Russia. No export license was sought, and it directly violates U.S. export controls. A seizure warrant has been issued for the exported aircraft.
We can see how BIS charges carry criminal charges with imprisonment or seizure. OFAC's fines and penalties were levied against unprepared organizations who likely inadvertently violated sanctions, whereas BIS export compliance cases focus on significant export violations with severe consequences.
Geographic Context
The export compliance fines and charges from both agencies are global in scope, as sanctions and export enforcement is an international effort. While by no means comprehensive, we can see (from Figure 1) how these and other charges compare on a global scale.
Figure 1: Major Export Compliance Violations in 2022
Washington, US - Bittrex ($24.2 million)
Switzerland - CA Indosuez ($720,258)
Australia - Toll Holdings Limited  ($6.1 million)
Washington, US - Tango Card ($116,048)
European Union - Export-Control Violation (Up to 5 years imprisonment) 
Venezuela  - Oil Smugglers (Up to 30 years imprisonment)
Dubai - PJSC Lukoil Aircraft Export Violation - (Seizure warrant issued)
Safeguards from The United States and Allies
The United States and its allies are working to enforce denied party screening and sanctions regulations along with export controls. These efforts are exemplified in a recent speech from a BIS export enforcement agent.
In September, Assistant Secretary for Export Enforcement Matthew S. Axelrod stated, "Our domestic enforcement agents have reached out to almost 600 companies in the past six months to discuss our enhanced Russia controls. And here in Singapore, our regional Export Control Officer, Mike Burnett, has facilitated outreach to more than 1,000 regional exporters on the Russia controls."
Additionally, the U.S. is working with regional governments for further cooperation. Axelrod continued, "We've also partnered with Singapore, Malaysia, and Japan to host the JIO (Joint Industry Outreach), which last year alone trained 1,400 exporters in the Asia-Pacific region on strategic trade controls more broadly."
The Cost of Compliance vs. Non-Compliance
It's clear that sanction compliance can prevent your organization from incurring heavy fines and potential criminal charges. We can see how the cost of non-compliance can be significant, but what is the cost of compliance?
Recent Export Compliance Sanction Growth
While over 8,000 sanctions are currently in place and enforced on Russia, additional sanctions are likely. The chart, below, (see Figure 2) demonstrates sanction growth over the past few years.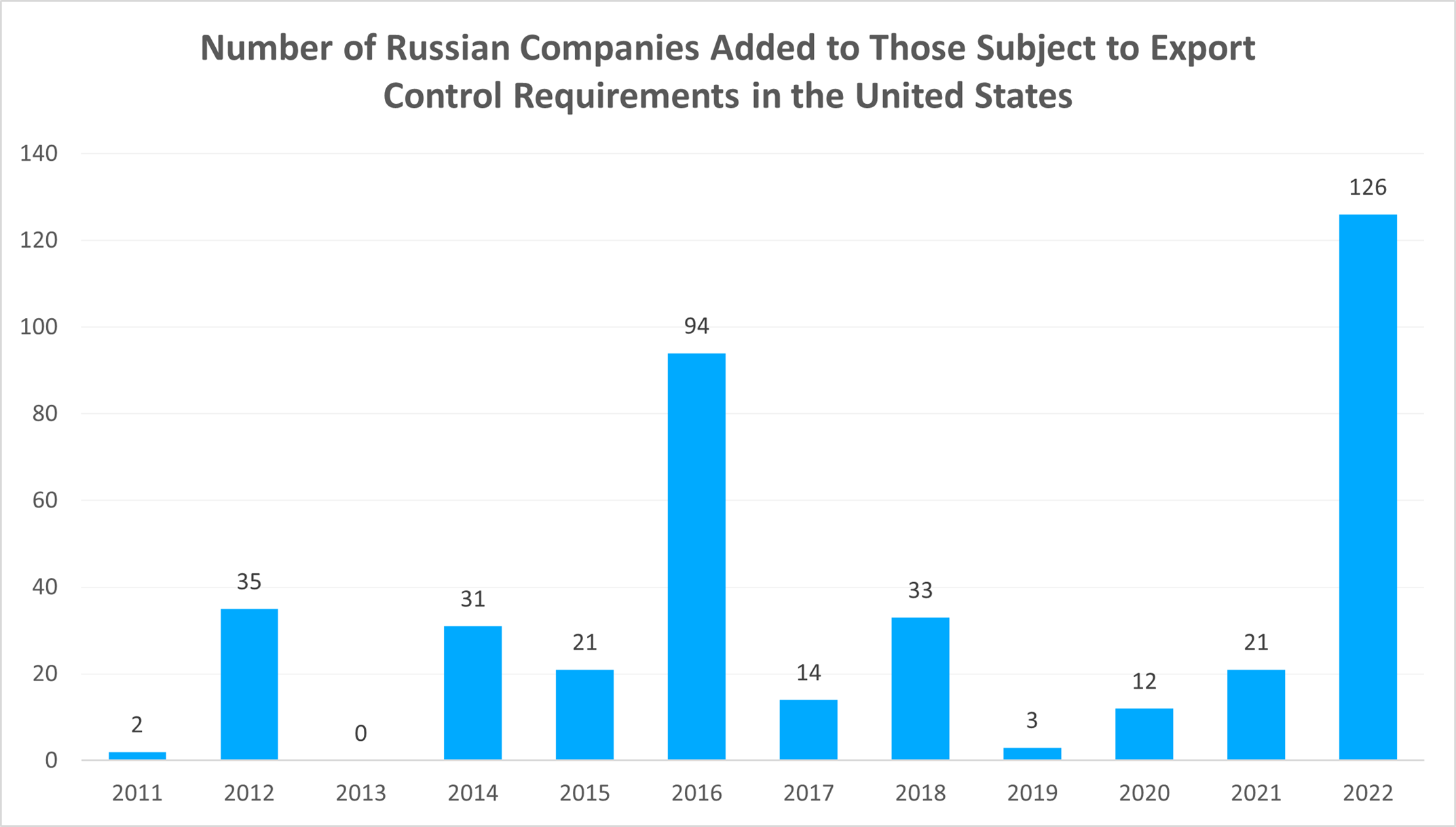 Figure 2: Russian export compliance sanctions growth 2011 to 2022
Export and Sanction Violations Have Far-Reaching Consequences
Denied party screening helps you identify any sanctioned parties that may exist within your supply chain and partnerships. Violations can result in one or more of the following:
Fines and monetary penalties
Business disruption
Hefty legal fees
Tarnished trust and reputation
Loss of opportunity
Impact on productivity and long-term revenue
It's easy to understand the immediate monetary impact of fines and penalties. It's harder to quantify reputation damage, lost opportunities, and lasting business disruptions. However, each of these effects will hinder growth and create long-term issues.
How Much Does Denied Party Screening Cost?
Restricted party screening is a specialized process enabled by advanced tools that screen your supply chain and partners for sanctioned entities — failing to identify and isolate sanctioned parties results in financial penalties or legal charges.
However, screening your entire supply chain and partnerships for sanctioned parties is impractical to handle manually, especially where large screening volumes are involved. In addition, the cost of manually screening every party against ever-changing sanctioned parties can quickly add up, making it well worth adopting an automated solution.
How much does a restricted-party screening platform cost? Ultimately, the cost depends on the size of your business and the complexity of partnerships and your supply chain.
A basic implementation, including one user and small screening volumes, will cost a few thousand dollars annually, while an enterprise-level solution can cost up to US$100,000. Therefore, on average, most organizations should budget approximately US$20,000 for a screening solution.
The issue is further complicated by the inclusion of OFAC's 50 Percent Sanctioned Ownership Rule, which states any organization with 50 percent or more ownership by sanctioned parties is also targeted by sanctions. Fortunately, leading-edge export compliance and sanctions screening solutions can also protect you against this rule.
Make Export and Sanction Compliance Your New Year's Resolution
Violating sanctions and export controls can result in significant fines and penalties and potentially incur criminal charges. Protect your company by making strengthened sanction and export compliance your New Year's Resolution.
Descartes is a leader in providing export compliance and denied party screening solutions, including automated screening and rescreening, and a frequently updated sanctioned party database. 
Are you ready to see how we can help protect your organization? Contact us today to speak to an expert in all things sanctions and export compliance.
Looking to talk to an expert?
---