World-class, Mobile-based Warehouse Technology for NetSuite
In the rapidly growing ecommerce landscape, distributors and retailers must nimbly adapt to thrive. By leveraging Descartes' suite of technologies, companies can ensure that they remain on the forefront of innovation within the logistics environment. Descartes OzLink™ Mobile Warehouse helps best-in-class businesses achieve excellence on the warehouse floor.
By combining the power of NetSuite with the ease of use and scalability of a mobile device, Descartes OzLink Mobile Warehouse allows employees to separate from their workstations and manage their warehouse operations in real time. This means faster and more accurate operations which translates into less risk and greater revenues. Receive items faster and ship products to web storefronts before the competition. Ensure a great customer experience by tightly managing expectations. Consistently provide high service levels on shipping and be confident that you are shipping the correct product every time.
Descartes OzLink Mobile Warehouse™ is part of Descartes' Transportation Management suite of solutions which unites transportation, warehousing and other technologies to create a seamless order fulfilment experience for businesses and their customers. Our suite of solutions helps businesses achieve higher revenues, make the most economical decisions on shipping, and reduce the risk of mis-shipments or late deliveries.
Maximize the potential of Descartes OzLink Mobile Warehouse by combining the solution with Descartes OzLink Shipping for NetSuite to unlock additional efficiencies in rate shopping, label printing, address validation, and tracking.
Potential Benefits
Descartes OzLink Mobile Warehouse can help to:
Minimize walking distance for employees with efficient walk routes, warehouse zones, and wave-based picking
Speed up receiving and get products on to web storefronts faster
Ensure accurate inventory counts to ensure accurate storefronts
Pick orders with confidence in the items and quantities being fulfilled
Pick complex orders with multiple pieces
Ensure good inventory management practices – getting older product out first or before it expires
Track and benchmark performance to continuously improve operations
Features
The solution features the ability to:
Pick sales and transfer orders based on multiple walk route rules
Receive purchase orders, transfer orders and customer returns
Conduct inventory control functions such as counting, moving, look-up, and updating inventory status
Replenish inventory into picking bins from storage locations elsewhere in the building
Assign jobs to employees and monitor performance
Conduct warehouse functions on different configurations of items from "eaches" to cases and all the way up to pallets – even mixed pallets
Connect to peripherals like scales and laser printers for seamless operations
Descartes OzLink Mobile Warehouse helps reduce errors and streamline processes with an intuitive, easy-to-use interface. With our solution in place, businesses can realize:
25% Reduced walking time with single-order picking
40% Improved walking time efficiency with multi-order picking
50% Improved packing & shipping time with multi-order tote picking
20% Decreased packing & shipping time
100% Overall pick accuracy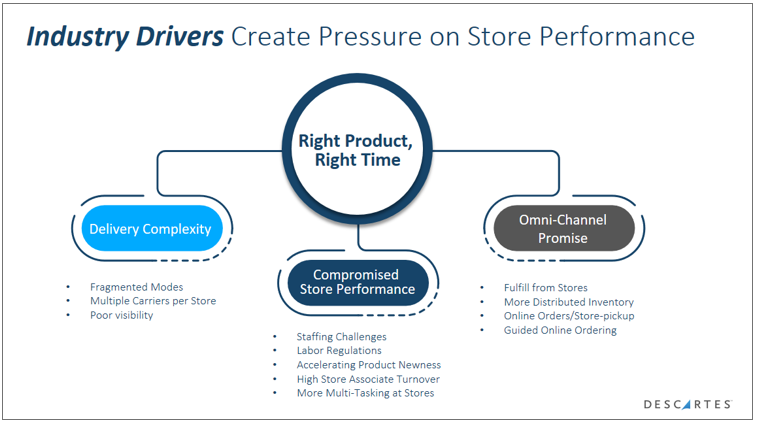 Recommended For You
---
The Ultimate Guide to Pick, Pack and Ship Like A Top Player in Ecommerce
This easy to understand overview covers the hidden secrets that every online retailer and warehouse operator needs to run world-class operations!
Online Thrift Store Goodfair Streamlines and Scales Fulfillment with Descartes Ecommerce Warehouse Management Solution
No matter what they are selling, successful online retailers all have one thing in common: best practices.
Interested in learning more about Descartes Ecommerce Solutions?