The importance of transportation management has been rising for a number of years. This past year highlighted how effective transportation management strategies, tactics and technologies can make a difference in turbulent times. This increasing importance is also translating into greater IT investment, as underscored by 69% of respondents in the 5th Global Transportation Management Benchmark Survey who also indicated their organizations were increasing spending in transportation management technology. Perhaps the bigger questions are who will benefit from the additional investment and where will it be spent?
The investment increase is not uniform as the top financial performers have much more aggressive transportation management investment plans (See Figure 1). The challenge for everyone who is not a top performer, and for poorer performers in particular, is that this the same story year over year. While many companies have recognized the strategic value of transportation and are using it to help them compete, are poorer performers really hurting themselves by not keeping up?
---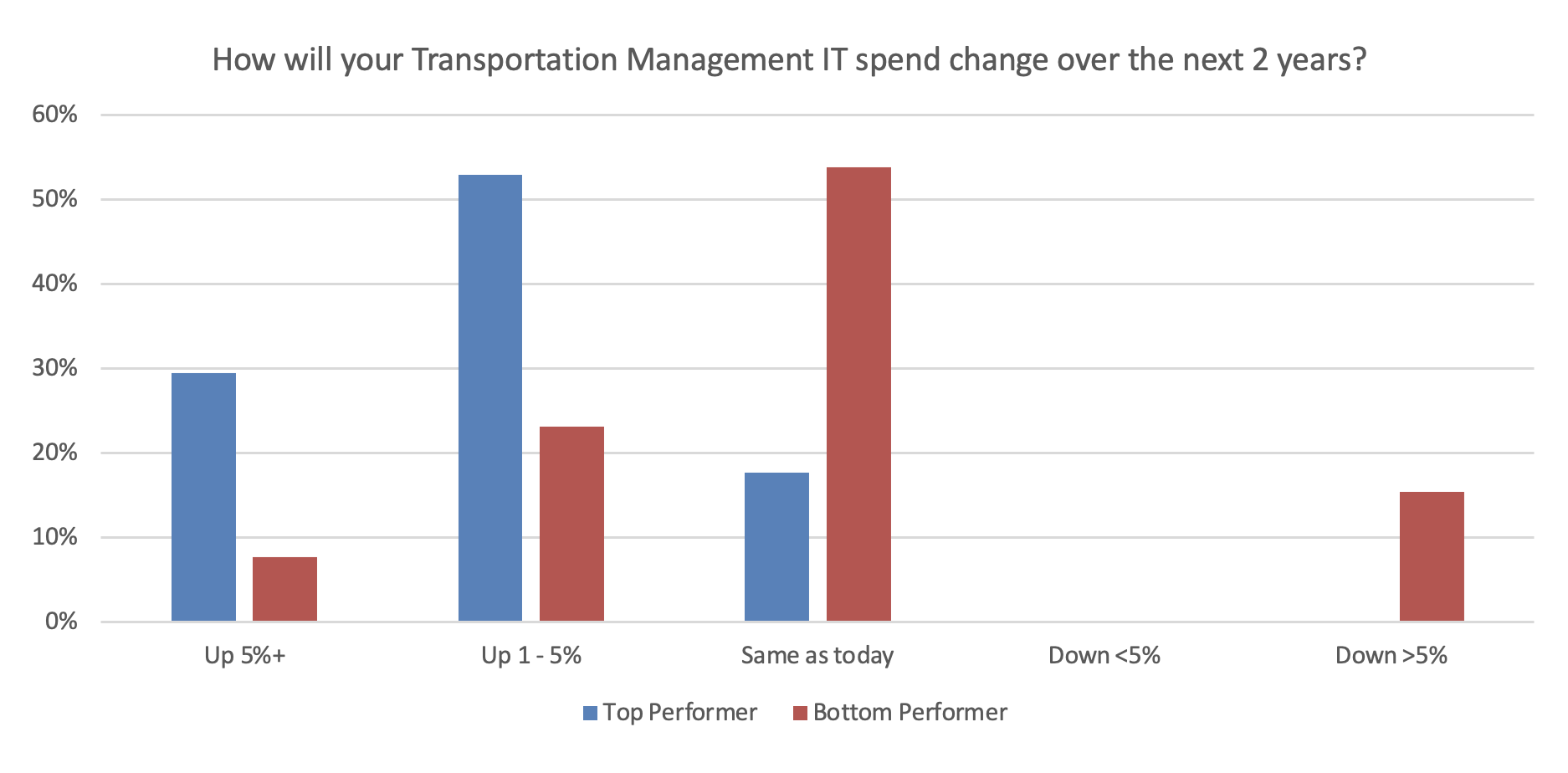 Spending growth is an important point, but how funds will be used is even more telling in terms of the value received by the business. The following two charts paint a compelling picture. Top performers are much more focused on leading edge strategies to stay ahead of the competition (See Figure 2) and early adoption of new technologies (See Figure 3). Poorer performers are much more likely to invest in strategies that are mainstream and do not provide any competitive differentiation. This does not bode well for poorer performers as, more than ever, transportation management strategies and technology are evolving. What was considered leading edge and differentiating five years ago can be "table stakes" today.
For example, look at how faster delivery time expectations have dramatically increased in that timeframe.
---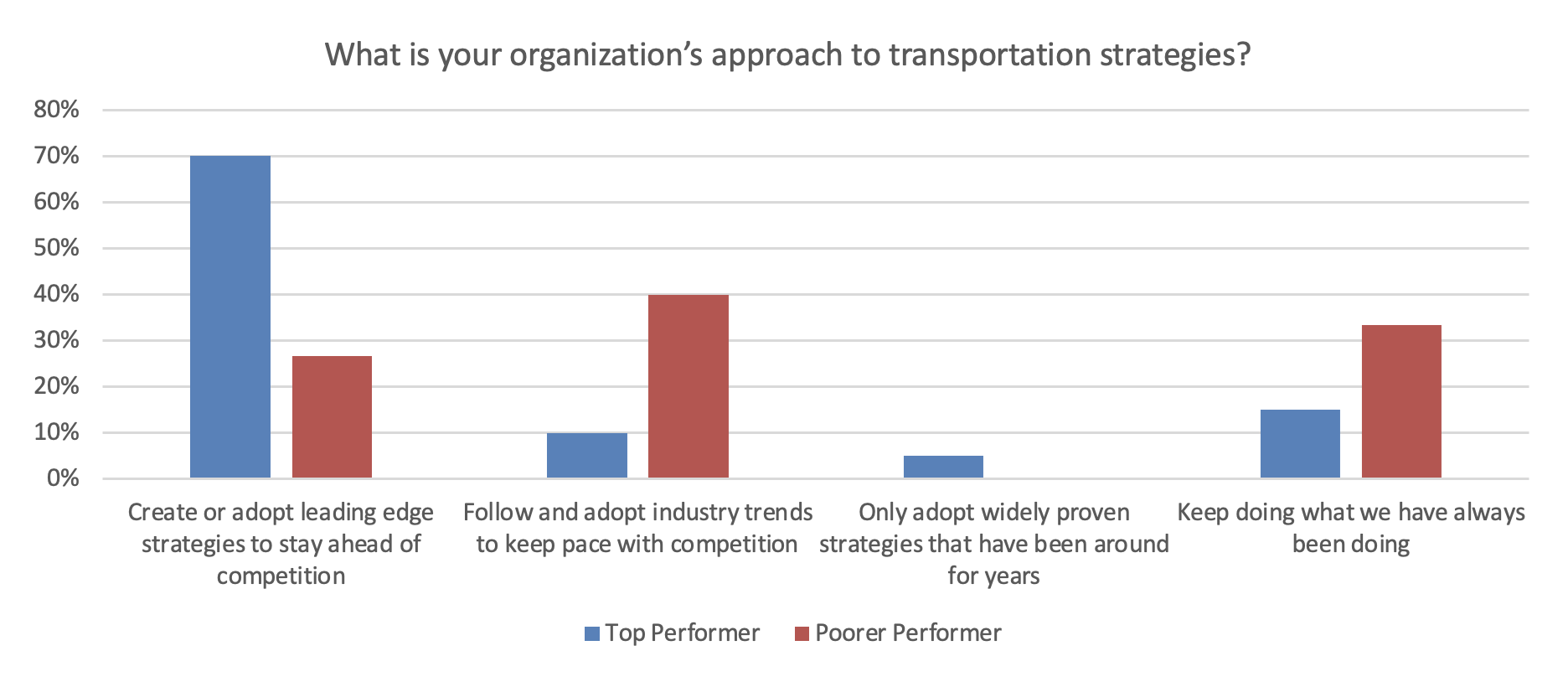 ---

In terms of investment priorities, for four years, visibility has consistently been ranked #1 overall, including in the 2021 survey (39%), but the priority gap between top and poorer financial performers is highly pronounced. The following chart (Figure 4) highlights the stark comparison between the two in how visibility is perceived in terms of its ability to improve operations, its value to the business and its focus as an investment for the next two years. With the challenges in today's transportation markets, knowing "where's my stuff" is more important than ever to keep businesses operating effectively and customers happy.  
---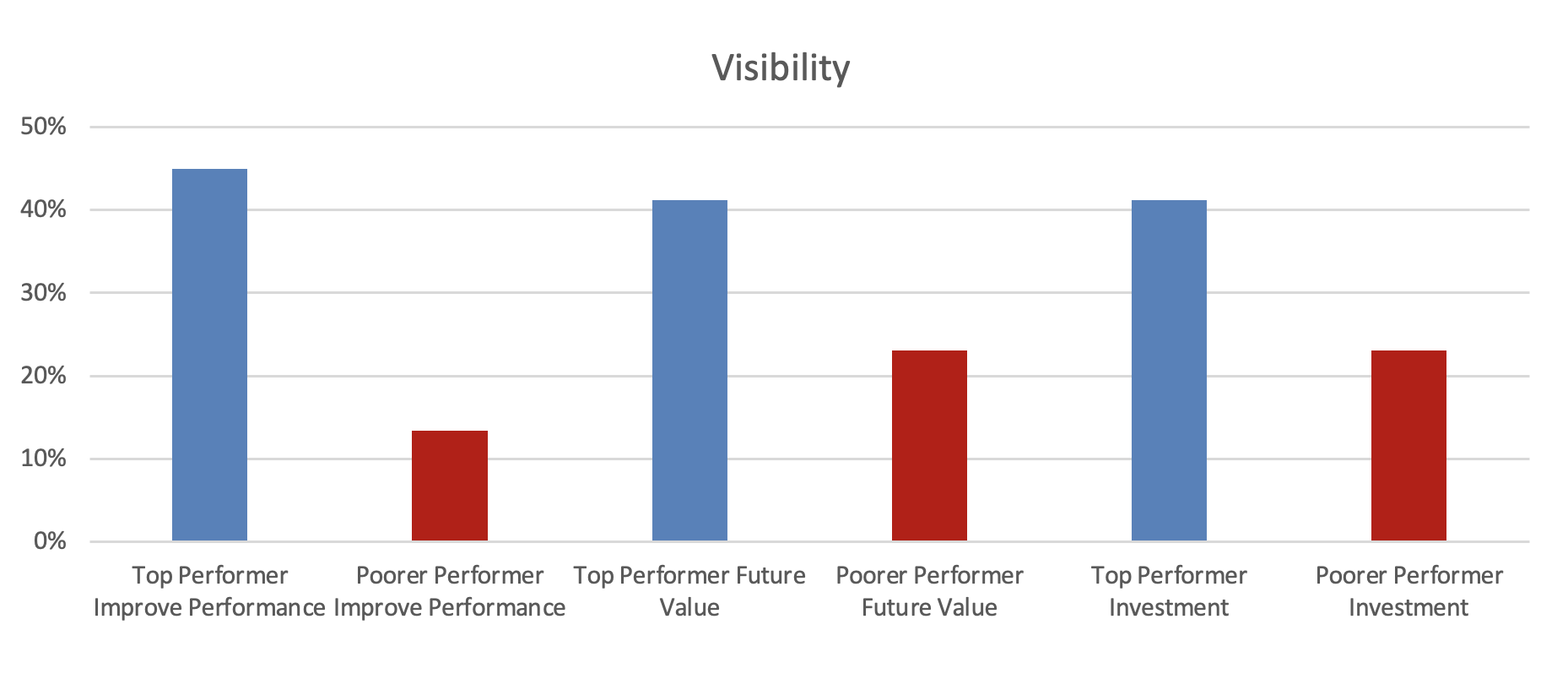 Spending more money on IT is no guarantee of success in transportation management; however, it's hard to draw any conclusion other than top performers are looking to make a difference with their investment and see visibility as one of the keys to their success. Poorer performers expect to spend less and get less from their IT investments.
In the 5th Annual Global Transportation Management Benchmark Study , we examine how top performers think differently about transportation management strategies, tactics and technology. We also evaluate the impact of the pandemic on that thinking and how organizations are changing—or not—in the face of a constantly evolving transportation market.
Join us for a deep dive into the benchmark results on our web seminar May 20th at 2pm Eastern Daylight Savings Time.
Recommended For You
---
2021 Trends In Transportation Management Web Seminar
Get an inside look at the survey observations our EVP & 30-year industry veteran, Chris Jones has made regarding visibility as a major trend for Transportation Management in 2021
Best Dedicated Solutions Achieves 95% Carrier Compliance
Descartes MacroPoint™ multimodal freight visibility platform enabled Best Dedicated Solutions to enhance customer service and increase employee productivity by automating load tracking and providing real-time freight status updates
Interested in learning more about Descartes Transportation and Logistics Solutions?