Verbeterde performance door inzet mobiele applicaties
---
Geen papieren processen, nauwkeurige data over leveringen, overdracht eigenaarschap, snellere facturatie verlaagde personeelskosten en tevreden klanten.
Verbeter de productiviteit van de bestuurder door middel van geoptimaliseerde routes.
Voertuiglocatisatie
Automatic Vehicle Location (AVL)
GPS-tracking om de uitvoering van de route in real-time te volgen, AI-gebaseerde generatie van ETA's en analyse van de effectieve prestatie vs de planning.
Stel verzenders en chauffeurs in staat om eenvoudig en automatisch updates te geven van de rittenstatussen en leveringen.
Bewijs van levering (POD)
Elimineer papier en reduceer geschillen door leverbewijzen adhv. handtekening en/of foto of scan-on/scan-off mogelijkheden.
Descartes ondersteunt een breed scala aan commerciële en consumentgerichte apparaten. De mobiele apps van Descartes zijn direct beschikbaar in de Apple App Store en Google Play Store.
5-20% hogere productiviteit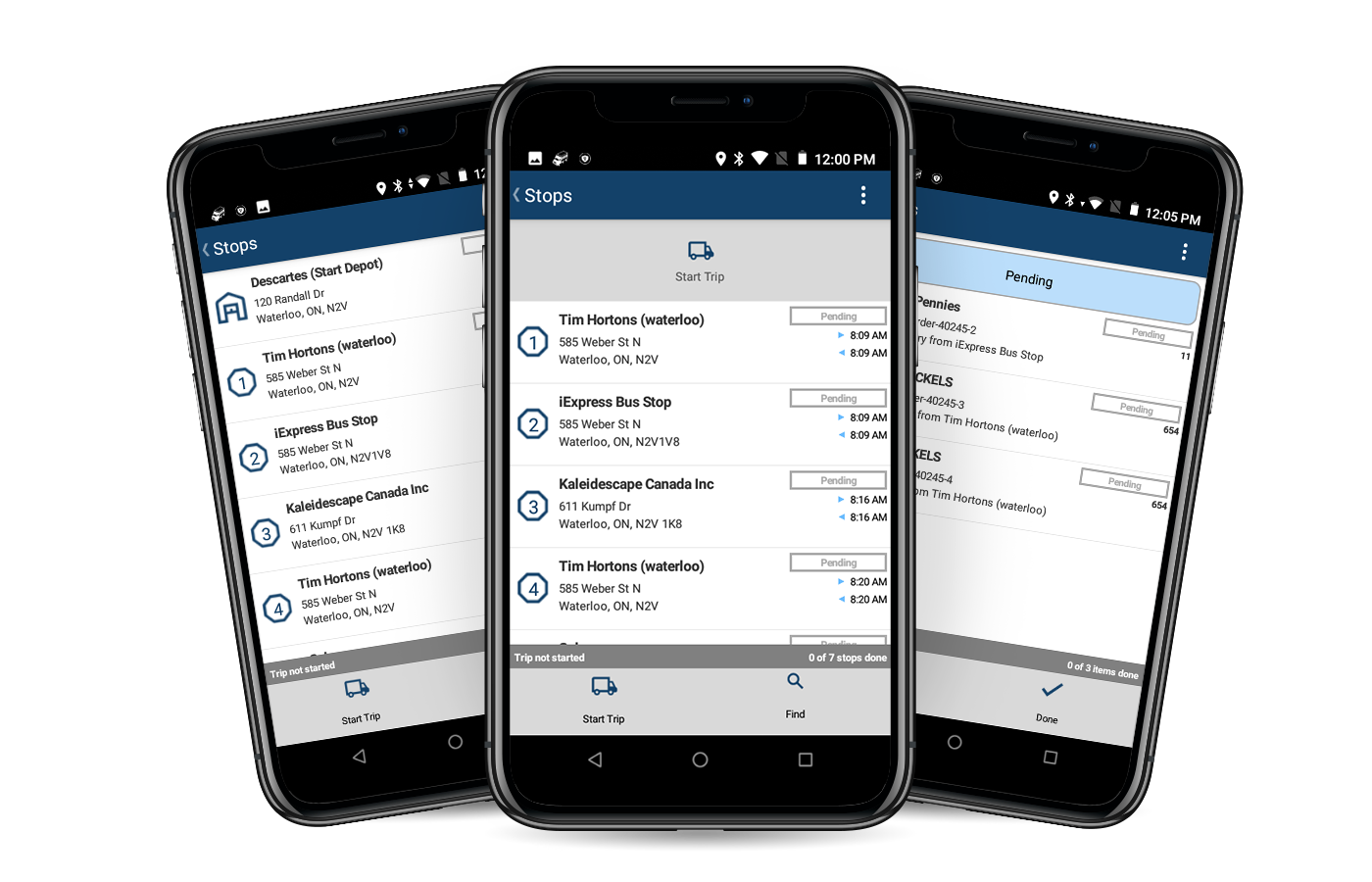 De mobiele oplossingen van Descartes bieden chauffeurs en buitendienstmedewerkers de informatie, workflows en ondersteunende tools die ze nodig hebben om hun werk in het veld optimaal te kunnen uitvoeren. Descartes ondersteunt een breed scala aan apparaten en mogelijkheden, variërend van het uitvoeren van ritten, het in- en uitscannen van orders, het vastleggen van foto's en handtekeningen tot het genereren van de uiteindelijke factuur.

— Nicholas Chesna, Fleet Assistant Manager at Richards Building Supply
---
"With the Descartes solution, we now have real-time visibility into deliveries as they are made—and proof of delivery when customers receive their orders."
Klaar om Descartes Mobile in actie te zien?
---
Bijkomende bronnen
---
WESCO Customer Success
"Electrifying Last Mile Delivery" - Jeff Mandell, Transportation Manager at WESCO talks about using Descartes Mobile for proof of delivery and how it helped reduce costs.
Evaluate Your Delivery Strategy
Mobile Technology Adoption – The Weakest Link in Your Delivery Strategy?
Looking to meet with a solution expert?