Fifteen Airlines to Switch to the eAWB as the Preferred Method for Shipping Cargo
Effective March 1, 2016, fifteen air carriers will switch to the eAWB as the preferred process for shipping air freight. This is a significant milestone in the air cargo industry and creates a new level of urgency for forwarders to move toward the eAWB.
On the carrier side, the benefits of the eAWB are clear— airlines need the information to populate security filings and to streamline a high volume of air freight shipments. On the forwarder side, the advantages are less defined. Forwarders must have business value to make the transition.
Some carriers are meeting the challenge of forwarder eAWB adoption by utilizing the stick portion of the "carrot or the stick" motivational practice by charging for paper documentation at the house and master bill level. While this helps push the discussion forward, the overall value to the industry will be reached when additional forwarder objections or barriers to participation are addressed.
One of the major objections to forwarder eAWB participation has been the difficulty to manage and maintain the specific requirements within each trade lane and to determine what shipments are eAWB eligible. In order to mitigate this barrier to entry, many airlines are adopting an innovate method to boost forwarder participation called the Single Process approach.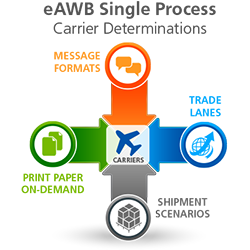 The Single Process approach is a more streamlined method that makes it easier for forwarders to submit digital airway bill information. Simply stated, forwarders provide airway bill details electronically without worrying about destination or transit countries. As a result, forwarders will no longer have to determine whether an airport is eAWB-enabled or if a shipment qualifies for digital submission. Carriers handle the printing of paper air waybills on demand.
It is also important to note that although the Single Process approach can minimize eAWB complexity for forwarders, it places carriers at the center of information management. In order to reduce the workload on a carrier's business, airlines may turn to technology providers that can help streamline and simplify many IT challenges.
Returning to the forwarder perspective, the Single Process approach is beneficial to the air cargo industry but still does not address all forwarder concerns. In general, there are several factors required for forwarders to derive meaningful value from the eAWB:
A streamlined 'one-to-many' interface: Solutions should easily translate air waybill information into the specific carrier's format and mask the complexity of message handling. This also eliminates the need for forwarders to use a different portal for each airline.
Capabilities to grow: Systems must be extensible– Forwarders need flexible choices within the same framework or provider. This should also include options to add services as business needs evolve.
Options for data re-use: Solutions that only address the eAWB or bookings do not add real value. Forwarders need to further repurpose information to maximize benefits.
Descartes has been helping forwarders communicate electronically with air carriers for over 20 years.
As the global leader in air messaging, Descartes has a long-standing commitment to the eAWB initiative and further automation of the air cargo supply chain.
Now as Air Canada, Air France-KLM, American Airlines, British Airways/IBERIA (IAG), Cathay Pacific, Delta Air Lines, Etihad Airways, Finnair, Lufthansa Cargo, Qatar Airways, Saudi Arabian Airlines, Swiss and United Airlines are moving to further implement the eAWB, Descartes encourages industry-wide involvement in the eAWB program. We would be happy to help guide forwarders through the steps needed to participate. Our solutions are:
Simpler: With Descartes, the eAWB is easy. Descartes offers the industry's leading communication and messaging infrastructure and an intuitive web-based portal. Descartes' advanced solutions have helped forwarders meet expanding carrier electronic communication requirements, increase visibility and improve performance.
Faster: Forwarders can quickly on-board the eAWB in a few simple steps. Our proven track record and industry experience has enabled Descartes to rapidly roll out the eAWB to forwarders worldwide. In addition, it's quick and easy to create eAWBs in Descartes' solutions.
Better: Descartes offers some of the most advanced capabilities available to standardize and automate air cargo and freight management operations, provide real-time shipment status monitoring and improve service by transmitting accurate and timely tracking updates to customers. Forwarders can also choose to add robust shipment management, accounting, customs clearance, detailed Harmonized System (HS) classification capabilities, Denied Party Screening (DPS), first/last mile solutions and more.
---
Descartes has developed a comprehensive eAWB eBook for Forwarders/Logistics Service Providers (LSPs). This guide explores how the electronic airway bill is helping forwarders rise above complex operational and industry pressures to realize meaningful gains. Topics covered include:
Key forwarder questions answered and misconceptions addressed
An infographic that compares a non-eAWB vs. an eAWB-enabled forwarder
An interactive chart that details the steps that forwarders can take now to move toward eAWB implementation
Click here to register and download the eAWB eBook for Forwarders.
In addition, since air carriers are at the center of regulatory and industry pressures, we have also developed an eBook for the air carrier audience.
Click here to register and download the eAWB eBook for Carriers.
With complex factors at work in the air cargo industry, carriers, forwarders and Ground Handling Agents (GHAs) have many questions in regard to the eAWB. We encourage you to contact us with your thoughts and feedback as the industry moves toward more automated and digital processes worldwide.