Descartes Helps Customers Keep Pace with Cyber Sanctions & Releases New Global DPS Offerings
There is keen market interest in cyber-related Denied Party Screening (DPS), and criminal operatives seeking to trade or travel abroad are now greeted by the hard wall of sanctions. Likewise, companies are taking steps to avoid business transactions with individuals, entities or organizations associated with cyber-crime as per U.S. watch lists.
While the U.S. Office of Foreign Assets Control (OFAC) has long cited cyber criminals as prime candidates for black listing, it was only recently that the restrictions reached a level of operational maturity. In this sense, a mature regulation is one that has moved beyond theory to functional practice. In the case of cybersecurity and denied party screening, this means that lists are now actively populating with data, and screening can be performed at a practical level by organizations of any size around the world.
Register for a free trial of the Descartes MK Denied Party Screening solution and to keep pace with changing denied, restricted and sanctioned parties worldwide.
Cyber-related sanctions controls have been a hot button issue for years. Following attacks across a number of companies, verticals, organizations and individuals, it was evident that sanctions were necessary to help deter future online assaults. Executive Order (EO) 13694 officially firmed up the sanctions directive in 2015. The initiative, implemented by 31 C.F.R. Part 578, empowers the U.S. government to block all property and interests in from being "transferred, paid, exported, withdrawn or otherwise dealt."
In addition, the order prohibits entry by any party that "perpetrates a significant cyberattack" and covers reciprocal "receipt of any contribution or provision of funds, goods, or services" from these persons or entities. The mandate was also intended to help minimize cyber-enabled attacks against infrastructure or business, and to shore up existing sanctions programs.
Cyber Sanctions Lists Begin to Populate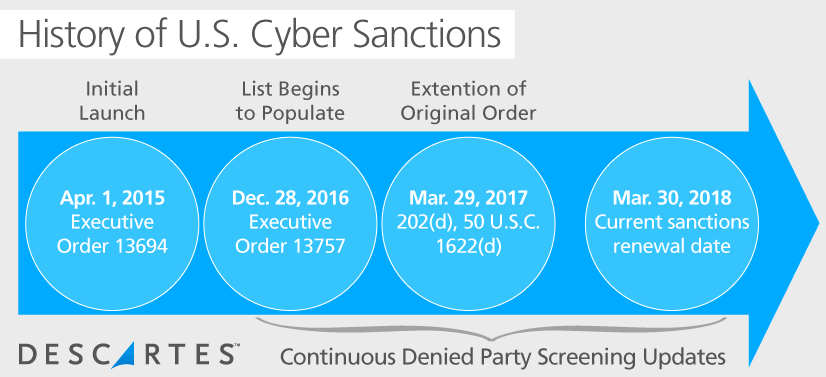 While in force as a protective measure, the cyber-related sanctions list itself remained empty or held no data (i.e., names of entities/organizations) at launch. A subsequent Executive Order 13757, "Taking Additional Steps to Address the National Emergency with Respect to Significant Malicious Cyber-Enabled Activities" was required to begin populating the list with names. Subsequent actions were required to enable continued enforcement and to ensure that the sanctions did not expire.
Infographic: Why an Effective DPS Review Is Essential
While many may nod in agreement at the cyber-related sanctions controls, others may wonder what DPS means to business or to the bottom line. Simply stated, this is an additional denied party screening list that should be reviewed before importing or exporting goods, inking business deals, extending employment, performing financial transactions and more. It is another one of the standard checks and balances that is prerequisite for doing business. Denied party screening can be a significant task, however, given the:
Likelihood of false positives among the many legitimate businesses or persons with similar names
Possibility for a cyber operative to adopt pseudonyms or any number of also-known-as (AKA) affiliations
Number of entries and lists that must be reviewed as companies perform daily operations both domestically and abroad
Format of the list as a unstructured text file
To view why sanctions screening is critical for business, download our free denied party screening infographic.
Descartes' DPS Offerings & New Global Screening Lists
As part of our Standard DPS List Package Offering, Descartes MK Denied Party Screening™ (Descartes MK DPS™) offers screening of Malicious Cyber-Enabled Activities in a number of formats including:
Descartes MK Denial.com™ – As a Software as a Service (SaaS) offering, our web-based DPS solution delivers highly-sophisticated capabilities on-demand.
Descartes MK Content™ – Our content powers global trade by streaming data into leading business applications including Enterprise Resource Planning (ERP), Customer Relationship Management (CRM) and Global Trade Management (GTM) systems
Descartes MK Bulk Screening™ – Simultaneously screen thousands of customers or prospects against a selected range of denied and restricted parties
Descartes MK Dynamic Screening™ – Leading businesses are using leveraging our proactive review solution to boost productivity and minimize redundant screening
To underscore the growing number of DPS security concerns worldwide, the Descartes MK DPS Enforcements Screening Package has been expanded to cover three additional international list offerings including:
U.K. Proscribed Terrorist Groups (United Kingdom) - Covering terrorist groups or organizations banned under U.K. law, and details of proscription criteria
Europe's Most Wanted Fugitives (Netherlands) – Including terrorist groups or organizations banned under U.K. law, and details of proscription criteria
Turkey's Wanted Terrorist List (Turkey) – Covering the country's five color-coded risk categories, red, blue, green, orange and grey terrorist lists
Descartes has also developed an infographic that quickly distills the top reasons why companies need an effective denied party screening solution. From the number of lists, to false positives, to cybersecurity and more, discover how market leaders are approaching DPS systematically, tailoring data delivery needs with the correct lists and more.
Click here download our free infographic "The Importance of Denied Party Screening (DPS) - The Top Reasons Companies Require an Effective Review".
Register for a free trial of our Denied Party Screening service.