Ecommerce Software 101: Intro to Software Programs that Improve Ecommerce Fulfillment
---
Ecommerce business leaders that struggle with accurate, on-time order fulfillment benefit from ecommerce software. Designed to streamline every step of the process, from shopping cart to order fulfillment to timely delivery of each order, integrated software solutions make life better for customers and companies alike.
Here's an introductory-level overview of the four essential programs for accurate, on-time order fulfillment and delivery.
Understand the different software programs that improve order fulfillment. 
What belongs in an ecommerce tech stack/app stack? 
These programs work together to ensure your customer receives the right order on time. 
---
Ecommerce Tech Stack FAQs  
---
Ecommerce Platform FAQs  
What is an ecommerce platform?  
An ecommerce platform is software that allows customers to shop from YOUR website rather than a marketplace such as Amazon or Etsy. Designed to help businesses create and manage their online stores, it includes features like product management, payment processing, and order tracking to facilitate online sales.  
An ecommerce platform enables businesses to establish an online presence, sell products or services, and provide a smooth shopping experience for customers. As the foundation of your tech stack, it needs to integrate with all the other programs you will eventually add. You can use a pre-built version (i.e., Shopify) or build your own. 
When do I need an ecommerce platform? 
You are ready for an ecommerce platform when:  
You want to run a fully functioning online store where people can purchase your products. 
You want secure payment processing for your customers. 
You want to manage sales, marketing, and your website in one place.  
You want complete control over your brand with a substantial online presence. 
What are some of the most popular ecommerce platforms? 
What are the must-haves when choosing an ecommerce platform? 
Ease of use. It doesn't have to be overly fancy, but it DOES need to be user-friendly. 
Integrations/applications/plugins to help you grow your business (i.e., marketing, website development, CRM) 
Scalability. Do you anticipate a high online sales volume? Make sure your platform can handle it. 
Handles both in-person (POS) and online sales. Not all platforms do this, so check for this capability. 
What are the red flags when choosing an ecommerce platform? 
Limited customization for your brand's look, feel, and experience. 
Limited or small number of integrations 
Poor reputation for cyber/data security 
No online identity verification (i.e., single sign on, two-factor authentication) 
Shipping Software FAQs 
What is shipping software? 
Shipping software integrates with your ecommerce platform, shopping carts, marketplaces, and carriers to save you time versus manually entering order information into carrier shipping websites.  
It will also allow you to rate-shop multiple carriers (i.e., FedEx, USPS, and UPS) to find the best shipping rates. Most shipping software companies negotiate discounted shipping rates with carriers and pass the savings to their customers. You will pay less for shipping through a software company than using a carrier directly. 
When do I need shipping software? 
You are ready for shipping solution when:  
You ship 20+ orders per day and want cheaper shipping. 
Typing shipping information into a carrier's website for every order is causing a bottleneck. 
Keyed entry errors are causing shipping problems and unhappy customers. 
You want to use multiple carriers and start shipping rate comparisons. 
What are some examples of shipping software solutions? 
What are the must-haves when choosing shipping software? 
Carrier rate shopping. Easily compare and choose the best price for a given shipping timeframe. 
Automations. Time-consuming, repetitive tasks can be automated to save time during shipping. 
Live customer support. Have a support team of real people to help keep things running smoothly. 
Integrations with all your preferred carriers, including support for all carrier-specific services. 
What are the red flags when choosing shipping software? 
Limited number of integrations with all your sales channels and marketplaces. 
Automatic billing when you ship above your pricing tier. Some programs charge immediately. 
Limited scalability. Will you shipping software keep up during peak season or a surge in orders? 
Unstable company. Choose a company with a long-standing reputation for excellent service. 
What is the difference between inventory management (IMS), order management (OMS), and enterprise resource planning (ERP) software? 
As an ecommerce business grows in order volume and number and type of sales channels, it requires software to manage the complexity skillfully.  
Three main types of software can smoothly handle functions: 
1. Inventory Management System (IMS) 
2. Order Management System (OMS) 
3. Enterprise Resource Planning (ERP) 
IMS and OMS titles for software are often used interchangeably, with only slight differences between the two types of programs. Generally, an IMS is considered a more "lightweight" and less expensive program, while an OMS provides slightly more complex features and functionality to solve the same basic set of problems. If you compare the descriptions and offerings of different IMS and OMS programs, the differences are inconsistent and minor. 
An ERP, on the other hand, is usually a much more robust software program than an IMS or OMS. It offers the inventory and order management capabilities of an IMS or OMS, plus advanced day-to-day business management tools. From procurement to processes, financials to human resources, an ERP delivers advanced software capabilities to manage highly complex business functions in one platform. While an IMS or OMS may be enough for a direct-to-consumer company, wholesale sellers and manufacturers need an ERP. 
---
Inventory Management System FAQs 
When do I need an IMS? 
You are ready for an inventory management system when:  
You start overselling your inventory.  
You start selling on multiple channels or omnichannel.  
You lose sight of what you physically have on hand. 
You have no idea what is in stock or not at any given moment. 
What are the must-haves when choosing IMS software? 
Must integrate with ALL your sales channels, including POS (if used), to account for every sale. 
Automation based on minimum and maximum on-hand stock that automatically reorders when low. 
Forecasting and planning. Leverage the data collected to generate reports that aid in strategy. 
Cloud-based (SaaS). A power outage could wipe out records if you rely solely on a desktop application. 
What are the red flags when choosing IMS software? 
Frequent bugs or system crashes. Read online reviews to gauge the reliability of an IMS. 
Inadequate data security. You need to protect your customers' personal information from hackers. 
No cycle counting feature. You still need to physically count your inventory to keep records.  
Limited scalability. It needs to grow with your business as you add more sales channels/SKUs. 
Order Management System FAQs 
When do I need an OMS? 
Your multichannel business grows in complexity beyond what your IMS can handle. 
Your orders travel to multiple facilities for assembly, processing, packaging, or distribution. 
Your customers need a seamless omnichannel experience with your brand. 
You want customers to be able to check when an order will arrive. 
What are the must-haves when choosing OMS software? 
Must integrate with ALL your sales channels, including POS (if used), to collect information from every sale. 
Real-time inventory. To avoid overselling and stockouts, make sure your program delivers real-time inventory. 
Visibility on the entire supply chain as well as the ability to isolate events. This aids in troubleshooting. 
Customizable order management processes. Configure rules and processes to suit your business needs/goals. 
What are the red flags when choosing OMS software? 
No delivery and service scheduling ability. You need to be able to match commitments to available inventory. 
Weak/underdeveloped customer engagement technologies. Make sure it's easy to involve the customer. 
Limited or clunky data analytics/reporting. Choose high-quality reporting to aid strategic planning/operations. 
Poor distributed order management. You need the program to route orders to the correct destinations. 
What are some examples of IMS/OMS solutions? 
---
Enterprise Resource Planning Software FAQs
When do I need an ERP? 
You are ready for an ERP when:  
You need integrated functionality beyond inventory and order management. 
You sell B2B (wholesale) products and/or use limited truckload (LTL) shipping. 
Your business operations reach a level of complexity that your tech stack can't easily manage. 
You start managing projects, people, procurement, and complex processes. 
What is the best ERP for ecommerce? 
What are the must-haves when choosing ERP software? 
Integrations. Is it able to easily integrate with the other programs in your tech stack? 
User interface. Is the information laid out in a way that makes sense to you and is easy to navigate? 
Implementation. How much does it cost, how long does it take, and do you have the resources? 
Data security. This program will house your customer and financial information, so security is crucial. 
What are the red flags when choosing ERP software? 
Difficult data migration. It must easily incorporate your existing data and let data flow freely. 
Costly customization. How much will you pay to get the program to work how you need it to? 
No live customer support. This program is the brains of your business, so ensure expert support. 
Complicated program that requires a lot of training. Make sure your team can easily use this. 
Warehouse Management System FAQs 
What is a warehouse management system (WMS)? 
A warehouse management system (WMS) is a software application or platform that helps you efficiently manage complex warehouse operations, equipping you to effectively handle large quantities of SKUs in multiple warehouses. It helps businesses streamline processes such as receiving, storing, picking, packing, and shipping goods within a warehouse or distribution center.  
With a WMS you will know where every item in your inventory is located, and you can use multi-picking strategies to reduce walking time. Barcode scanning eliminates data entry errors and keeps your inventory up to date. The result? Faster, more accurate order fulfillment. 
When do I need a warehouse management system (WMS)? 
You are ready for a warehouse management system when you:  
Fulfill at least 50 orders per day 
Struggle with picking errors and picking speed 
Experience customer complaints about receiving the wrong items 
Receive customer complaints about orders being delivered late 
Which warehouse management systems (WMS) are best for ecommerce? 
What are the red flags when choosing WMS software? 
Cannot handle high volumes. Not all solutions perform as well as they claim. Read reviews and case studies. 
Cluttered user interface with many complex features. Most warehouse workers will only use a handful of features. 
Cannot integrate with your shipping program. Your WMS and shipping must work together seamlessly. 
Complex, costly, and lengthy implementation process. How much time, money, and expertise does this require? 
---
Start Building a Tech Stack for Ecommerce Fulfillment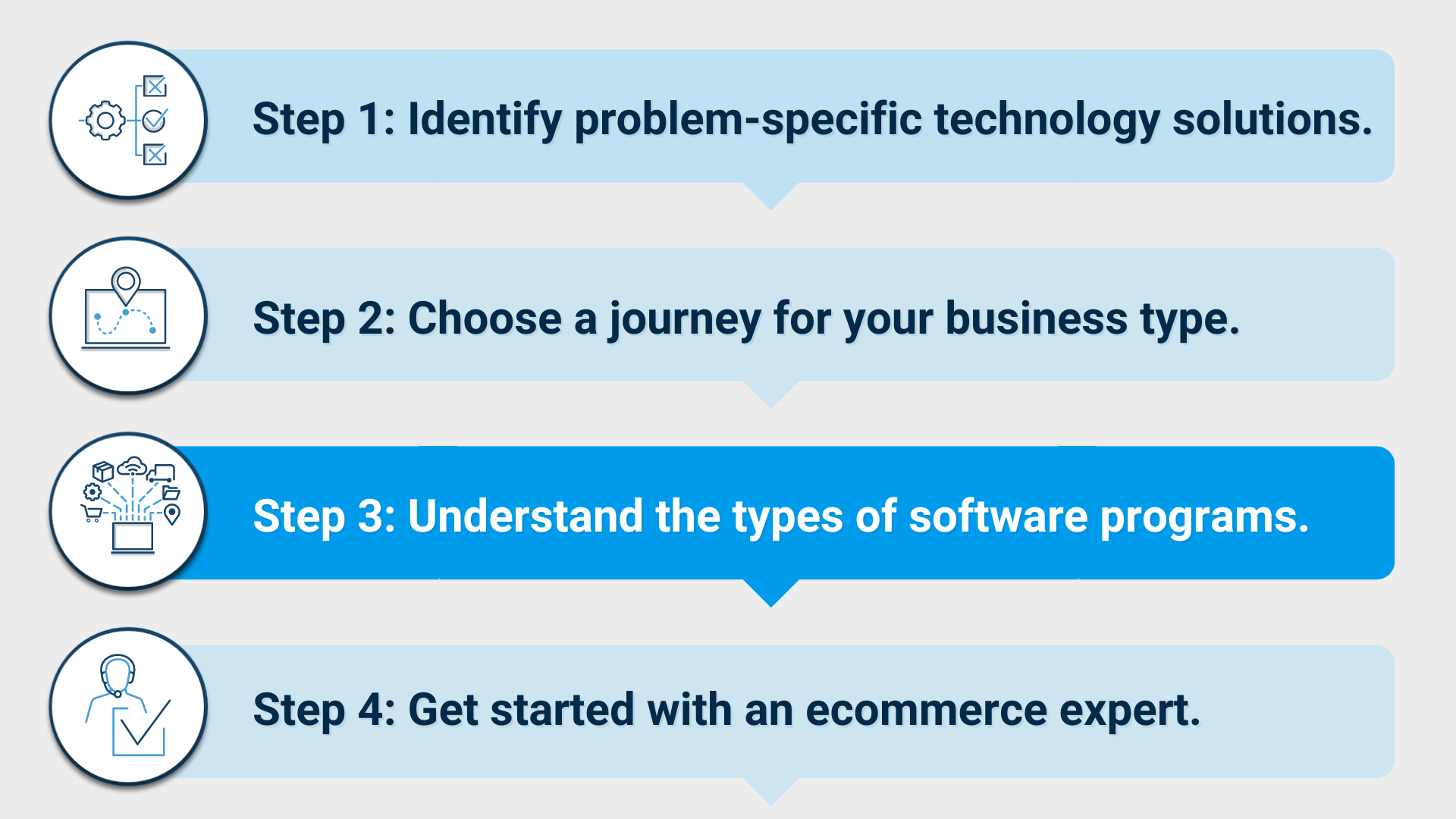 We have outlined four simple steps to help you build a tech stack, and you just completed Step 3. Now that you understand the four basic software types, let's move to the next step. It's time to get started with an ecommerce expert. 
Looking to Speak with an Expert?
---