News, updates, and insights from the world of sanctions, denied parties, sanctioned party ownership, and other international trade compliance issues.
October 15, 2021
Descartes MK Denied Party Screening in Netsuite
Descartes MK Denied Party Screening invites you to find out how automated screening for denied parties in Netsuite simultaneously helps organizations meet their international trade compliance obligations with ease and accelerate business growth. Please watch our webinar session below to learn more!
---
October 07, 2021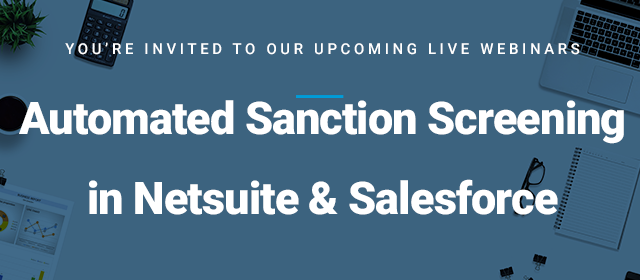 You're Invited! Automated Sanction Screening in Netsuite & Salesforce
Descartes MK Denied Party Screening invites you to attend and learn about our screening solutions for Netsuite & Salesforce! Our fully integrated solutions allow you to perform automated screening of your business partners, review hits and change the status of records all without leaving your environment.
To learn more and see a demonstration of our applications, please register below. Both webinars are free to attend and we encourage you to extend this invite to anyone that is interested!
DPS for Netsuite Webinar
October 14
3pm EST
45min
DPS for Salesforce Webinar
October 19
3pm EST
45min
---
June 22, 2021
China Anti-Foreign Sanctions Law
In June 2021, The Government of China adopted the Anti-Foreign Sanctions Law, granting China a legal avenue to publish sanction lists. For more information, please watch our video below to learn how you can stay in compliance with the new law.
---
DECEMBER 14, 2020
UK Sanctions Post Brexit
At the end of this month, European Sanctions previously adopted by the UK will no longer apply. For more information, please watch our video below to learn how you can stay in compliance with UK Sanctions after Brexit.
---
SEPTEMBER 02, 2020
Take the PEP Survey
Descartes is exploring expanding our Politically Exposed Persons (PEP) list. The new list would expand Descartes offering of PEPs from about 50,000 names to over 1.4M.
We are looking for feedback from our current PEP subscribers in order to determine the value the expansion would bring to you.
The features of the new PEP list are below:
Expansion of list of PEPs and their associates: The new PEP list would include significantly more PEPs from high ranking national officials to members of local governments and their close associates. 
PEP Owned Entities: As a separate list, Descartes will also offer PEP owned entities. This will allow for screening against companies that could be used for indirect payments to PEPs for bribery and corruption purposes.
Please fill out the short survey below to help Descartes best understand your needs.
Thank you!
---
JULY 09, 2020
Forced Labor and Human Rights
In recent weeks, there have been growing conversations in regards to forced labor and human rights abuses. 
On July 1, the US Office of Foreign Assets Control (OFAC) issued an advisory about the human rights violations in Xinjiang China. In the advisory, OFAC recommends caution when importing goods from that region, as forced labor is highly rampant in the area. Here is a link to that advisory:
OFAC Risks and Considerations for Businesses with Supply Chain Exposure to Entities Engaged in Forced Labor and other Human Rights Abuses in Xinjiang
On July 6, the United Kingdom released the Global Human Rights Sanctions Regulations 2020. These are sanctions against those who participate in human rights abuse or violations worldwide.  The UK published these sanctions autonomously, and separately from the European Union. 
Descartes currently offers several lists in relation to forced labor and human rights abuse, and we are continuing to explore sources to expand our offering in this area. The lists below come from different packages within our current offering.
UK Global Human Rights Sanctions (BOE): Core Premium Package
The new UK Global Human Rights Sanctions have been added to the existing BOE list. The BOE list also includes financial sanctions placed by the UK and European Union, and entities subject to the Capital Market Restrictions.
BOE will continue to reflect sanctions from both of those programs.
US Customs and Border Protection Forced Labor (CBPFL): Miscellaneous Package
This list contains materials and manufacturers that have been found to use forced labor in their operations to produce their products.  The CBP issues Withhold and Release Orders (WROs) when material is determined to be sourced unethically. The CBPFL list contains the companies with WROs open against them.
US Department of Commerce Entity List (ERL): Standard Package
The Bureau of Industries and Securities added Chinese private and government entities to the Entity List in 2019 due to human rights abuses. These additions will require companies to obtain licenses prior to exporting goods to those entities. 
US Department of Treasury Specially Designated Nationals List (SDN): Standard Package
OFAC published eight Chinese names from the Xinjiang region to the SDN list on July 9, 2020. These are the first entries on the SDN list in relation to forced labor.
Brazil Dirty List Eradication of Slave Labor (DLESL): Brazil Package
This list published by the Brazilian government contains companies that are known to have slave labor like conditions. This includes inhospitable working conditions, exhausting hours, forced labor and debt bondage.
List Pricing
These lists come from various packages. For pricing information, please contact your sales agent or info@descartes.com.
---
NOVEMBER 05, 2018
Iran and E.O. 13599
The U.S. Department of the Treasury's Office of Foreign Assets Control (OFAC) took a number of actions in connection with the full re-imposition of sanctions on Iran. OFAC has confirmed that persons and associated blocked property that were previously identified on the Executive Order (E.O.) 13599 List have been moved to the SDN List.  OFAC has removed the E.O. 13599 List from its website.
Descartes MK Denied Party Screening (DPS) introduced the list code IRAN in 2016 to identify individuals and entities under the (EO) 13599. 
As of today, Descartes MK Denied Party Screening (DPS) is retiring the list code "IRAN". Individuals and Entities that were previously identified under the List Code IRAN has been moved over to SDNR (Specially Designated National, Iran).  
Depending on your settings you will see a delisted entry under the code IRAN which will contain this note "Persons and associated blocked property that were previously identified under list code IRAN have been moved to the SDNR list."   As stated there will be an active entry under SDNR or other appropriate codes. 
If you have any questions or concerns, please email servicedesk@descartes.com with MK DPS in the subject. 
---
OCTOBER 24, 2018
OFAC SDN List Update
OFAC SDN List Update: North Korea Designations; North Korea Administrative Update; Counter Terrorism Designations. Over 1,000 OFAC records affected.
---
NOVEMBER 13, 2017
Descartes Evolution Global User & Partner Conference
Evolution is the premier event that gathers together Descartes customers and business partners from around the world to network with each other, meet the Descartes product management team, provide input and feedback on Descartes' product direction, and to learn more about opportunities for improving operations through the growing portfolio of Descartes solutions.
We are excited to announce Evolution 2018, March 6-8, 2018 at the Hilton West Palm Beach in Florida. With 80+ sessions and amazing customer speakers, the 2018 conference reflects our continued dedication to help our customers be more successful. Sessions will provide better insight into our solutions, the successful strategies and tactics of other customers, and the best-practices that produce meaningful results. We are also expanding the event's ecommerce focus as ecommerce continues to redefine many industries and the importance of the role that the supply chain plays. There is no other logistics or supply chain event like it! Check out the conference program here.
For more information and to register, visit the Descartes website at https://www.descartes.com/usergroup.
---
OCTOBER 16, 2017
What are Politically Exposed Persons (PEPs) and Why Are Compliance Directives Important?
While there is no universally agreed upon definition of politically exposed persons, the global Financial Action Task Force (FATF) defines a PEP as an individual with substantial political influence or who fulfills a prominent public function. Many countries have initiated or are revisiting anti-corruption laws targeting PEPs and the impact of violating PEP laws can be extensive and costly.
Read more about compliance regulations concerning PEPs on the Descartes' blog.
---
JULY 31, 2017
Counter Cyber Threats Using Denied Party Screening Software
Businesses today are well aware of cyber-related sanctions and maintain a standard checks and balances process to reduce risk and maintain compliance with government regulations. The U.S. Office of Foreign Assets Control is now populating Denied Party Screening (DPS) lists with names and companies utilizing DPS software are taking steps to avoid business transactions with individuals, entities or organizations associated with cyber-crime as per U.S. watch lists.
Read more about countering cyber threats with Denied Party Screening on the Descartes' blog.
---