Mobile Proof of Delivery (mPOD)
Eliminate paper, reduce back office costs and streamline operations
Customer Success: Martins Atacadista
Learn how Martins Atacadista transformed fleet performance with real-time information.
Fleet Mobile Apps Drive Performance, Customer Engagement, Financial Processes & Machine Learning
---
Real-time, GPS-enabled mobile applications are at the heart of transformation of fleet performance.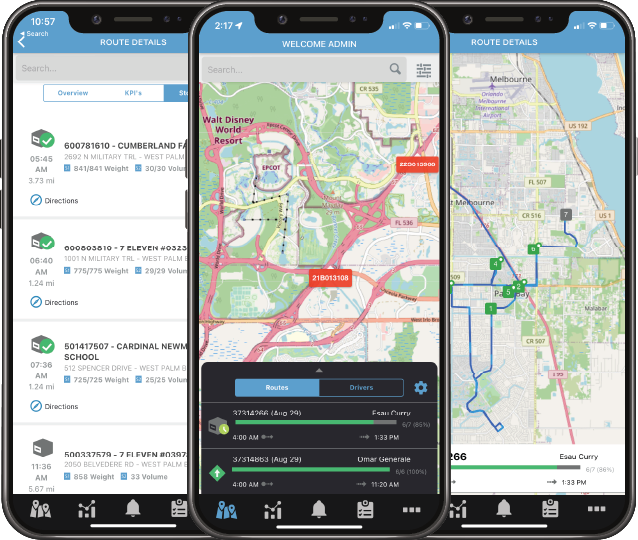 Key Mobile Features
Standard
Capture signatures and delivery info with electronic proof of delivery.
Configurable workflows 
GPS-based real-time tracking 
Proof-of-delivery (POD) with signature and image capture 
Barcode scanning and validation 
Printing 
Automatic status updates (ASU) 
Navigation 
Break management 
Same-day dispatch 
Add new shipments and line items 
Advanced
Scan to route  
Automated stop geofencing  
High volume package pickup and delivery 
Invoice manifest reconciliation and generation 
Driver performance and compliance dashboard 
Manager mobile visibility, performance, and exception management app 
Mobile data enables machine learning to enhance fleet performance.
Descartes' Innovative Mobile Solutions Help Drivers Do a Better Job and Give Managers Improved Visibility and Control of Fleet Operations
---
Descartes' fleet mobile applications give drivers the tools they need to effectively execute their routes according to plan, address disruptions as they occur, and more efficiently capture proof-of-delivery information. The real-time, GPS-based data gives managers and dispatchers enhanced delivery visibility and allows interactions with drivers to address disruptions and issues as they occur or make changes to routes.  
Fleet Resource Center
Expand Your Routing, Mobile & Telematics Knowledge
Additional Resources
---
Operational Benefits of mPOD
Mobile proof of delivery can move an organization closer to achieving the perfect delivery.
Evaluate Your Delivery Strategy
Mobile Technology Adoption – The Weakest Link in Your Delivery Strategy?
Fleet Mobile Apps FAQ
How do fleet mobile apps improve driver productivity?
Fleet mobile apps provide drivers with a route sequence and turn-by-turn navigation that minimizes the distance drivers take to execute a route which can allow drivers to make more deliveries per route.
How do fleet mobile apps improve customer service?
Fleet mobile apps provide vital delivery data that informs customers of the estimated-time-of-arrival (ETA) and captures proof-of-delivery (POD) information such as GPS-tagged pictures and signatures that document a successful delivery or captures overs, shorts or damage. 
Looking to meet with a solution expert?