---
Same-Day Appointment Scheduling
Customer Success: BC Sands
BC Sands is using Descartes to provide real-time, paperless home and job site delivery services.
FAQ: What is Same-Day Optimization and How Will it Benefit Me?
Learn how same-day optimization works and discover the benefits. 
Descartes' Same-Day Delivery Appointment Scheduling Allows Companies to Book Time-Definite, Cost-Effective Deliveries on the Fleet in Motion
---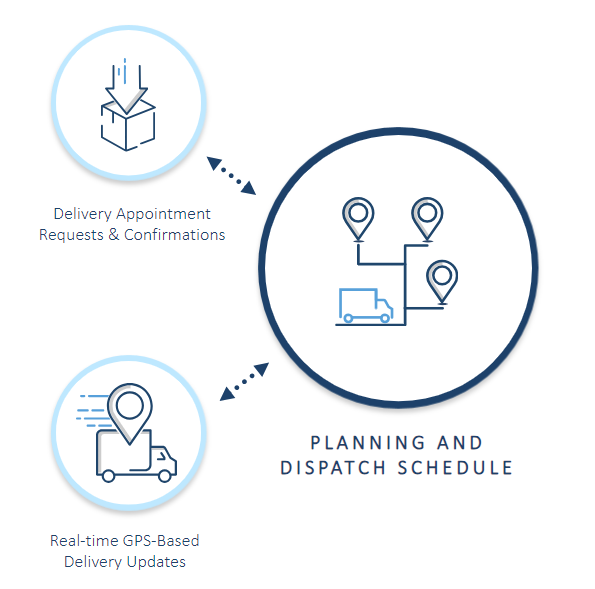 Descartes' intelligent dispatch and tracking software uses real-time GPS and delivery statuses to empower dispatchers to keep their drivers on track and achieve more consistent on-time delivery. Same-day delivery appointments can be automatically and cost effectively applied to the real-time GPS-based dispatch schedule.  
Discover the daily benefits and overall improvements dispatch software can bring to your operation. 
Features
Dynamic Delivery Appointment Scheduling
Delivery options are uniquely scored for the combination of goods being ordered and delivery cost and customer service so companies can determine what they want to provide customers.
Same-day optimization schedules appointments on the planning and live dispatch schedules and uses real-time GPS updates, digital road networks, truck capacity, etc. for the most accurate appointments and optimal route.
New delivery appointments are automatically inserted into the driver's route and communicated to the driver's mobile application.
Delivery Appointment Controls
Determine how far in advance new deliveries can be added to a driver's route based upon their current progress.
The solution adds pickups and drop-offs to the route for new orders and combined with navigation, directs the driver through the route.
Automated Appointment Scheduling
Same-day optimization integrates dynamic delivery appointment scheduling with the planning and live dispatch schedule and the driver mobile app removes the need for human intervention. 
Fleet Resource Center
Expand Your Routing, Mobile & Telematics Knowledge
Same-Day Appointment Scheduling FAQs
What is same-day optimization?
Same-day optimization allows new orders to be dynamically assigned to routes in execution though a combination of real-time GPS tracking and algorithms that understand capacity, road networks and costs.
Why is same-day optimization important?
Same-day optimization allows delivery organizations to maximize same-day delivery capacity and reliability and minimize delivery costs because it optimizes the use of available delivery capacity and evaluates delivery options based upon cost and service.
Looking to meet with a solution expert?