Transportation Management
---
Ausgezeichneten Service und Kostenkontrolle in der Logistik ins Gleichgewicht bringen
---
Synchronisieren Sie Transportprozesse und optimieren Sie den Warenfluss mit Lösungen für das multimodale Transportmanagement, Echtzeit-Visualisierung, Laderampenplanung und das Yard Management.
Die globale Transportmanagement-Lösung mit dem umfangreichsten digitalen Netzwerk der Branche
---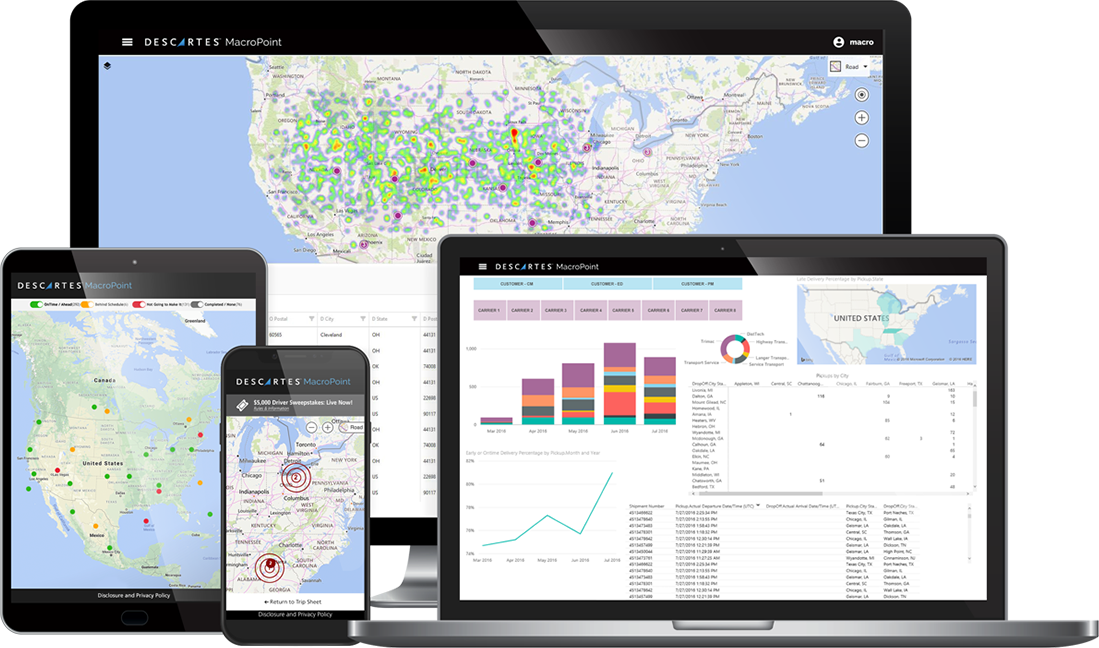 Mit Descartes können Sie den Transport über verschiedene Verkehrsträger hinweg optimieren, einschließlich Luft, See, LKW, Firmenflotte, Paket- und Pool-Distribution. Digitale Verbindungen zu Lieferanten und Kunden sowie die globale Abdeckung der Spediteure durch das weltweite Logistiknetzwerk von Descartes reduzieren den Aufwand und beschleunigen die Zeit bis zur Wertschöpfung.
Benefit Statistics & Customers
---
5-10%
Senkung der
Frachtausgaben
50%
Weniger Zeit
für Tracking
5-20%
Produktivitäts-
steigerung
"Neben der Reduzierung der Frachtkosten in unseren drei Geschäftsbereichen hat die Descartes-Lösung die Produktivität und Zuverlässigkeit beim Versand erhöht und uns dabei geholfen, unseren Kundenservice zu verbessern und die Beziehungen zu unseren Spediteuren zu stärken – ein großer Gewinn für uns."
- Jenifer Westergaard, Transportation Manager, The Vollrath Company
"Die Möglichkeit, alles auf einer Plattform zu erledigen, einschließlich der Bearbeitung eingehender Bestellungen und der Bewertung der besten Preis- und Lieferoptionen für Pakete und LTL, spart uns sowohl Zeit als auch Geld."
- Nick Kierpiec, Director of Operations, ZUP
Sie möchten unsere Lösung in Aktion sehen?
---
Weitere Ressourcen
---
Der ROI hinter der Frachtsichtbarkeit
Tools zur Sichtbarkeit sind entscheidend, um den steigenden Kundenerwartungen gerecht zu werden, da die Wettbewerber die Messlatte immer höher legen.
Lösungsüberblick
Descartes erweitert das Transportmanagement weit über die Standardprozesse des Vertragsmanagements, der Ladeplanung und -optimierung, der Ausführung und der Frachtprüfung hinaus.
Circle Logistics trackt mit Descartes MacroPoint™
Circle bietet FEMA- und Lebensmittelkunden Echtzeit-Sichtbarkeit für kritische medizinische Versorgung und Lebensmittel-sendungen in den USA
Sie möchten mit unseren Experten sprechen?