Funktionen zur besseren Koordinierung von Export-Klassifizierungsprozessen und Arbeitsabläufen, zur Verwaltung von "Deemed Exports", zur Speicherung erforderlicher Dokumente und mehr
---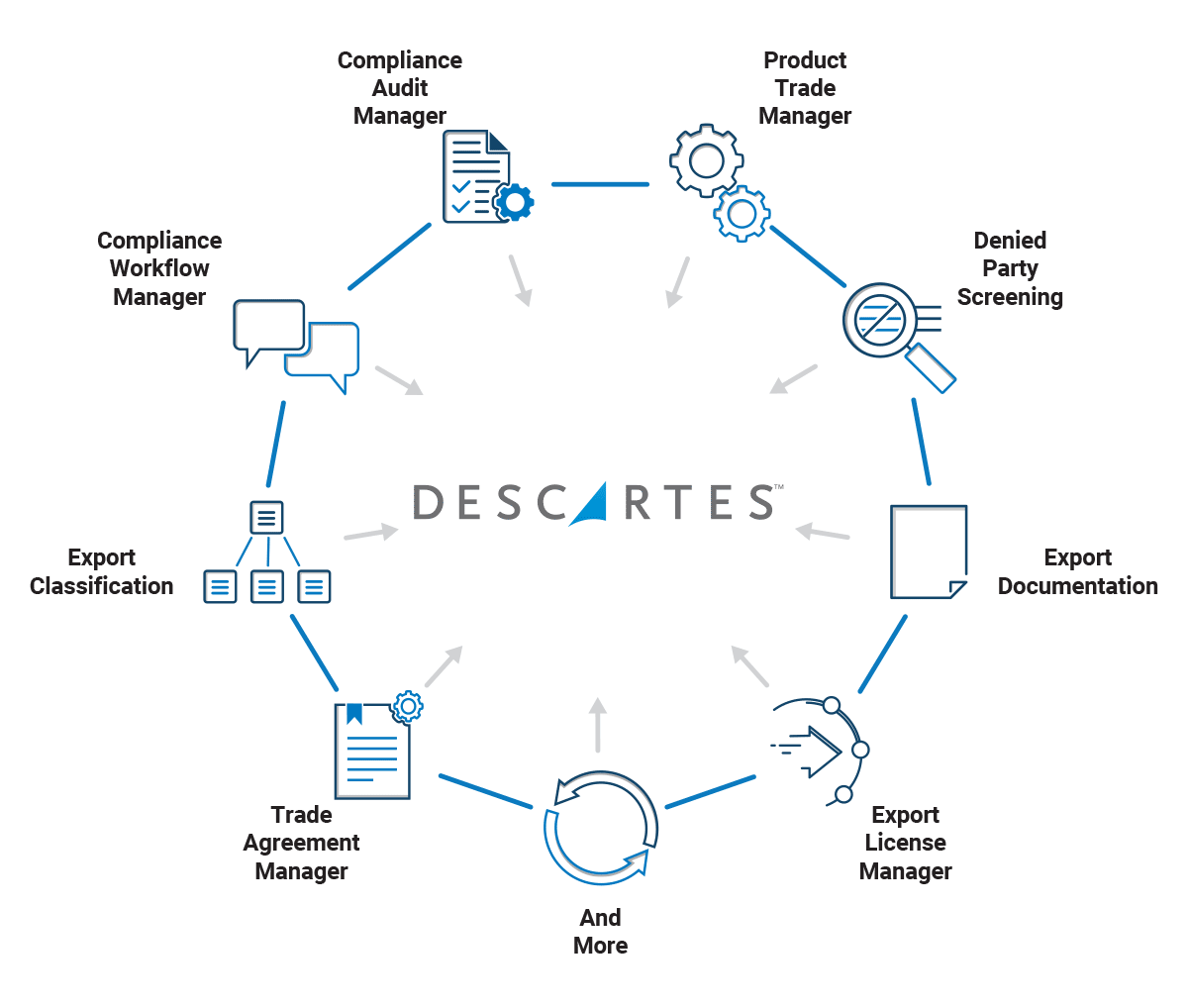 Descartes Export Compliance bietet eine erweiterte Sperrlistenprüfung, unter anderem entsprechend dem Bureau of Industry and Security (BIS), den International Traffic in Arms Regulations (ITAR), dem Office of Foreign Assets Control (OFAC), den Klassifizierungen der Export Control Classification Number (ECCN), den Bestimmungen über "Deemed Exports" sowie Überprüfungslösungen von Exportlizenzen.
Verletzungen der Export-Compliance, wie etwa fehlerhafte ECCN-Klassifizierungen, eine fehlende Exportlizenz oder Geschäfte mit Parteien, die auf Sanktionslisten stehen, können zu beträchtlichen Bußgeldern führen. Die Lösungen von Descartes Export Compliance sind kostengünstig, modular und können Unternehmen helfen, sich konform der Exportbestimmungen zu verhalten.
Ob ein Unternehmen auf Ad-hoc-Basis prüfen muss oder nach automatisierten Lösungen sucht, die sich in bestehende Systeme einfügen lassen - in jedem Fall kann unsere Technologie dabei helfen, die Compliance-Verpflichtungen einfach, effizient und vor allem äußerst zuverlässig einzuhalten.
Erfahren Sie mehr über Descartes Export Compliance
---
Export-Compliance Best Practice
Stellen Sie sicher, dass kontrollierte Waren und Technologien nicht an eingeschränkt zulässige, abgelehnte, sanktionierte oder gesperrte Parteien geliefert werden.
Die umfassende Liste der Descartes-Export-Compliance-Lösungen
Setzen Sie optimale Arbeitsabläufe ein, um die dauerhafte Einhaltung komplexer Exportbestimmungen zu gewährleisten – Erick Wallace, Corporate Export Compliance Manager, Reliance Steel and Aluminum Co.
---
"Descartes hat uns fast 28.000 Mannstunden pro Jahr eingespart und unsere Compliance-Risiken enorm verringert"
Sie möchten unsere Lösung in Aktion sehen?
---
Weitere Ressourcen
---
Whitepaper
Wie Branchenführer Screening-Lösungen einsetzen, um Compliance zu gewährleisten
COVID-19 Action Guide für Export-Compliance
Stärkung der Resilienz im Prozess der Einhaltung von Exportbestimmungen und Einbeziehung von Strategien für eine verteilte Belegschaft
Sie möchten mit unseren Experten sprechen?