Download a Free Whitepaper on Modern Sanctioned Party List Screening and Export Compliance
A review of denied, sanctioned and restricted parties, also referred to as Denied Party Screening or DPS, is required to minimize risk and to lessen the potential of substantial fines. Electronic transactions, business integration and the continued rise of ecommerce, are linking companies with information and driving growth. However, this increased connectivity is coupled with a certain degree of risk and a greater probability that business may be transacted with denied, sanctioned or restricted parties.
In particular, fines are increasingly applied to business activity as well as to the sale of prohibited items. Average penalties for financial transaction violations are on the upswing and include the rise of the 'mega fine' as exemplified in the U.S. Office of Foreign Assets Control (OFAC) Civil Penalties and Enforcement trends compiled below: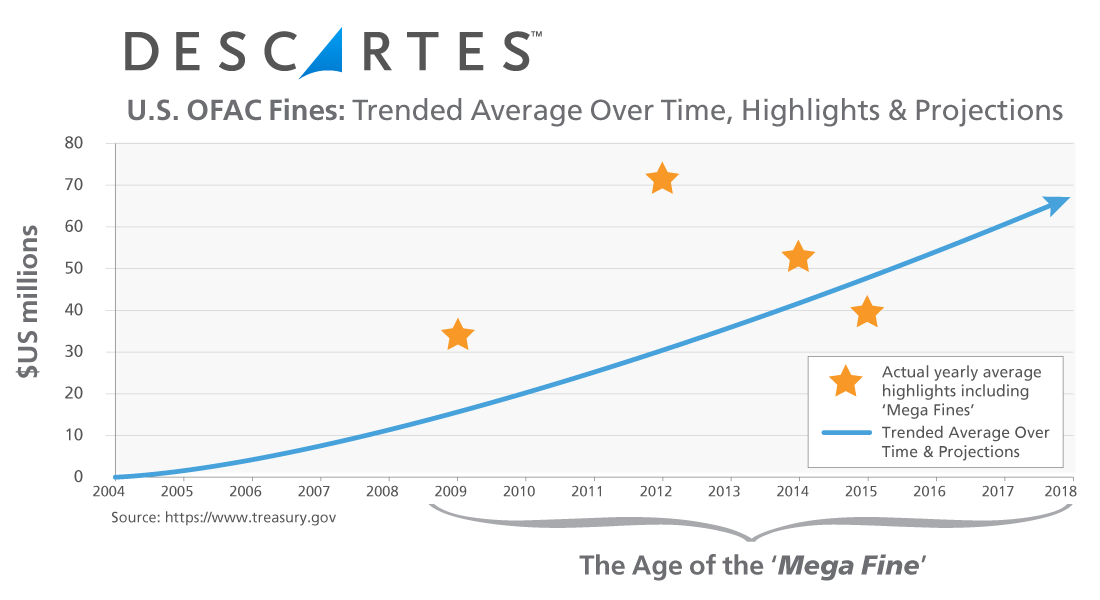 Select 'mega-fine' highlights in the above averages include (in US$):
$7,617,150 (2016) – Exportation of medical end-use surgical and pharmaceutical products from the U.S. to distributors located in Iran and Sudan without OFAC authorization
$329,593,585 (2015) – Processing of transactions to or through U.S. financial institutions that involved countries and/or persons (individuals and entities) subject to sanctions
$963,619,900 (2014) – Processing of thousands of transactions to or through U.S. financial institutions that involved countries, entities, and/or individuals subject to sanctions
All companies, not just those in the U.S., are subject to the above fines. For example, two of the three highlighted penalties were placed on EU companies by U.S. authorities.
The rise of the mega fine is coupled with the challenges of accessing data housed within Enterprise Resource Planning (ERP), Global Trade Management (GTM), Customer Relationship Management (CRM) and ecommerce platforms. While these systems can help maximize productivity and standardize processes throughout global operations, the information contained within can become 'locked' within complex relational databases. It is only by incorporating the two below criteria in tandem that businesses can reduce potential penalties:
The ability to screen new data before it enters business systems
The ability to screen existing data within business systems
ERPs and other platforms systems can be costly to deploy. As a result, leading businesses are looking to expert content providers to help them seamlessly integrate sanctioned party list data into an ERP using a 'turnkey' architecture without over-tapping current IT personnel.
The challenges of traditional export compliance also remain. For example on November 15, the U.S. Bureau of Industry and Security (BIS) and Directorate of Defense Trade Controls (DDTC) will harmonize destination control statements. Simply stated, this adjustment is intended to further streamline export requirements including those shipments with a blend of Export Administration Regulations (EAR) and International Traffic in Arms Regulations (ITAR) goods. Not only must businesses keep pace with changing export compliance initiatives, they must also and keep tabs on financial transactions.
With the rise of the mega-fine, to penalties for violating export regulations, ecommerce and ERP data management, a continuous review of a global compliance strategy is critical to keep goods flowing and to ensure better compliance. Market leaders are bringing clarity to compliance by merging the tasks of modern DPS and traditional export compliance via one systems provider. Smart companies are keeping an eye of the bottom line and looking to reduce risk with enhanced efficiency. The most cost-effective method to achieve these goals is through implementing systems that can handle export-related challenges and address contemporary DPS questions.
Descartes MK Denied Party Screening™ (Descartes MK DPS™)
The Descartes MK DPS™ solution provides organizations of all sizes with easy-to-use options that quickly and efficiently screen customers, suppliers and/or trading partners against a comprehensive database of international restricted and denied party lists, and offer comprehensive export compliance reviews. Customers can tailor screening processes to fit their unique risk parameters and flag potential compliance issues for prompt resolution.
Descartes has developed a free whitepaper that includes the latest trends, highlights and statistics in regard to DPS. Topics include:
A comparison of U.S. and EU DPS performance including what is different in the EU
Common sanctioned party list questions and misconceptions addressed
Real-world scenarios and how to incorporate DPS with minimal effort
An overview of traditional export compliance at-a-glance
A review of fuzzy logic, false positives and what this means for you
Click here to download the whitepaper. We also encourage you to review our complete Descartes MK DPS product offerings and catalog to discover the right blend of screening programs to match business needs.