Descartes' Cloud-based Logistics and Supply Chain Solutions Provide Customers the Flexibility Needed to Efficiently Respond to Challenges Related to the Global Pandemic
---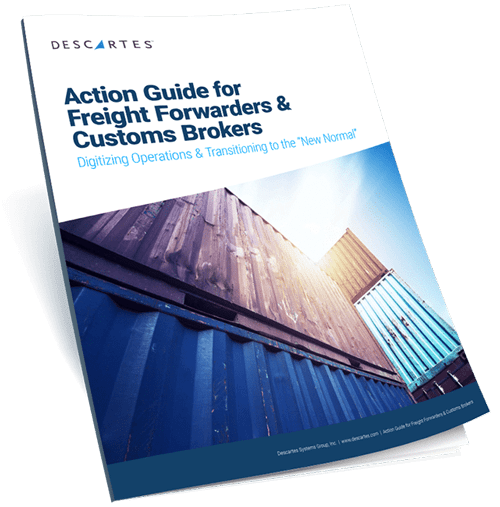 Action Guide for Forwarders & Customs Brokers: Digitizing and Moving to the "New Normal"
In the wake of COVID-19, freight forwarders and customs brokers know they must digitize to provide better customer service, optimize operations, automate customs clearance, analyze performance, and find new leads. Download an action guide that covers how to adapt to this new operational landscape.
Thought Leadership Resources
---
View the resources below to learn how Descartes Thought Leaders are providing operational strategies to help mitigate the impact of COVID-19.
How We're Helping Customers
---
View the resources below to learn how Descartes helps our customers by providing the logistics technology and trade data services needed to help mitigate the impact of COVID-19.
Heartfelt Thanks to all Logistics & Supply Chain Heroes
We appreciate and honor all of the logistics and supply chain heroes around the world who are on the frontlines of keeping goods moving during these challenging times.
"As our customers focus on keeping food supply chains functioning, having real-time visibility into the status of critical freight has increased our ability to keep pace with the unpredictable demand grocery stores are experiencing."
— Greg Ackner, Vice President at Capital Logistics
"As our business has become more fluid during the COVID-19 crisis, the ability to use the Descartes solution to make real-time adjustments is proving even more valuable than we anticipated."
— Mike Massaro, Executive Vice President of Operations at BFC Solutions
Descartes Can Help Mitigate Operational Challenges Affecting Your Business
---
Strategies to Help Logistics and Supply Chain Professionals
Industry analyst and host of Talking Logistics Adrian Gonzalez and Descartes' Chris Jones discuss strategy, tactics and technology changes that can help logistics and supply chain professionals react to COVID-19.
Looking to Speak with a Domain Expert?
---