An Intuitive Purchase-to-Pay Software Solution to Enhance Collaboration and Visibility
Managing the purchasing lifecycle can be challenging. From Purchase Order (PO) creation to acknowledgement, changes, receipt, invoicing and payment, the labor and potential for errors can be substantial. Factor-in multiple trading partners and the varying capabilities of business, and the challenges are further compounded.
Descartes Purchase-to-Pay™ enables companies to automate order processes with suppliers of all sizes and at every level of technical sophistication regardless of message type, format or unique business processes. From strategic procurement to settlement, the Descartes Purchase-to-Pay software solution can execute and manage virtually every step of the buying process. With this advanced technology in place, businesses can minimize reliance on manual and paper-based procedures, drive down transaction costs, enhance data quality, improve vendor relationships, support advanced supply chain collaboration and more.
Our solution brings simplicity to complex Business-to-Business (B2B) purchase-to-pay processes by connecting the purchasing team and employees to the supplier community. With better communication in place, companies are better equipped to focus on strategic procurement, improve supplier relationships, reduce costs and drive growth.
Descartes Purchase-to-Pay is part of the Descartes B2B™ Collaboration solution. The solution automates supply chain processes, enhances collaboration and adds visibility among global trading partners. Customers can electronically manage and streamline a wide array of complex, mission-critical documents found in typical purchase-to-pay and order-to-cash processes. From a central hub, users can benefit from cost-effective transaction management, automated capabilities, and more. Descartes B2B Collaboration is part of Descartes Global Logistics Network™ (Descartes GLN™), the standard for inter-enterprise electronic data and document exchange.
Potential Benefits
Descartes Purchase-to-Pay can help to:
Automate purchase and procurement processes
Improve operations and drive down costs by up to $80 per purchase order
Increase visibility of connected suppliers from a centralized portal
Reduce inventory with enhanced planning, collaboration and visibility
Boost shipment status visibility to streamline production planning
Enhance compliance and monitor supplier performance
Minimize blocked invoices and overpayments
Improve proactive customer service through exception management
Features
With Descartes Purchase-to-Pay, companies can leverage:
Direct machine-to-machine or portal-based access in any format
The ability to view errors and trends in an optional, dashboard-driven portal
Configurable workflows to adjust to trading partner and internal requirements
Rapid trading partner onboarding with repeatable and re-usable connections
A library of preconfigured business rules or flexible connectivity to meet unique requirements
Connectivity to a range of ERP systems
A large business network with hundreds of thousands of existing trading partners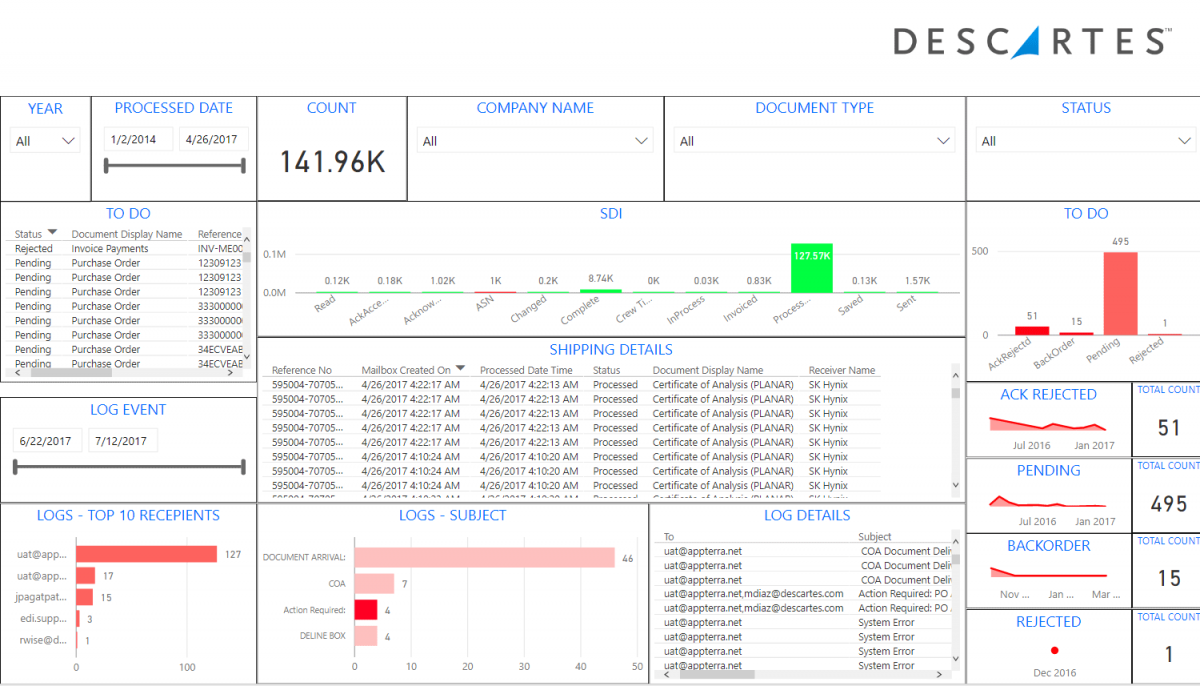 Ask us how
Descartes Purchase-to-Pay can help to automate supply chain processes, enhance collaboration and add visibility among global trading partners.