The transportation challenges over the last two-plus years have many shippers and logistics services providers (LSP) looking for technology-based solutions to help address the requirements of today's market. The 2022 Global Transportation Management Benchmark Survey showed the greatest increase in transportation-related technology spend in the six years of conducting the study. Transportation management, however, is a broad field that extends beyond the traditional planning-focused "TMS" to encompass a wider range of capabilities including: real-time visibility; execution/carrier communications; sourcing; and performance dashboards/business intelligence (BI). Even with an increase in available funds, shippers and LSPs still have to narrow their investment focus to a few areas to make a meaningful difference. The following three charts from the study paint a clear picture where respondent's transportation management priorities will be for the next two years.
Today's Transportation Management Focus
Transportation management became much more important—even to the C-suite—as the pandemic created havoc on capacity, reliability, costs and a number of other factors. It also became more apparent that transportation organizations needed to improve their capabilities in several areas to manage increased uncertainty and complexity (Figure 1). The survey highlighted Visibility (shipment tracking and proof of delivery (POD)) as the top capability that needed improvement (50%). This was the fifth year that Visibility was identified as the top capability that needed improvement. Carrier sourcing, a new answer option in the 2022 survey, was the next highest capability that needed improvement—no surprise given how tight transportation capacity has been since the start of the pandemic.
Figure 1: Key Capabilities for Improvement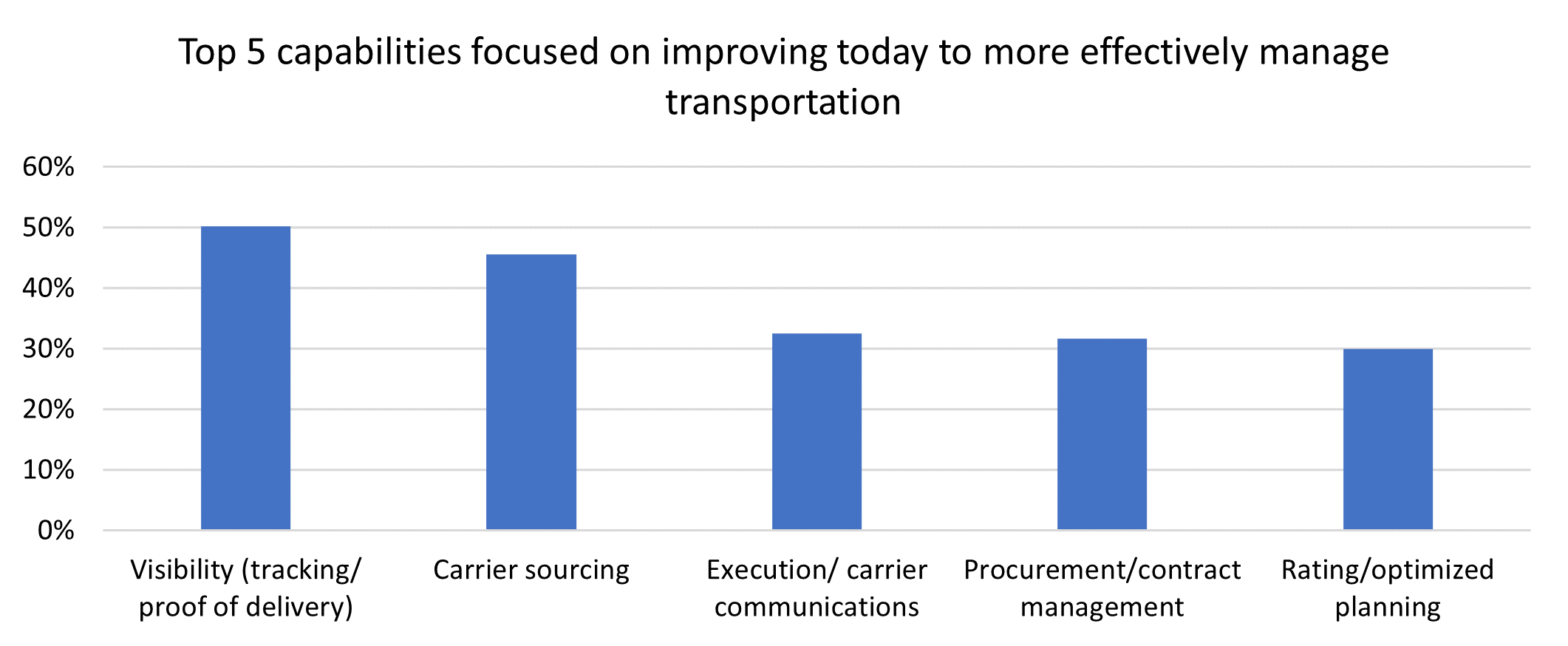 Source: Descartes
Transportation Management Value for the Future
As shippers and LSPs take the lessons of the last two years and turn their attention to the future, Visibility remains the top priority to provide future value for 40% of respondents, up 6% from the 2021 survey. Carrier Sourcing was the second most cited choice at 26%. Respondents who said that management believe transportation management is a competitive weapon were almost two-times (30%) as likely to cite Carrier Sourcing as opposed to respondents where transportation management was not considered important by management (16%). Order Management was in a virtual tie (26%) for second, though it was not among the top five capabilities cited as a current focus for improvement. Performance Dashboards/BI was the fourth most mentioned source of future TMS value and also not among the top five capabilities cited for improvement today.
Figure 2: Top 5 Areas with Greatest TMS Future Value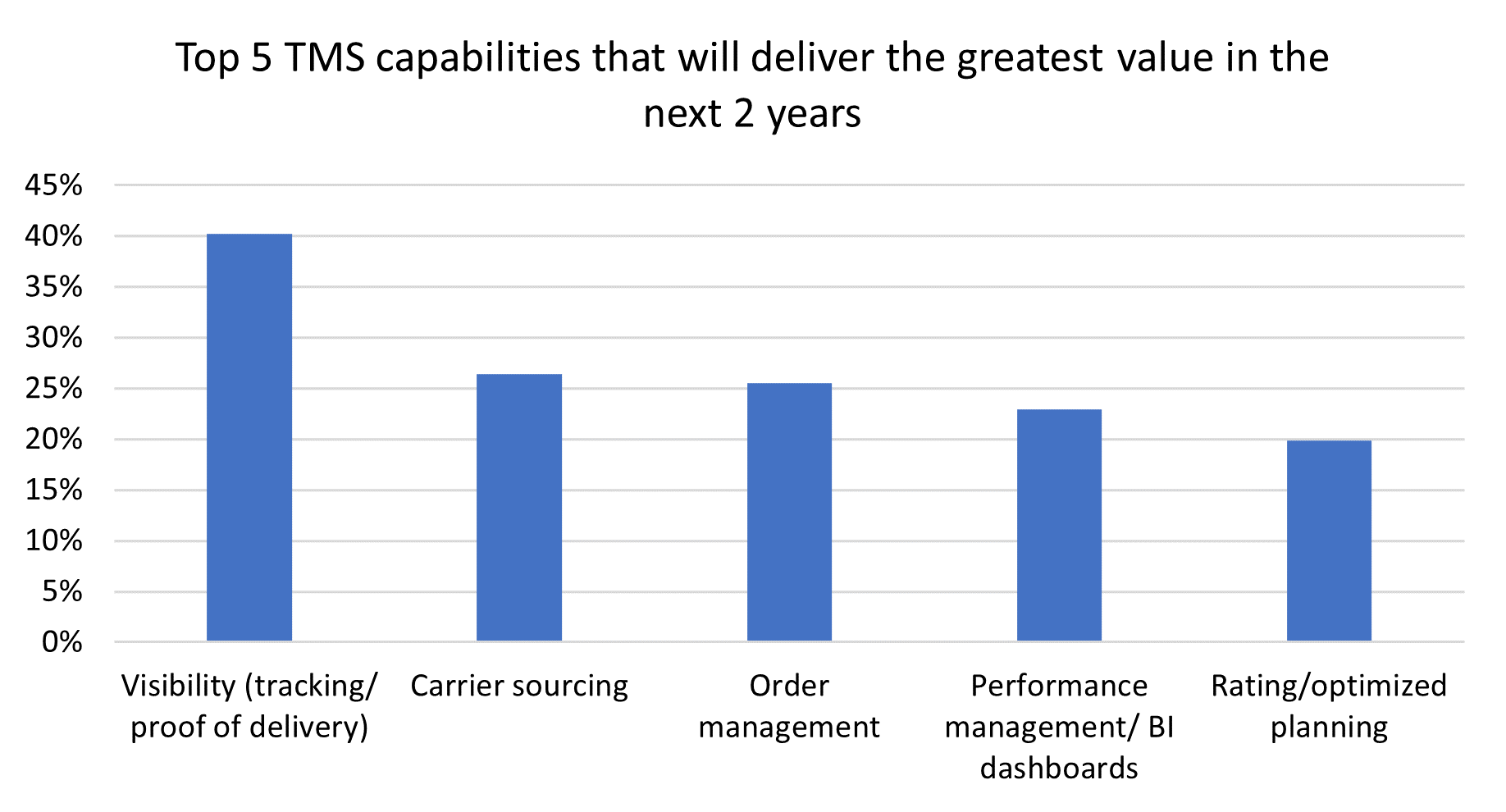 Source: Descartes
Transportation Management IT Investment the Next Two Years
From a technology investment perspective, the top three investments are very aligned with perceived value for the next two years. The disruption of the last two years has made Visibility more important and, even though Visibility was cited as the top IT investment for the last five years, it was up 15% in 2022 versus 2021. The same can be said for carrier capacity as Carrier Sourcing became the second most cited IT investment. Capacity has been a "roller coaster" ride for the last decade and traditional sourcing practices don't scale quickly when capacity is needed. The combination of improved transportation visibility and advanced carrier sourcing solutions have demonstrated that there are much more effective ways to find carriers than picking up the phone. In addition, shippers and LSPs have recognized the value of having access to more robust carrier networks to improve their resiliency when disruptions occur.
Figure 3: Top 5 Future TM Investments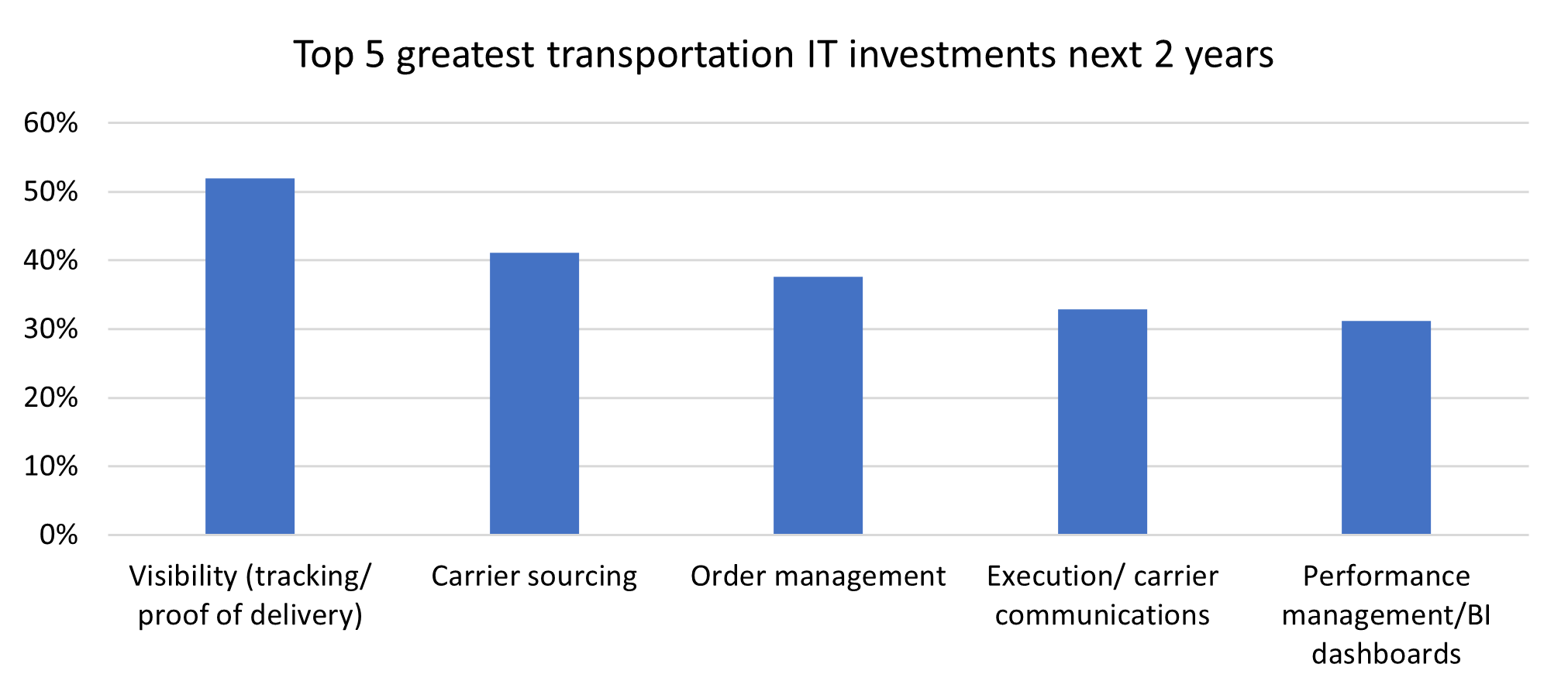 Source: Descartes
With so many companies recognizing the integral nature of transportation management performance to overall company performance, it's no surprise that planned spending in transportation management IT is increasing. The 2022 Global Transportation Management Benchmark Survey [CJ2] highlighted that the disruption and uncertainty of the last two years has transportation organizations tightening their focus on: 1) Better visibility to make themselves much more aware of disruptions as they occur and to make better and more proactive decisions about their goods in transit; and 2) Improving their carrier sourcing capabilities to improve the resilience and flexibility of their shipping capabilities. This is especially true for companies where executive management recognizes that transportation management is a key component in its competitive arsenal. Where is your organization making its transportation management IT investments?
---
Recommended For You
---
5 Ways Container Shipment Tracking Reduces the Impact of the Continuing Ocean Shipping Crisis
The industry is currently facing bottlenecks as capacity continues to remain constrained. Global shipping demand is also forecasted to continue to increase throughout the year. With COVID-related shutdowns and delays occurring at major container terminals around the world; closures, congestion, and their impacts on lead times have become difficult to predict. Preparation is key.
Four Foundational Technologies of a Digital Freight Broker
The freight brokerage landscape is changing. 
Supply chain disruptions
 and bottlenecks are prompting freight brokers and 3PLs to rethink the way that they operate, provide information to customers, and connect with carrier partners.
Transforming into a digital freight brokerage produces major benefits 
unseen with traditional broker strategies.
Our Solutions
---
Looking to talk to an expert?
---