U.S. President Joe Biden signed the Uyghur Forced Labor Prevention Act (UFLPA) into law to assist with an overall campaign of removing forced labor from commercial supply chains. The new law specifically allows the government to presume that forced labor was used in products mined or manufactured in Xinjiang, China or where these materials were used in the production process.
Because of this greater accountability being placed on businesses, organizations need to be proactive in making sure that forced labor is not part of their manufacturing process. And they have to prove it when asked to produce documentation.
Key Takeaways
Forced labor is a growing global problem that the U.S. strives to eradicate by holding organizations to a higher degree of accountability.
Uyghur Forced Labor Prevention Act (UFLPA) builds upon the 1930 Tariff Act that bar the importation of goods that are suspected of being produced with forced labor.
Approximately $1.7 billion in shipments have been detained under UFLPA since it was enacted, with a fifth of that resulting in denial of entry.
The Forced Labor Enforcement Task Force actively monitors goods imported from designated regions and entities to identify exposure to forced labor in the supply chain, then detains or denies those shipments.
UFLPA compliance demands that businesses operate with greater transparency and perform continuous due diligence on its supply chain to avoid having imports detained or denied.
Since UFLPA was enacted in June 2022, roughly one-third of imports into the United States which came under U.S. Customs and Border Protection (CBP) scrutiny have been denied. The total value of shipments refused entry, pending inspection, came to US$1.7 billion, and of that $385 million's worth were denied outright. Even shipments marked for review but subsequently released mean long delays in the delivery of goods to market.
The U.S. Customs and Border Protection (CBP) and the multi-agency Forced Labor Enforcement Task Force (FLETF) screen against known parties, then detain imports if forced labor is suspected to be part of the manufacturing process. Detainment can be challenged, but otherwise, the import may be denied entirely.
How does this new legislation and related regulations affect your business? The following article will explain what you need to know about UFLPA to fully comply.
What is Forced Labor?
Before we explore the new law as well as enforcement actions, what does the government consider to be the definition of forced labor? The Department of Homeland Security defines forced labor as "When individuals are compelled against their will to provide work or service through the use of force, fraud, or coercion."
The D.H.S. explains specific risk factors of those who may be exploited, such as unstable immigration status, language barriers, or poverty. 
Sometimes, forced labor is less obvious and takes the form of compounding debt 'repaid' through labor, but where working to repay these debts is impossible. In other situations, forced labor is physical isolation in the form of self-contained camps.
An Overview of UFLPA Legislation
Enforcement of UFLPA began in June 2022, giving U.S. Customs and Border Protection, an agency under the Department of Homeland Security, authority to a rebuttable presumption that any goods, wares, articles, or merchandise mined, produced, or manufactured wholly or in part in the Xinjiang Uyghur Autonomous Region (XUAR) of the People's Republic of China, or produced by certain entities on the Forced Labor Enforcement Task Force (FLETF) Entity List , involved forced labor.
A press release from the U.S. Department of State describes the purpose of UFLPA as to "help make global supply chains free from the use of forced labor."
This new legislation is built upon the foundations of the Tariff Act from 1930, which even in those early days, also strived to deny imports suspected to be made with forced labor. UFLPA expanded upon that by allowing the assumption of the involvement of forced labor and putting the onus of accountability squarely on the shoulders of the importer.
What is the Forced Labor Enforcement Task Force?
The Forced Labor Enforcement Task Force (FLETF) is a DHS-led task force of interagency partners working to monitor and enforce the prohibition on any imported goods made entirely or partially with forced labor.
FLETF was formally established on May 15, 2020, and its role expanded with UFLPA, which gave them new criteria to presume the involvement of forced labor and ensure goods imported meet UFLPA compliance requirements.
UFLPA Enforcement Actions So Far
The UFLPA went into effect in June 2022 — but how has it affected imports so far? In total so far, 5,059 shipments were detained, 2070 were released, and 1,733 were denied entirely. The most common industry affected by UFLPA is electronics, followed by industrial and manufacturing materials and apparel.
Below (Figures 1 and 2), you can see more data on specific enforcement actions since mid-2022, focusing both on all the time metrics and the 2023 fiscal year.
Figure 1: Overview of UFLPA Enforcement Statistics June 2022-Sept 2023

Source: U.S. Customs and Border Protection
Figure 2: Overview of shipment metrics, January to July 2023

Source: U.S. Customs and Border Protection
It's worth noting that while $1.7 billion worth of shipments have been affected, most of these actions occurred this year in 2023. We can interpret this difference in a few ways, and the reality of the situation may be a combination of three factors:
This difference shows that the processes of CBP have become refined and more effective at identifying shipments from multiple countries (see Figures 3 and 4) that are potentially in violation of UFLPA compliance.
There may have been an increase in exposure to forced labor risks in recent months.
More organizations and companies were added to the UFLPA denied entity list.
Figure 3: Shipment value by country of origin, all-time:

Source: U.S. Customs and Border Protection
Figure 4: Shipment value by country of origin, January to July 2023:

Source: U.S. Customs and Border Protection
Considering UFLPA specifically targets a region in China, it's natural to assume China would be the largest country of origin. However, having two other countries lead in shipment value shows that while the countries of origin were Malaysia and Vietnam, the imports in questions have materials or inputs in direct contravention of UFLPA.
How Can I Comply with UFLPA?
What are your responsibilities to avoid issues with FLETF and comply with UFLPA? A strong understanding of the rules and risks, along with taking concrete steps to prevent inadvertent violations will ensure that your imports arrive without issue. You can also get a copy of our handy mini-guide which provides practical steps on how to fight forced labor in supply chains. Be Aware of Your Responsibilities
UFLPA doesn't impose compliance requirements on domestic companies directly. Instead, FLETF screens imports for entities that partially or entirely use forced labor. The official DHS strategy for enforcement also provides guidance to importers. 
To quote directly from the comprehensive document, importers have the following responsibilities:
Set up due diligence, supply-chain tracing, and supply-chain management measures to ensure that importers do not import any goods produced wholly or in part with forced labor from the PRC, especially from Xinjiang.
Ensure that the type, nature, and extent of evidence is available to demonstrate that goods originating in the PRC were not produced wholly or in part in Xinjiang. 
Ensure that the type, nature, and extent of evidence is available to demonstrate that goods originating in the PRC were not produced wholly or in part with forced labor.
Understand the Risks
Do you know the exposure to forced labor risks along your supply chain? Conducting continuous denied party screening against the UFLPA Entity List prevents your supply chain from being infected with products of forced labor activities. The impact on your business if you import goods from denied parties or partners that transact with denied parties during manufacturing ranges from never receiving the goods to being held up in customs for an extended period. In addition to the financial loss, there are ethical and reputational risks to contend with. Know Your Suppliers and Partners
UFLPA compliance requires being aware of any partners or suppliers on the UFLPA Entity list, including fourth and fifth tier parties involved in your supply chain. Assess, evaluate and identify goods that have been sourced from high-risk regions. Industries affected range from electronics to automotive and aerospace (See Figure 5).
Figure 5: Analysis of Industries Most Affected by UFLPA Enforcement Actions 2022-2023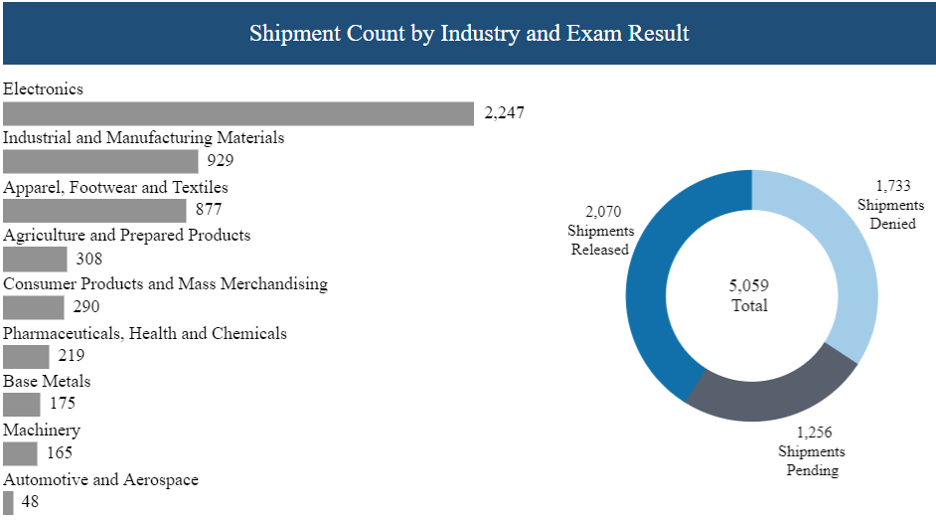 Source: U.S. Customs and Border Protection
Cross-referencing every company involved in manufacturing your products is undoubtedly time-consuming, but without taking the added time, you may risk not receiving your goods at all. Additionally, new tools have emerged that simplify the denied party screening process, so that you don't have to handle it manually.
Embrace the Right Technology
You can mitigate the risk of having a shipment detained or denied by thoroughly tracing supply chain relationships, denied party screening, and sanctioned ownership screening.
Descartes also follows a three-step approach for building supply chain resilience, which includes cross-referencing for UFLPA-denied parties. We advise customers to identify, analyze, and vet every organization throughout your supply chain to ensure no denied entities exist.
Leveraging the right technologies enables you to avoid having shipments detained or denied without creating significant additional workload.
Maintain Complete Documentation for UFLPA Compliance
Remember that the nature of forced labor regulations is presumptive. If your goods are detained for potentially being in violation of UFLPA compliance, possessing all the necessary documentation, as outlined in the operational guidance from CBP, makes it easier and faster for you to get your shipment released. Some of the information you need to have ready to demonstrate your due diligence and commitment to preventing forced labor include:
Company policies and code of conduct for suppliers which emphasizes zero tolerance for forced labor practices.
Details about all suppliers in the chain. This is where robust denied party screening technology comes in handy.
Tamper proof reports and audit trails of regular screening procedures including monitoring, verification, and other due diligence activities.
Accounting documents such as purchase orders, shipping filings, commercial invoices etc.
Partner with Descartes for Advanced Denied Party Screening
Tracing every link in your supply chain to screen for any parties denied by UFLPA is crucial to getting the shipments you need on schedule. Taking on this process manually is time-intensive and error-prone, making it well worth investing in the right solution to screen your entire supply chain automatically.
Descartes is a provider of an industry-leading suite of solutions for denied party screening, 3rd party risk management, trade content for leading business systems, as well as global trade intelligence solutions that feature the world's largest database and the latest advancements in AI to help you trace your supply chains with better visibility.
Ready to strengthen your UFLPA compliance efforts? Request a demo today to see our platform in action and discover how we can help.