A Next-Generation Web-based Freight Forwarder TMS Solution
Developed to meet the needs of forwarders, Descartes Forwarder Enterprise™ QW is a powerful freight forwarder back-office solution that serves as the foundation for small to mid-sized logistics operations worldwide. The solution unifies processes and data management for both forwarders and their agents to end re-keying and error-prone communication.
The intuitive, multi-language capable, cloud-based Forwarder Transportation Management System (Forwarder TMS) ensures that multiple offices communicate and pass information seamlessly across departments. By consolidating all import and export shipments in one solution and automating repetitive processes, forwarders can better manage operations, reduce labor, and take the pulse of operational and financial performance.
Delivering Powerful Forwarder Back Office Functionality
---
Web & Cloud-based Architecture
Web-based technology and secure cloud-based data transfer enables forwarders to provide continuous access to users and agents worldwide 
Integrated Accounting Platform
With shipment data seamlessly passed into accounting and billing, there is no need to re-enter or parse information into multiple platforms 
Multi-Office & Multi-Currency Capable
Flexible cross-office connectivity and support of multiple currencies enables forwarders to better manage and analyze their global business  
Multimodal Shipment Management
Support of import and export shipments across all modes of transport helps forwarders provide a broader range of services and manage them internally  
Rich Reporting & Analysis
Advanced analytics allows forwarders to gain a deeper understanding of customer, internal and financial performance  
Powered by the Descartes GLN™
Connectivity to the reach and power of the Descartes GLN enables forwarders to have access to the largest logistics data platform available 
Learn more about Descartes Solutions
---
BROCHURE
Descartes Forwarder
Enterprise™ QW
---
INDUSTRY WHITE PAPER
Forwarders & Digitization
---
Read our series on how freight forwarders are succeeding through effective digitization 
Descartes Web-based Feature-rich Forwarder TMS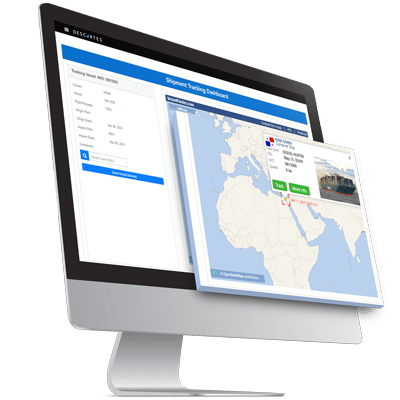 Descartes Forwarder Enterprise QW is a fully-integrated, web-native solution that delivers complete support for multimodal import and export shipment management with a light technology footprint. With an accounting system designed specifically for the complex requirements of forwarders, businesses can better ensure that services rendered are quickly and accurately billed without re-keying data in multiple systems.  
Feature-rich support of complex multi-leg, multi-mode, and door-to-door shipments makes Descartes Forwarder Enterprise QW the premiere choice for small to mid-size forwarders to fully manage their business.