Route Planning, Execution, Safety & Customer Experience
---
Fleet Productivity, Performance Management, Safety & Customer Experience Solutions
Customer Success: Fairmount Tire

Learn how Fairmount Tire is moving more tires in less time and with fewer trucks thanks to Descartes' last mile delivery solution.
Maximize Your Fleet's Potential with Industry-Leading Solutions and AI
---
Take fleet productivity, service, and safety to another level with the industry's most comprehensive and advanced solutions for planning and executing routes, managing driver safety and performance and customer engagement.
Improve Service Levels While Reducing Fuel & Labor Costs
---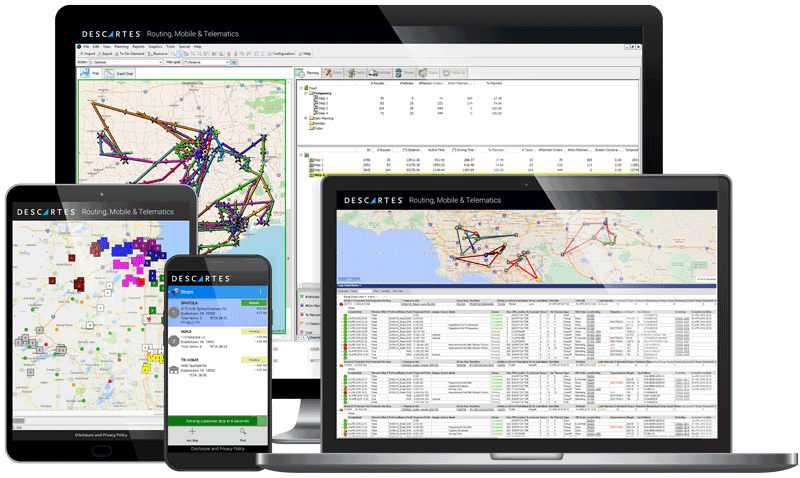 Proven Results
---
>15%
Increase in
Fuel Efficiency
>10%
Increase in
Asset Utilization
"Partnering with Descartes is a critical part of how we are optimizing our last mile delivery routes to drive efficiency and reduce transportation costs"
- Hemant Porwal, Vice President Global Supply Chain and Operations at WESCO International
"Capabilities such as mobile proof-of-delivery and digital photos have allowed us to be more efficient, minimize order discrepancies and satisfy customers at the point of delivery"
- Andrew Mercier, President and CEO at Merchants Foodservice
"Using Descartes Route Planner, PlaceMakers increased delivery satisfaction by 40-50%, reduced inbound calls by 16%, increased load utilization by 13%, and reduced loading times by 14%"
–Wayne Armstrong, Head of Digital Channels, PlaceMakers
Halfords Mobile Expert Offers Customer Service with Dynamic Appointment Self-Scheduling
Learn how the Descartes' delivery appointment scheduling has improved customer satisfaction, increased route density, and reduced dispatching resources at Halfords Mobile Expert.
Fleet Resource Center
Expand Your Routing, Mobile & Telematics Knowledge
Additional Resources
---
Customer Success: Brook Furniture Rental
Learn how they are satisfying customers' needs with automated last mile delivery solutions.
Best Practices for Optimizing Last Mile Delivery
Get the top best practices for last mile delivery optimization and how to put them into practice.
Strategic Route Planning: Blueprint for Profitability
Learn how to deliver better customer service through strategic route planning.
Looking to speak with a solution expert?