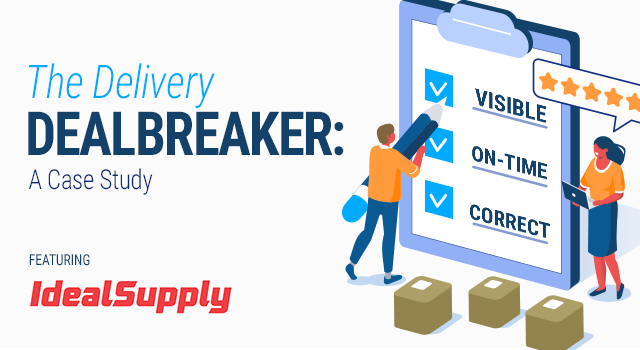 Regardless of industry, company size, or geography, keeping customers satisfied and coming back for more is the driving force behind any successful business. In a distribution-based business, exemplary customer service that keeps clients happy is heavily dependent on delivery: Is it fast? Is it on time? Is it the right shipment? The answer to these questions needs to be a resounding "yes!"
How can you ensure that your delivery operations meet your customers' high expectations? Route planning is a key piece of the puzzle. Unfortunately, companies in 2020 that are still planning delivery routes manually using a paper-based system stumble when it comes to satisfying customers. With clients expecting convenient, efficient delivery—plus visibility into their orders throughout the delivery process—optimizing route planning and execution with an integrated, automated solution is the only way forward.
Automation Drives Delivery Performance: Ideal Supply
How important is the role of route planning software in the pursuit of customer service? Let's look at an example of a wholesale distributor to the electrical, industrial, and automotive industries that found its lack of delivery visibility a roadblock to customer satisfaction.
With a fleet of more than 100 vehicles, Ideal Supply delivers up to 2,200 orders daily throughout a primarily-rural area that covers approximately 8,700 square miles. In response to customer expectations of same-day delivery and visibility into shipment status, the distributor implemented Descartes Route Planner™ On-demand to increase operational efficiency and provide real-time visibility across the delivery lifecycle.
Descartes' automated route planning and execution software optimized Ideal Supply's delivery routes to boost driver productivity, curtail operational costs, and reduce order errors. Plus, the advanced capabilities of the Descartes system—including mobile proof-of-delivery (POD) captured electronically, automated delivery time-window alerts, and a customized delivery reconciliation process—vaulted the company's customer service to new heights.
"The cost of inefficient routing is significantly higher in our rural environment than in an urban area. With Descartes, we're able to enforce more of a disciplined 'bus schedule' mentality around delivery operations—and we've seen fuel savings as high as 28%! Plus, real-time GPS-based tracking and driver performance monitoring help us continue to improve"
-Chris Moon, Director of IT, Ideal Supply
A View to Customer Satisfaction
Visibility throughout the order lifecycle is extremely valuable from a customer service perspective. Customers want to see where their order is in real-time; they want to know when their shipment will be delivered; and they want to be informed if there is a delay or issue with their order.
Descartes Route Planner On-demand provides a real-time view into fleet and order status, helping Ideal Supply monitor driver performance and keep customers informed of the status of their deliveries via automatic notifications. With the Descartes solution, the company can proactively resolve issues and effectively manage customer expectations.
In addition, the solution's seamless integration with the company's ERP and other business systems enables Ideal Supply to review historical order data to enhance the experience of customers and other stakeholders. With help from Descartes, Ideal Supply is reaping the rewards of granular visibility across the delivery lifecycle, leveraging this secret weapon to create an unrivalled customer experience.
How Can Descartes Help Your Organization?
Descartes offers a suite of route planning solutions for mobile resource management, route optimization, and real-time visibility for your delivery operations. With these solutions, you can reduce delivery time windows, address exceptions on the road, plan routes more efficiently, and respond to customer changes on the fly.
The product suite includes: Descartes Reservations™, Descartes Route Planner™, Descartes Route Planner™ On-demand, and more.