E-commerce giants, food delivery apps, and ride-hailing services have raised the bar for the end-to-end customer experience. Now, customers expect nothing less than the transparency and control that come with features like real-time order tracking, automated notifications, digital self-service, and feedback surveys. 
For providers of service appointments and deliveries alike, if you're not working to solve the last mile problem and alleviate the unease that plagues customers, you should start perfecting your customer engagement processes now.  
Why Does the End-to-End Customer Experience Matter? 
The end-to-end customer experience is important because focusing on a better overall experience leads to increased transparency, trust, and customer satisfaction — not to mention, reduced operational costs. 
Research shows that customers expect clear, relevant, and personalized communication throughout the last mile process, along with visibility into and control over their experience. 
Prioritizing these demands makes smart business sense: Implementing last mile delivery tracking solutions with automated notifications and chat options is proven to decrease calls to customer service centers. What's more, you can reduce the chance of a missed appointment or delivery by up to 20%.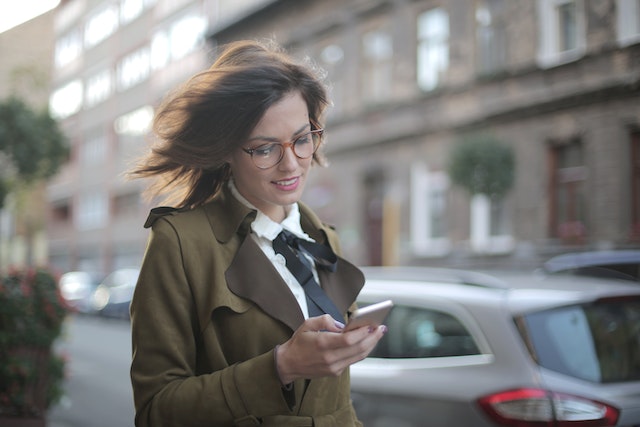 Strategies for Improving the Customer Experience 
When you offer an enhanced end-to-end customer experience, you can increase your bottom line and boost your reputation. But how do you get there?  
It all starts with a focus on customer engagement. Here are eight best practices for improving the customer experience when it comes to last mile delivery or field service. 
Show real-time maps, not just estimates. Last mile delivery tracking needs to be provided in real time if you want to demonstrate to customers that you care about their need for transparency and visibility. Live tracking also helps ensure customers are home to receive the delivery or to open secured gates for an appointment, increasing first-time access rates and customer satisfaction.  
Make it mobile-friendly. Allow customers to access the information they need, when they need it. Make it easy to check on the status of their delivery or appointment from their phone's browser — without forcing them to download an app. A web-based customer portal allows for an easy way for customers to track their order and view associated details. 
Create opportunities for digital self service. Through a customer portal, customers can easily manage appointment and delivery details to confirm, cancel, and even reschedule at their own convenience. This frees up your customer service representatives from rescheduling and follow-up calls, while streamlining the process for customers.  
Automate as much of the process as possible. Your drivers should be free to focus on their job — making efficient, timely, and safe deliveries — not on messaging customers, updating ETAs, or collecting feedback. That's why it's important to automate notifications throughout the order lifecycle with configurable triggers that can send the right message at the right time. Notifications can be initiated by geolocation triggers and job status updates, allowing you to share live tracking information, ETA updates, and feedback requests with the customer.   
Capture feedback. Feedback is a golden opportunity to track trends and see areas for improvement. It can also be used to identify issues and prioritize service recovery in real time. Customers want to feel heard, and sending immediate feedback requests to their own device gives them an opportunity to tell you where you went wrong — or right — while they still remember the experience.  
INDUSTRY WHITE PAPER
---
Best Practices for Last Mile Delivery
Technology is an incredibly important enabler of world class delivery performance as its impact spans from demand generation to the post-delivery experience. This ebook explains the strategies, tactics and technological approaches that create an end-to-end delivery experience that makes a difference.
How Descartes can Help with Improving the Customer Experience 
Descartes' customer engagement solution helps delivery and field service leaders to enhance their last mile customer experience. In addition, businesses stand to reduce avoidable costs associated with missed appointments, call center volumes, and feedback collection. 
Track My Appointment last mile delivery tracking fills in the gaps of the customer journey, providing real-time maps and progress notifications that empower customers to take control of their experience. Via a self-service portal, customers have streamlined access to all the details they need to plan their day. 
Last mile customer engagement solutions are vital to stay competitive and meet ever-growing customer expectations. When you implement best practices during the last mile, you'll see increased driver, employee, and customer satisfaction — and a boost to your bottom line. 
Fleet Resource Center
Expand Your Routing, Mobile & Telematics Knowledge
Recommended For You
---
PlaceMakers Case Study
By improving on-time delivery performance, increasing order accuracy, and enabling customer pre- and post-delivery notifications, PlaceMakers increased customer satisfaction and boosted its delivery Net Promoter Score (NPS) by 40-50%.
Building Material Supply, Electrical, HVAC and Plumbing Supply and Service Resource Center
Whether improving delivery or inbound logistics operations, Descartes offers the most comprehensive and purchased transportation management solution.
BC Sands Press Release
With Descartes' delivery solution BC Sands moved from 'best guess' times for deliveries to accurate, scheduled time windows. They lowered distribution costs by getting more capacity out of their fleet, improved the consistency of the customer experience, having fewer returned loads and better managing a huge array of products in vehicles with different dimensions and capabilities.